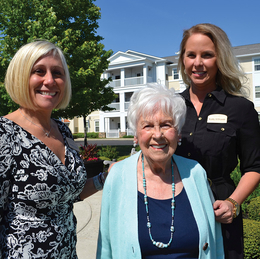 Welcome Home
Brightview Senior Living's Greentree community celebrates 10 years of offering a vibrant, welcoming environment.
The team at Brightview Senior Living knows it takes dedication and passion to create an award-winning community that feels like home, and their most recent recognition proves it.
In April, FORTUNE 100 named Brightview, which has 45 locations along the East Coast, among one of its 2021 Best Companies to Work For—the only senior-living community to make the list. It's snagged the honor twice before and also has been named one of the best places for women to work. Executive Director Jennifer Steen couldn't be prouder.
"It was pretty amazing," she says. "It's exciting because the reason we won is our associates. They're the ones who are driving winning these awards, because they feel as though this is one of the best places to work. I think that really speaks volumes about Brightview."
Even more importantly, happy associates translate to happy residents, and Brightview's Greentree community carries on that tradition. Located in Marlton, it's the first Brightview community to be built in New Jersey and is celebrating 10 years of delivering independent living for those who don't need medical support, assisted living and a memory care community.
No matter what a resident seeks from their Greentree home, they'll find a personally tailored, active living experience that includes not only on-site opportunities encouraging all residents to spend time together and explore their passions while picking up new interests, but also excursions to enjoy the local community through day trips and nights out.
Standard offerings like Bingo games and craft times are just scratching the surface of the vibrant life at Brightview. Steen says that employing the "SPICE" model is crucial in providing programs that engage residents spiritually, physically, intellectually, culturally and emotionally.
It begins with telling their story as soon as they arrive, helping both residents get to know them and staff learn their interests.
"We do a life story for every resident moving in. Part of that is compiling who they are, what they enjoy, what type of career they held, and we use that to customize what we do here," Steen explains.
Brightview's onboarding efforts include pairing new residents with an ambassador, who helps them acclimate though a buddy system. Ambassadors meet with newcomers on their first day, go over Brightview's event calendar and handbook, accompany them during meals and show them the ropes.
"Residents truly take great pride in being ambassadors," Steen says. "They make sure everybody feels welcome."
Ginny Rossini, a lifelong Philadelphia resident who "couldn't imagine moving outside of [her] city," is among those one-person welcoming committees who help new residents make friends and take in all the activities available to them. After her son-in-law learned of Greentree as it was being built, Rossini toured the facility—and hasn't looked back.
"Upon my first visit, I was convinced that this was the place for me," she enthuses. "Brightview has much to offer. The staff could not be more accommodating. The Vibrant Living Team hosts all of our wonderful entertainment, trips, cocktail parties and more! I especially enjoy the variety of our daily exercise classes, which have kept us in good shape."
Helping active seniors stay engaged and fostering a sense of family were always primary tenets of Brightview's philosophy, but became increasingly important as the pandemic wore on and cut off residents from their loved ones. Steen says the staff didn't miss a beat in making sure no one felt isolated or alone, reminding them that family goes beyond blood. Assistant Executive Director Kathleen O'Prandy agrees.
"Residents look to us to be part of their lives and their community," she says. "We've spent the holidays and special occasions with them, especially during these difficult times of COVID. That's why our associates love working here, because they love being part of the residents' lives and giving them a sense of family."
O'Prandy believes that's one of the many reasons why Brightview is so special.
"What sets us apart is we want this to be their home, and I really think the people working here make the difference," she says. "Our director team is so engaged: We know every single resident by name, we know their life story, we know their family members."
Steen has seen seniors have little say in their choice of living situations or be "closed up in a small room to be forgotten about," and endeavors to ensure that Brightview is the antithesis of that—just as the entire team does. She knows Brightview's associates have gone above and beyond when they hear glowing feedback from residents' families, as well as witness the vibrancy that defines life at Greentree.
"We want it to be a great place to work and a great place to live," says Steen. "That's the motto we live by. And it's not just something we say. It's something we live each day."
Brightview Greentree
170 Greentree Road, Marlton
(856) 528-0818
BrightviewSeniorLiving.com/find-a-community/brightview-greentree

Published (and copyrighted) in Suburban Family Magazine, Volume 12, Issue 2 (May 2021).
For more info on Suburban Family Magazine, click here.
For information about advertising in Suburban Family Magazine, click here.
To find out where to pick up your copy of Suburban Family Magazine, click here.