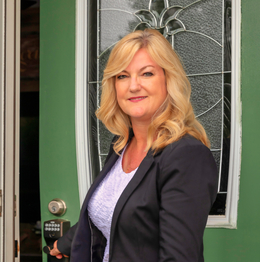 Right at Home
Penzone Realty's Holly Stewart helps buyers tackle this historically competitive market.
The real estate market has never been more competitive, with mortgage rates sitting at historic lows and staying favorable for the foreseeable future. As people begin to leave lockdown, it's only natural to want a fresh start, which makes demand even higher.
For the current buyer, this could look or feel daunting, but with the right help in your corner you are still able to find the home of your dreams. Penzone Realty's Holly Stewart has committed her career and life to building community through the clients that she works with, and wants to help those in the market find that sense of community as well.
Stewart is a South Jersey native, growing up and settling in the Gloucester County area. A wife, military mom and "mom-mom" to four grandchildren, Stewart has always had a passion for what a home can mean to people. As an active member of her church and church's mission, Stewart doesn't just sell houses, she also builds them, participating in two mission trips to build homes locally and globally. "Building these houses for families in need gave me a new perspective on what 'home' really means, and was life-changing for me," she says.
After over 15 years as a general manager in salon and spa services, Stewart took a leap and moved into real estate, using her management experience to fuel her new path. "I learned so much about customer relationships, marketing and general business practices that have benefited me in my career today," says Stewart. "The knowledge I obtained while aiding in the growth of the salon and spa over 17 years, partnered with the education I received obtaining my Broker's license, has given me a renewed confidence and will allow me to deliver even better service to my clients."
Stewart is using that fresh perspective and renewed confidence to reach buyers who may find it difficult to jump into the market, either through a lack of experience or difficulty letting go.
Navigating uncharted territory
The competitive market makes buying a home exciting, but also intimidating. This is especially difficult for first-time homeowners, many of whom Stewart says are around her own daughter's age. "Their excitement is rejuvenating," says Stewart. "This is a monumental decision, sometimes the first big decision in their life. I'm able to help them make education decisions around home ownership and I enjoy that."
Stewart is also a Senior Real Estate Specialist (SRES), working with senior citizens in the community to downsize. "It's rewarding to support the senior community in their life-changing journeys, and I especially enjoy learning more about each client and their life stories," says Stewart. "I feel their frustration and their sorrow in selling their family home full of lifelong memories, and I pride myself in being with them every step of the way." That includes navigating processes like paperwork, inspections and preparing to move.
Time to act
Regardless of your situation, Stewart states that low mortgage rates have made the housing market increasingly appealing and continuously competitive.
"It helps to be patient and be prepared," says Stewart. "The good news is, new inventory opens up every day, so I suggest clients get their pre-approval from a mortgage lender early, so once you find the home of your dreams you are prepared to put forth a competitive offer."
Stewart works with buyers to manage the current bidding wars that are more popular than ever, managing cost details and providing a shoulder to lean on through negotiations and closing discussions.
This market also makes it particularly appealing for sellers. "You're in a good position to negotiate the best possible terms for your situation," says Stewart. Whether that includes closing price, home repairs, or even moving date, a strong agent can make the process as seamless and stress-free as possible.
Stewart prides herself on client relationships and referrals above all else, making her a reliable and trusting partner in this uncertain market. "The relationships I form with my clients are far more important than the transaction to me. I work hard to build respect and trust with each of my clients," says Stewart. "I do not believe 'one house fits all' and I think each real estate transaction is different and especially tailored to the needs and goals of each client. My focus is primarily on helping each client find the house of their dreams that they can 'add the love' to and make their home."
Holly Stewart | Penzone Realty
3 E. High St.
Glassboro
(609) 980-9786 | (844) 855-ZONE
HomesWithHollyStewart.com

Published (and copyrighted) in Suburban Family Magazine, Volume 12, Issue 2 (May 2021).
For more info on Suburban Family Magazine, click here.
For information about advertising in Suburban Family Magazine, click here.
To find out where to pick up your copy of Suburban Family Magazine, click here.