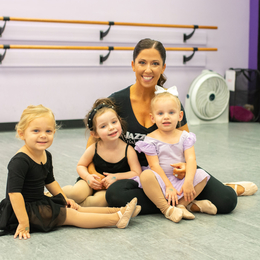 All the Right Moves
Jazz Hands Dance Academy fosters a positive atmosphere that builds self-confidence and friendships through the love of dance.
A lot of children dream about their future, but when Christine Campbell was just 3 years old, she began a lifelong love affair with dance that has seen her living out her childhood dream to this very day.
After being enrolled in her first dance class as a toddler, Campbell became immersed in the performing art and in September 2002, she had her first opportunity to teach her own dance class. That experience further assured Campbell that she was on the right path for her dream. Shortly thereafter, while attending Rowan University and pursuing a degree in Entrepreneurship, she joined the Philadelphia KiXX Dance Team and could be found performing regularly in Atlantic City. To further add to her resume, Campbell choreographed routines for the Philadelphia Mummers Parade and was also the founder of the Camden Riversharks Dance Team.
In 2015, she wanted to share her passion with the next generation of dancers and opened Jazz Hands Dance Academy. After operating out of a spare room inside a karate school for 18 months, Campbell moved the dance studio to a 3,000-square-foot facility in Clarksboro in 2017 and it was a dream come true.
"I always knew I wanted to be a dance teacher because I wanted to inspire young dancers the way my dance teachers inspired me," says Campbell. "The friendships and memories I've made throughout my years of dance are so special to me and I wanted to create a space for future young dancers to experience that community."
Whether she's teaching toddlers the basics of ballet or working with the advanced dancers to teach a challenging choreographed routine, Campbell's mission is to build self-confidence and friendships through the love of dance. "It's so important to build children up and have an emphasis on positive reinforcement because these are the moments that help build them into who they are going to grow up to be," she says.
Some of the fun in dance comes by way of games and activities that Campbell incorporates into the classes. Students complete obstacle courses and play freeze dance as a way to create an even further welcoming environment while also learning the motor skills and instructions required to learn the art of dance.
"It's so much more than just the dance steps we learn. It's about the whole experience, who we're enjoying it with, and making it fun," Campbell states.
Jazz Hands Dance Academy offers year round enrollment with no contracts for a variety of classes such as ballet, tap, jazz, hip-hop, acrodance and more for children starting at 18 months old and up. While toddlers begin with a 30-minute class once per week, as they advance to teens they take several hours of instruction per week in various disciplines of dance; however, their schedule still allows the dancers to focus on their academics and participate in activities other than dance.
"As dancers reach their teen years and begin participating in school functions, Jazz Hands offers dancers a balanced schedule to continue their love of dance while still allowing the dancers to join school activities and attend parties and events," she says. "They're only kids once, and while dance can be their passion, I don't think it should be the only activity children participate in so they can still fill their childhood with other opportunities in life."
That family-like atmosphere Campbell has created has helped her stay connected with students, even long after they pass through her doors. In fact, some of the students she started teaching when they were toddlers are now graduating high school and college and have kept in touch over the years and come back to visit often. Furthermore, some of her current dancers have begun to assist her in other ways at the academy and in some cases are now teaching their own classes.
"I get to experience some of the dancers' milestones like potty training, tying their own shoes, mastering new skills and how they are excelling at school, all the way up to them talking about where they want to go to college and what they want to major in. I love seeing all of the dancers week in and week out, year after year and we form a bond of trust and friendship with one another," says Campbell. "We're like a family."
Jazz Hands Dance Academy
Clarksboro
(856) 599-0755
JazzHandsDanceAcademy.com

Published (and copyrighted) in Suburban Family Magazine, Volume 12, Issue 2 (May 2021).
For more info on Suburban Family Magazine, click here.
For information about advertising in Suburban Family Magazine, click here.
To find out where to pick up your copy of Suburban Family Magazine, click here.