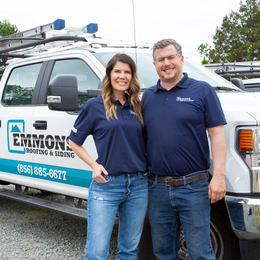 Exceeding Expectations
Emmons Roofing takes customer service and craftsmanship to the next level.
Let's face it. Choosing a contractor to work on your home is not easy. There are many factors to consider, including availability, reliability and integrity, and Emmons Roofing co-owner Stephanee Kelly understands this. That's why, when it comes to working with customers, she tries to be as transparent as possible.
"It's an intimate relationship when you are working with someone's home," Kelly says. "Most people don't know the basics of putting a roof on, so they have to trust this person to do a good job.
"We're very mindful of that and helping to educate the customer," she adds. "We may be the experts but we need to make the customer the expert, too."
Kelly's approach is a unique one in the contracting world. But so is the fact that Kelly owns a roofing business with her husband, Matt. As a woman contractor, she's used to making people take a second look, so why not use it as an opportunity to turn their expectations of contractors around.
"Matt and I work really hard to combat the thought that contractors can't be trusted," Kelly says. "We try to give the customers the unexpected. I can promise you that no one cares more."
Kelly's way of thinking was developed over 15 years spent in property management, where she honed in on the customer service and management side of the business. Paired with her husband's background in engineering, they can offer customers—and their employees—a business model they are proud of.
"Our philosophy is to love our employees and they will love our customers," Kelly says. "We will always strive to give an 'above-and-beyond' experience."
The commitment to excellence has earned Emmons Roofing the title of platinum contractor with Owens Corning, an industry-leading roofing, insulation and fiberglass producer. While Emmons Roofing must meet high standards for customer service and craftsmanship to be platinum contractors, the standards Kelly holds for herself and her company far surpass that.
"While we do have high standards to meet, we try to go beyond that," she says. "The way to differentiate yourself in the contracting world is to care a lot. We talk about that a lot in the office and with our team—our whole goal is to love the customer more than anyone else."
While roofing is a major part of the Williamstown-based company, Kelly says Emmons can also provide siding, windows and doors, as well as storm damage repairs.
"We have really great relationships with several different insurance companies to help in the claim process," she says. "It can be grueling, but we have very knowledgeable people who can manage the process for you and help you through it.
"We've had a lot of success getting things paid for when the homeowner couldn't on their own," Kelly continues. "It just comes back to experience. When you don't know what should happen and when, it can be hard to get the insurance company to pay, but we can help. A customer might make a claim once or twice in their life—we make claims every day."
Kelly and her husband purchased Emmons Roofing in 2019. While a national pandemic certainly made it difficult to get their names out to the public in their beginning stages—not to mention keeping their team and customers safe and healthy—Kelly says the obstacles they have faced since opening have only made them stronger and they are excited for what is to come.
"We are really focused on being the best we can be every day," she says. "We hope to continue to be a place that people can work for and make a good living at, which, for Matt and I, is a point of joy and pride—to know we are providing careers for people in an environment where, if we are treating our team well, they will treat our customers well.
"We want our employees to feel that pride as well; we want everyone to help build our company," Kelly concludes. "We are helping customers with major purchases that can be scary, and our goal is to continue to thrive in that, and tweak it to be perfect."
Emmons Roofing and Siding
2924 S. Black Horse Pike
Williamstown
(856) 885-6677
EmmonsRoofing.com
Published (and copyrighted) in Suburban Family Magazine, Volume 12, Issue 2 (May 2021).
For more info on Suburban Family Magazine, click here.
For information about advertising in Suburban Family Magazine, click here.
To find out where to pick up your copy of Suburban Family Magazine, click here.