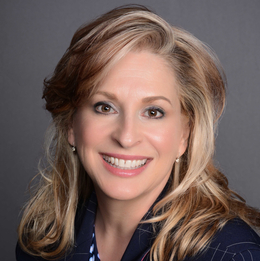 Righting Wrongs
Since 1997, The Vigilante Law Firm has thrived under founder Jacqueline Vigilante's desire to make a difference.
There was never any doubt in Jacqueline Vigilante's mind that she was meant to be a lawyer because her father never doubted it was the path that she, the family's first college graduate, was meant to take.
She carried that same certainty with her when she decided to launch her own firm in 1997, planting The Vigilante Law Firm's flag first in Philadelphia and later in Mullica Hill.
"I come from a family of entrepreneurs—we've always been in business for ourselves," Vigilante says. "From the time I was 2 or 3 years old, my father was telling me 'When you grow up, you're going to be a lawyer.' I didn't know what that was, but I am glad I listened."
Today, she and her team serve New Jersey and Pennsylvania residents in areas like employment law, personal injury and police misconduct defense. It's a full-service practice with a group of attorneys handling wills, trust and estate planning, courtroom litigation, real estate services and more.
Vigilante was drawn to personal civil rights issues after some firsthand encounters "lit a fire in [her] belly" and instilled in her the desire to keep those wrongs from befalling another innocent party. Whether a client is the victim of harassment or pay inequality, she vows to fight for them just as tenaciously as she advocated for her younger self.
"I was never one to stand on the sidelines for any issue," she says. "I'm a fighter. My clients know I take the hard cases because I'm not afraid of the challenge, whether it's against big business or big government."
To this day, Vigilante goes the extra mile to make sure she is involved in every case the firm has accepted.
"We offer a very personal touch. I don't think we've ever had a client in my firm I haven't met or personally supervised their case" she posits.
Mostly working with referrals from other attorneys and clients, the highest compliment the firm receives is referrals from attorneys that Vigilante has litigated against. "My adversaries know how hard I fight, and have referred their friends and family to me."
She takes the tough cases, so long as clients demonstrate their own determination to put a negative situation behind them.
"I enjoy helping people who can't help themselves," she says. "Everybody can be a victim but some people just want somebody else to handle their problems. I have to believe in a client's cause and I have to know that they do, too."
Those with The Vigilante Law Firm in their corner can also take comfort in knowing the team boasts a successful history.
"Our clients benefit from my willingness to take on a challenge," Vigilante says. "We've helped save people's jobs, I have clients who've been, unlawfully terminated, sexually harassed or have been skipped over for promotions, and we've helped right those wrongs."
Knowing that she's helped others is a big reason why Vigilante was drawn to law in the first place—and why she still gets excited about going to work every day.
It's also why she was thrilled when one of her sons followed in her footsteps and went to law school. He has been working at The Vigilante Law Firm since he completed a judicial clerkship last year.
"My oldest son went to college and decided to take the LSATs because he thought he had a calling to be a lawyer," Vigilante recalls. "So many lawyers have said to me 'How could you let your son get into this business?' and I just laugh. I've been doing this for 33 years and I still wake up every day loving what I do. Why would I not want him to have that kind of fulfillment in his life?"
Although her father passed away in 2015 and didn't get to see his prediction influence a second generation of lawyers in the family, Vigilante knows he'd be proud to see her boys discover their own definitions of success.
"He lived not far from my office, so he'd come over two or three times a week just to see if anything needed fixing: He'd be here even more often just to see his grandsons," she says, adding that one of her other sons handles the firm's client communications while her own mother helps out part-time; Vigilante's youngest son, meanwhile, is a nursing student.
She is proud of her three boys, because "it's all about enjoying what you do and making a difference however you can." While she endeavors to be the change she wants to see through her work, Vigilante also volunteers her time in various capacities, like serving on the board of governors for the New Jersey Association for Justice and as the chairwoman of the Gloucester County Republican Party, as well as being inv involved with volunteer organizations like Rotary International and the American Cancer Society.
"I'm helping people and I'm making a great living that lets me take care of my family," she says. "I do believe in giving back, and my career has given me the flexibility to do volunteer work."
The Vigilante Law Firm
99 North Main St.
Mullica Hill
(856) 223-9990
TheVigilanteLawFirm.com

Published (and copyrighted) in Suburban Family Magazine, Volume 12, Issue 2 (May 2021).
For more info on Suburban Family Magazine, click here.
For information about advertising in Suburban Family Magazine, click here.
To find out where to pick up your copy of Suburban Family Magazine, click here.