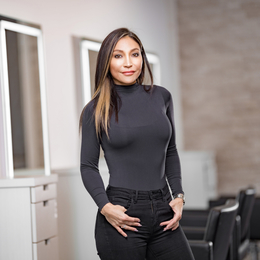 Inspiring the Next Generation
Following a successful career in the corporate hair styling industry, Hope Doms opened Wair Studio Salon to prove to herself—and other young women—that anything is possible.
Not many people are fortunate enough to turn a hobby into a career. As a young woman, Hope Doms always found herself doing hair and naturally pursued it professionally, following in the footsteps of her grandmother. After completing beauty school she spent 15 years "behind the chair" in salons. But her career took a different direction when she became a platform artist educator for the Matrix brand at its academy in New York City.
It launched her into the corporate side of the salon industry where she helped rebrand JC Penney's salons in collaboration with InStyle Magazine, becoming part of the education team that created the technical training program used in 800 salons with 10,000 stylists. During that five-year span she attended multiple hair shows, conducting on-stage presentations, and styled numerous photo shoots for major magazines and industry websites. In 2013, Doms was nominated for North American Hair Stylist of the Year, which is akin to the Oscars for hair. "Just to be nominated is a big deal," she says.
Doms has styled for Nicole Miller, professional athletes including the Flyers and for shows such as Say Yes to the Dress. Upon the birth of her daughter in 2016, Doms came back to New Jersey and entered the next phase of her career.
"I had the opportunity to open my own salon and I thought, if I don't do it now, I'm never going to do it. It was scary but I ran with it," she says.
As the owner and master stylist of Wair Studio Salon in Marlton, offering superior services for hair, as well as brows and lashes, Doms has applied her decades of knowledge to the salon.
"During my time traveling in the industry, I learned a lot about running a business and the guest experience. I wanted to create a small boutique salon with a very friendly atmosphere, unlike other huge salons. My philosophy is not about trying to cram everybody into my book to make a quick buck. We spend time working with clients and discussing goals for their hair," she says.
Many clients come in not knowing exactly what they want, so the stylists at Wair do an initial consultation. If it's a big change you want, Doms says "slow and steady wins the race." It begins with tempering expectations. "Not everyone's hair can do the same. We could have two people come in with the same inspiration picture and the results will not be the same. We always have an honest conversation with clients and help them understand the process of where they need to go," she says.
Wair offers several specialty services not easily found in other salons in South Jersey. One is the calligraphy cut, created by a German master hairstylist by the name of Frank Brormann. Wair's stylists are certified in this patented cutting style. "This cut is performed with a small calligraph knife rather than scissors or razor, and cuts the hair on a 21-degree angle, leaving hair stronger and with up to 300% more volume. The cut surface remains smooth and keeps split ends at bay," says Doms.
Other popular services include hand-tied extensions which are done without glue, and the Arrojo American Wave, a new perm trend. "This is not the old-school perm from the '80s; this creates beachy waves. Everyone wants texture in their hair—the flat iron look is out—and our senior stylist Mel was trained in New York City for this technique," Doms says.
She is most proud of the salon's decision to offer organic products, especially for color treatments. "My senior stylist Tara inspired me to go in this direction. She is a certified organic colorist. Once you learn about the chemicals in other brands and what we were breathing in daily or getting on our skin—I wanted something safer and gentler on hair," she says.
Even as a salon owner and woman business owner, Doms cannot escape the years she spent as an educator in the industry and she hopes to bring some element of that to Wair.
"For those just out of beauty school, I offer an extensive assistant training program that builds them up so they aren't shampooing for five years," she says. "I would like to expand on that and turn it into an education center for other stylists and share knowledge with everybody. Instead of competing, we can learn from each other. It's all about positivity and putting good energy out there."
Ultimately, Doms wants to be a good role model for her daughter and other girls in the next generation. "I'm a single mom and it really takes a village. My mom came here from Korea and cleaned buses for a living, but she taught me a good work ethic and that I could be independent. I hope my daughter sees her mom working hard and that all little girls see that they can have their own business."

Wair Studio Salon
65 E. Route 70, Suite 1B
Marlton
(856) 334-8231
WairStudioSalon.com

Published (and copyrighted) in Suburban Family Magazine, Volume 12, Issue 2 (May 2021).
For more info on Suburban Family Magazine, click here.
For information about advertising in Suburban Family Magazine, click here.
To find out where to pick up your copy of Suburban Family Magazine, click here.