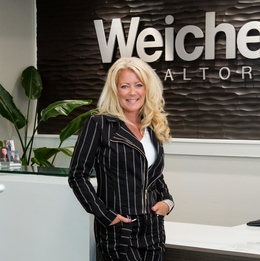 Always by Your Side
Buying or selling a home in a historic market can be overwhelming, but Theresa Schiazza of Weichert Realtors guides her clients through every step of the process.
Ten years ago, Theresa Schiazza was looking to resume her professional career after taking some time off to raise her children. She wanted a field that could combine her background in sales and marketing, her passion for helping people and her negotiating skills—all while offering the flexibility that any working parent can appreciate.
Real estate turned out to be the perfect match.
Now a decade into her highly successful run as a realtor, Schiazza can honestly say she is just as happy today as when she took the first step of the journey.
"I absolutely love it," says Schiazza, an agent at Weichert Realtors in Haddonfield. "You get to meet so many people and it's always exciting. Every day is different and you never know what each one is going to bring."
Never has that been more true than in the past year. Although one would be hard-pressed to find a realtor who prepares more thoroughly than Schiazza, even she had no inkling of what was to come after the pandemic hit in early 2020. Historically low mortgage rates, demand for more spacious and comfortable homes and low inventory have created a red-hot market the likes of which few have ever seen.
According to Schiazza, closed sales are up 19% year on year in New Jersey and prices have increased an astonishing 21%.
"Nobody could have predicted this," she says. "The market is just soaring and we're pulling out all the stops. Honestly, it's a little bit of a challenge but it's an amazing real estate market right now. We predict that it's going to continue to soar, at least in the coming months post-pandemic."
Open houses are bringing in more than 30 families for a tour, and listed homes are staying on the market for just a few days before fetching top dollar. With so much competition on the buyers' side, it is critical to have an experienced agent who knows the ins and outs of the industry.
"A realtor has to know how to work their way around that to make their clients stand out among others," Schiazza says. "When you see a home coming on the market, you need to be the first one in there and get the offer in immediately. You need your terms to be the best possible to entice the seller to choose your client."
Schiazza has a proven track record of helping clients settle on the home of their dreams. Take one of her most recent closings, which involved an expectant couple desperate to move into a larger house. Thanks to Weichert's in-house mortgage and title services in its "All Under One Roof" program, and the fact that the clients were pre-qualified for a loan, Schiazza was able to strike a deal quickly.
"We toured the home and within 15 days we were at the closing table," she says. "Their baby was born the next week, so there was definitely an urgency. You're faced with that a lot right now. People are getting top market value for their home, but finding a home for them to move into is what the big struggle is. You need to educate your buyers on the entire process and make sure they are fully qualified, not just approved, and that whoever the lender may be is ready to move forward."
Married for 30 years, Schiazza is a local resident who enjoys South Jersey's breathtaking lakes and parks, charming downtown cafes and artisan shops. She works with clients all over Camden and Burlington counties as well as Ocean and Monmouth and has been a member of the Million Dollar Club each of the past two years.
Focused on handling every aspect of the buying or selling process and making it as smooth as possible, it is no wonder that she has so much repeat business or referrals from satisfied clients.
"That is the highest compliment you can receive as a realtor," she says. "The reason for that is because I make sure we get to that closing table, and I will handle anything that happens within the transaction. I work a lot with first-time buyers or even sellers who haven't sold a home in quite some time. If anything needs to happen, whether it's the appraisal or the inspection, I am there personally to take care of it. I really try to make it as stress-free as possible because I know it's a very emotional, overwhelming time. They put their confidence in me and I have to deliver."
Theresa Schiazza
Weichert Realtors of Haddonfield
132 Kings Highway E. | Haddonfield
(800) 299-2129 (office)
(732) 779-1754 (cell)
Theresa-Schiazza.Weichert.com
Photography by Alison Dunlap
Published (and copyrighted) in Suburban Family Magazine, Volume 12, Issue 2 (May 2021).
For more info on Suburban Family Magazine, click here.
For information about advertising in Suburban Family Magazine, click here.
To find out where to pick up your copy of Suburban Family Magazine, click here.