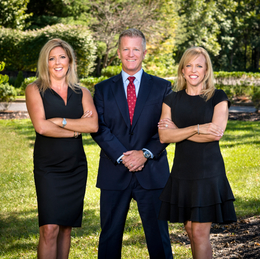 Moving Clients Forward After Divorce
When faced with one of the most difficult challenges of their lives, clients lean on the compassion and experience of Weinberg, Kaplan & Smith to guide them.
No one can fully prepare for a divorce. It's never part of life's plan and can leave an individual feeling lost and overwhelmed with the circumstances. Legal guidance is crucial at this moment, but not just any attorney will do.
"Most aspects of a family law case can prove to be very emotional," says Dawn Kaplan, co-founder and shareholder at Weinberg, Kaplan & Smith, P.A. "When you first meet your clients, more than likely they are apprehensive, devastated or confused. You are dealing with a person's life. Getting the best result possible for your client and watching them realize everything will be OK is incredibly rewarding and keeps us going every day."
Compassion is a core component of the approach at Weinberg, Kaplan & Smith (WKS). "We recognize that our clients are dealing with a traumatic period of their life. Our job is to educate the client on the best options to move forward and meet their goals. Then we devote our efforts to ensuring that the client's interests are protected and their goals achieved," says Michael Weinberg, shareholder.
A boutique family law firm located in Marlton, WKS specializes in divorce, custody and all other family related matters. The firm's roots go back to Weinberg's father, Joseph, who founded it decades ago in Haddonfield. Michael Weinberg spent his own time there as a young associate before becoming co-chair of the matrimonial department at another law firm just a few blocks away. However, it was the matching of Kaplan and Amy Smith, partner and shareholder, with Joseph that formed the firm now known as Weinberg, Kaplan & Smith.
Weinberg, who has always been close friends with Kaplan and Smith, was happy for those involved and regularly kept in touch while watching the firm grow. After his father retired eight years ago, the casual discussions about Weinberg joining the firm became more pressing. After all, his name was already on the door, but he was happy at his current firm.
"As my 50th birthday approached in 2019, I took it seriously. This was my chance to pick up where my dad left off and carry the mantle forward," Weinberg says. "I agonized over the decision but if I didn't do it then, I wouldn't do it when I turned 60. I took that leap of faith and it felt like I came home."
The shareholders, as well as partner Luke Griffitth and associates Jill Dell'Aquilo and Allison Burkhardt, share a common approach while recognizing the depth of experience each one brings to the table for clients.
"Weinberg, Kaplan & Smith is a family. On a professional level, we respect each other's talents, abilities and approaches. On a more personal level, we will be there for each other and at any time for anything. And because of how we approach each other on an individual level, we have an even better understanding of the importance of family. All of this enables us to provide a high level of service at a more personal approach," says Smith.
For those who may be contemplating divorce, it's important to meet with attorneys to evaluate options and get a glimpse of what life might be. "Moving forward with a divorce is one of the most personal decisions one is faced with, and they want to know if they will be OK, will their children be OK? These are all normal thoughts and questions," Weinberg says. "As a potential client evaluating attorneys, I tell them, you need to be comfortable with and have confidence in your attorney. You should hire someone who listens to what is important to you, who is competent and experienced. They should be compatible with you, and communicate as you walk through this dark tunnel into the sunlight."
Operating under the pandemic's protocols has been challenging but not impossible. "So much of what we do is personal in nature and my preference remains for in-person meetings with clients when possible with masks and social distancing, if necessary, but we do offer our clients virtual options," says Weinberg, who adds that the courts have been mindful of resolving family law cases so that people can move on with their lives.
Although family law can be emotionally draining and taxing, Weinberg, Kaplan and Smith agree that there is no other area of law where you can make as much of a difference in someone's life. "In matrimonial law, you have the ability to make a difference whether you are fighting for your client's child custody or financial security," Weinberg says. "We show them that they will be OK, and when they voice their appreciation, it provides the strength to keep moving forward in our practice. Put simply, the appreciation can be unparalleled in any area of law."
Weinberg, Kaplan & Smith, P.A.
8000 Sagemore Drive, Suite 8301
Marlton
(856) 375-1586
WKSNJLaw.com
Published (and copyrighted) in Suburban Family Magazine, Volume 12, Issue 1 (April 2021).
For more info on Suburban Family Magazine, click here.
For information about advertising in Suburban Family Magazine, click here.
To find out where to pick up your copy of Suburban Family Magazine, click here.