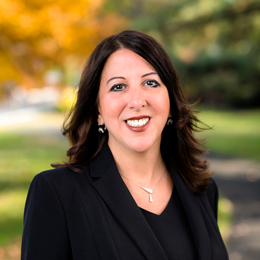 A Guiding Hand in Difficult Times
Having just celebrated its second anniversary, Stockton Family Law has been helping clients successfully navigate stressful situations during these unprecedented times.
When attorney Kathleen Stockton decided it was time to take more than 20 years of legal experience and start her own practice, she knew she was on the right path.
She just had no way to predict Stockton Family Law would spend its second year helping clients navigate the stress of a pandemic on top of the stress of their own matters: a divorce, custody dispute, domestic violence situation, adoption or pre-nuptial agreement.
Stockton's team—office assistant Ann Rowand, legal assistant Sandy Smith and associate attorney Jessica Beardsley—worked hard early on to be available for clients no matter the state of the world. They collaborated daily to overcome challenges, find creative solutions and meet clients' needs.
"We worked remotely for a short while, but so many people really do need to see you face to face," Stockton explains, adding that she's also happy to accommodate clients who prefer strictly virtual interactions.
Still, practicing family law in the time of COVID comes with all-new pros and cons.
"One huge benefit is that we can finally electronically file pleadings with the court," Stockton explains. No longer having to mail or hand-deliver documents has saved clients both time and money, as has the efficiency of virtual hearings.
However, fewer opportunities for in-person interaction makes it difficult for judges to assess credibility. It is also more challenging for two parties already at odds to come to an amicable agreement when they are not interacting in a civil setting.
"You lose opportunities like judges telling people, 'I'm not ready for your case yet, use the next couple hours to talk,' and the togetherness of being in the same room," says Stockton. "That communication really does help with settlement."
But this is where alternate dispute resolutions are even more beneficial than usual, as methods like arbitration and mediation can facilitate communication and offer speedier resolutions.
"We want people to go into mediation willing to compromise and have an honest conversation," she says. "I never feel like mediation is a waste of time, even if a resolution isn't reached, because it's where you learn what's really important to people and what issues will be the most difficult to resolve."
While alternate options might appear more costly up front, Stockton believes the overall savings in time and money are beneficial—and not just because options like arbitration avoid trials scheduled by judges' limited availability.
"You can choose your arbitrator, who can be an experienced family law attorney or retired judge. Any time you can have more control over the proceeding, that's always a good thing," she says. "You don't get to choose your judge or expedite your court dates."
Stockton is similarly frank about the myriad elements at play in family law, from emotionally charged topics to malleable definitions and infinite variables.
When courts determine alimony, there are primary factors at play, like the length of a marriage, incomes and budgets. But there's also both parties' health, their education, and if one gave up a career or earning potential to raise children—circumstances unique to each person so no two cases will yield the same settlements.
Nebulous terms like "cohabitation" can further complicate things, since "there's really no clear definition." In short, it's two people in a relationship "similar to a marriage" who don't have to be living together full time but are emotionally and financially intertwined.
"If someone who is receiving alimony is cohabitating, then their alimony may be suspended or terminated—that's pretty scary," Stockton notes. "It makes people receiving alimony worry about things like whether they're allowed to spend overnights with a significant other or help each other with household chores."
Child support is another touchy subject made more complex because a dependent child in New Jersey isn't automatically emancipated at 18.
"The law is pretty clear that if you have a child who's in college full time, child support is still an obligation, which can include contribution to college," Stockton explains. She cites a 1982 case—Newburgh v. Arrigo—that requires courts to weigh factors like financial resources, the child's commitment to their education and parent/child estrangement.
These issues underscore why having a seasoned professional on your side is worth the cost, particularly when court appearances are unavoidable. Stockton notes she's an excellent litigator who "aggressively advocates" for her clients during court proceedings.
"It's all very fact-sensitive but it's about relationships too, and they're all different," Stockton says. "I like to think of creative ideas to resolve matters. You want a great outcome for your client, and you want to do it at as little cost to them as possible."
Managing clients' expectations along the way goes back to the importance of communication. That communication also builds trust and confidence in not only the process but also the attorney-client relationship.
"I'm very honest and upfront from the outset," says Stockton. "I don't give clients high expectations when I cannot guarantee the outcome. We talk realistically, and I think that makes people feel comfortable coming to me with their fears."
Stockton Family Law
704 E. Main St., Suite E
Moorestown
(856) 412-5052
StocktonFamilyLaw.com
Published (and copyrighted) in Suburban Family Magazine, Volume 12, Issue 1 (April 2021).
For more info on Suburban Family Magazine, click here.
For information about advertising in Suburban Family Magazine, click here.
To find out where to pick up your copy of Suburban Family Magazine, click here.