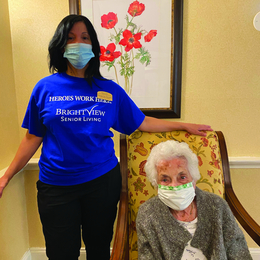 A New View on Life
At Brightview Woodbury Lake Senior Living, the key to providing quality care comes from its compassionate and dedicated associates.
The moment Doris Leach, 90, fell down her basement stairs was a turning point. Lucky to survive, the reality she had denied for so long could not be ignored—it was time to leave her home and find an assisted living community.
Her nephew, John Wood, was instructed to find a place that would also allow Leach to bring her only companion, her cat Red. "Not an easy task," he admits, "but then I contacted Brightview
Woodbury Lake. From the initial contact to the present, the communication, caring and
professionalism were evident." Not only was Red welcome, but an apartment was available.
Since moving into Brightview Woodbury Lake Senior Living last July, Leach is a new person, says Wood. "The staff made her feel at home. It was not long before I could not get her on the phone because she was 'visiting with the ladies.' Her social life was back and so was her appetite. … She has compliments for the food, staff and activities."
Hearing his aunt say, "Everyone is so nice here," is of great comfort. "I now have the peace of mind knowing that she is safe and cared for by professionals. This facility is the gold standard, in my opinion," Wood says.
Wood is not alone in that. Brightview, which operates 45 communities in eight states, has been providing award-winning care since 1999. It has repeatedly been recognized by Fortune as one of the "Best Workplaces for Aging Services," but this year the company achieved an even bigger honor as one of Fortune's 100 Top Companies to Work For—the only assisted living provider on the list.
This distinction is important, says Tracy Gill, executive director, as it involved a two-step process. First is an associate survey and then the second step took into account how Brightview supported residents and associates with "bold acts of leadership during the pandemic."
"We have been doing an associate engagement survey for the past several years and our scores were consistently high," she says. "Of our own associates, 89% say we're a great place to work, 90% say they have a sense of pride working here and 91% say they feel they make a difference. Those benchmarks propel us as an industry leader."
Gill continues, "During the pandemic, we prioritized not just the health of our residents, but our associates. When personal protective equipment was scarce, we secured gowns, gloves, etc. We even set up food pantries for our associates to shop from, for free, so they would not have to take risks at the grocery store," says Gill. "We provided daily bulletins as the regulatory changes happened so quickly, and kept all communications streamlined, and we even had a nurse available by phone for questions. These things enabled Brightview to be lightyears ahead as an organization."
One might wonder why it's so important for Brightview to have happy employees, but it's obvious when you step inside the community. "When our associates start working here, from day one, they see the culture and learn about our STARS values: service, teamwork, action, reputation and success," says Gill. "When associates are engaged in their duties, it translates to the care of residents. At the height of COVID when we were closed to visitors, residents had no family around them. Associates took on the responsibility of bonding and interacting. Residents would light up at those daily interactions and associates would walk out feeling good about what they did."
Renee Miranda noticed the welcoming atmosphere immediately. Over three years ago she came with a friend who was applying to Brightview and got to chatting with the dining director. As she learned about the community she knew she wanted to apply as well. Miranda is now a chef at Brightview Woodbury Lake and feels fulfilled in her job.
Mealtimes are the best times of day, and residents look forward to what Miranda will create. She says some favorites include anything with pasta and soup—her unstuffed pepper soup is a crowd favorite and a resident even requested the recipe. "I like to think that the residents are my No. 1 critics, but it helps me get better at cooking. They love presentation so I love to present dishes nicely and I can tell they appreciate it," she says. "I always check on them to see if they are satisfied with how we're doing things in the kitchen and when I get good feedback, it makes my heart feel happy."
Employees like Miranda have opportunities for growth and the company prefers to promote from within. Gill says department directors will regularly check in with associates to find out career goals and set up an individual development plan to allow them to explore other positions in the community if desired.
Families who may be considering assisted living for their loved one can also expect an interactive tour when visiting. "We don't just look at the apartments, we interact and introduce them to every associate as we walk through," says Gill. "I am confident they will feel the culture that sets us apart within the senior living industry."
Brightview Woodbury Lake - Senior Assisted Living & Memory Care
752 Cooper St.
Woodbury
(856) 324-3447
BrightviewSeniorLiving.com
Published (and copyrighted) in Suburban Family Magazine, Volume 12, Issue 1 (April 2021).
For more info on Suburban Family Magazine, click here.
For information about advertising in Suburban Family Magazine, click here.
To find out where to pick up your copy of Suburban Family Magazine, click here.