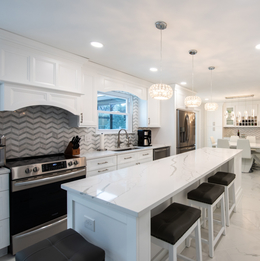 Building Relationships
Two South Jersey locations help Amiano & Son bring South Jersey's construction visions to life with a people-first philosophy to doing business.
Amiano & Son has been serving South Jersey's construction needs since 1968, or for three generations of Amianos. In that time, the company founded on the strength of Louis Amiano Sr.'s masonry has grown with new team members, new technology and even a new location.
But one thing never changed as its services expanded to include home additions, full-home remodels, kitchen and bathroom renovations, and outdoor-living concepts: Relationships come first.
That people-first perspective deepened as the company developed a distinctly family feel. Louis Amiano Jr. assumed his father's president role in 2009, his wife Wendy joined the team to handle marketing and client relations, and their daughter Sophia is bringing her color-certified interior-designer's eye to the company as she attends the University of Wilmington. The Amianos' nephew, Joe Clymer, is also part of the team and has worked his way up to sales manager.
Being family goes beyond blood, though.
"We have a staff where everyone is on the same page because we're so close and connected," Wendy says. "If anything happens to one of our people, they have this whole family who's there for them."
After years of "doing everything in the company," Wendy says her husband eventually wanted to spend less time working in the
business as a jack of all trades and more time working on it as an owner. "Lou Jr." has since surrounded himself with people he trusts, with millennials accounting for much of that 19-person team.
"Our staff is very millennial-heavy," Wendy notes. "We have people like Keith Blose, who worked his way up to field manager and still jumps into any role we ask him to. We're at the point where we have longevity with our younger staff. I look at our team and I get excited about the future."
As he planned his transition, Lou Jr. started working with Clymer, who thrived under that guidance. And when Amiano & Son expanded beyond its Southampton office and showroom to a second location at the Shore two years ago, Clymer was the obvious choice to lead it.
"Joe started off in the field right out of high school. When there was a crawl space to go in, we sent Joe," Wendy laughs. "Then he self-trained on interior design, he was doing sales here and there, and he had a real knack with people. Now he's an award-winning salesperson with a strong future."
Treating employees like family and developing their strengths is how Amiano holds onto top talent, like accountant Mary Beth Brodtman, who has been with the company for more than a decade and Wendy swears is so integral that "we all feel it when she's out on vacation." It's also how the company assures its staff is organically invested in the company's future.
"We work hard to retain our younger employees because they're the future of this company," Wendy says. "The benefit to the client is that they're working with a team that's knowledgeable, detail-oriented and proactively trouble-shooting even before the onsite project starts."
What Amiano does is deeply personal work, and the team takes that responsibility seriously. Wendy describes an internal quality-assurance process that engages clients throughout every phase. Pre-construction meetings set expectations; site visits establish familiarity; project managers oversee a
project throughout its duration; Blose ensures nothing is left unexamined, right on down to contracts and budgets.
"It took a long time to perfect our process," Wendy admits. "We learned throughout the years that communication with clients is extremely important. We've set up on a cloud-based system so that anyone on a job can take a picture and upload it so the client can see what's going on in their home at all times."
And it's not just about delivering top-notch service. Amiano is discerning in the products it uses, too, interviewing suppliers to ensure everything from the tile and siding it stocks to the tried-and-true brands it builds with to the budget-conscious options it offers all deliver the quality Amiano promises. That's where working with other builders, remodelers and construction-industry peers is especially advantageous.
"You'll always get what you pay for but this industry is constantly changing," Wendy explains. "The Builders League of New Jersey really helps bring everyone together, and Lou's constantly learning something new through NARI (National Association of the Remodeling Industry) and NKBA (National Kitchen & Bath Association)."
That always-evolving education, as well as tapping into its team's range of expertise and soft-skill professionalism, is all part of what makes Amiano & Son special.
"The feedback I get is that everyone loves working here, everyone wants to come into work," Wendy says. "Our clients know that they're working with professionals who really care about the job—which is someone's home—and not just the sale."
Amiano & Son
(609) 268-5923 | Southampton and Barnegat Light
AmianoAndSon.com
Published (and copyrighted) in Suburban Family Magazine, Volume 12, Issue 1 (April 2021).
For more info on Suburban Family Magazine, click here.
For information about advertising in Suburban Family Magazine, click here.
To find out where to pick up your copy of Suburban Family Magazine, click here.