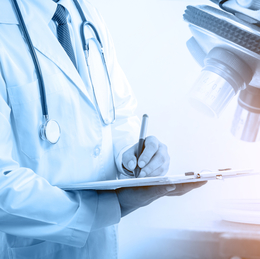 Health Care 411
Medical providers inform us about the latest discoveries in their field
Although the COVID-19 pandemic has been dominating the headlines for the past year, health care providers in all specialties continue to make progress on treating patients for countless other medical concerns. Here, they share a few of the recent trends in research and treatment across the spectrum of health care.
Cancer Treatment
"Today we know there are certain mutations that occur in cancer that allow it to
grow and spread, and it can be targeted specifically. When we understand it, we're able to give treatments that are specific and targeted with high efficacy and significantly lower side effects. One of those treatments offered is precision medicine, which looks at the genomics of the cancer and allows our patients targeted therapy that specifically targets their cancer in a way that allows for more effective treatments, better tolerance and less toxicity from the treatments."
Dr. Noah Lindenberg
Lindenberg Cancer & Hematology Center
Chronic Venous Disease
"When we talk about vascular disease we often refer to blockages in the arterial system. But—by and large—the veins are affected more in our legs than in our arteries. The first line of defense is compression stockings [which] the patient wears for at least 90 days and then most insurances will approve a quick in-and-out procedure called radiofrequency ablation/venaseal, which takes about an hour or less in my office with no incision and it's all done through a tiny needle. At the end of the procedure the patient walks out of our office and can return to work the next day. Legs look better, but disease pain symptoms can go away as early as two to three days after the procedure has been done."
Dr. Vic Bahal
Advanced Cardiology of South Jersey
Hearing Loss
"Hearing loss is a widespread issue affecting all segments of the population. By age 65, one in three people have hearing loss. More than 30 million American experience dangerous noise levels at work, and 50 million experience ringing in their ears (tinnitus). And about two to three of every 1,000 children in the U.S. are born with a detectable hearing loss in one or both ears. The relationship between hearing health and quality of life are often underestimated, yet can be directly linked to common medical conditions, including diabetes, heart disease, cognitive decline, depression, dementia, ototoxicity and more. A trusted provider can match individuals for acoustic and communicative amplification."
Jonathan Ayes
Associates in Hearing Health Care
Cardiology
"In the field of cardiology, early risk factor identification and evidence-based treatments are the keys to prevention. There are several well-tolerated medications and easily achievable lifestyle modifications that can have an impact on your risk of stroke or heart attack. Managing health should be more proactive than reactive. Avoiding trouble is far superior to experiencing trouble and these tools allow us to treat a wider array of patients in less invasive and safer ways. For patients, early detection and proper disease management means fewer strokes and heart attacks, and a better quality of life."
Dr. Kurt W. Kaulback, FACC
Inspira Health

Published (and copyrighted) in Suburban Family Magazine, Volume 11, Issue 12 (March 2021).
For more info on Suburban Family Magazine, click here.
For information about advertising in Suburban Family Magazine, click here.
To find out where to pick up your copy of Suburban Family Magazine, click here.