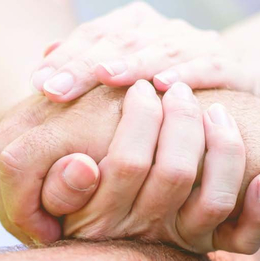 Returning the Favor
After raising you in a safe, loving environment, your parents deserve the same for their later years in life.
For those of us who are raising children right now, the daily challenges are real. Keeping them healthy, entertained and happy is a marathon, and it's not uncommon to feel moments of appreciation for everything that our own parents did for us when we were young. As we witness our parents age and face their own new challenges, the responsibility of their well-being may fall on us, which is why adult children have to make an informed choice when selecting the best type of care.
Initially, adult children may not know when is the appropriate time to step in and play a more active role in their parents' care. There are some signs to look for.
"The signs, if you are looking for them, are right in front of your eyes," says Lavanda Clinkscales, executive director of Brightview Mount Laurel. "Let's start with the refrigerator. Is there old food, past the expiration date in the fridge? And old food in their cabinets? Are you noticing them wearing the same clothes? Are they setting up camp in their living room, a snack tray next to their favorite recliner, trash not getting picked up, a blanket for them to sleep downstairs?"
Isolation and increases in falls in the home are additional signs, says Stacy Costa, director of community relations at Brandywine Senior Living at Moorestown Estates. "Being left to their own devices for an extended period of time could result in poor nutrition and hygiene, unkempt home, error in medication management and even signs of depression."
Adult children may also notice it's harder to have a conversation due to hearing loss. "Hearing is incredibly important in the health of an aging parent. There is a link between hearing loss and cognitive decline, as well as heart disease, diabetes and a risk of falls," says Jonathan Ayes, practice owner at Associates in Hearing Health Care. "It can also be incredibly frustrating, for the whole family. People with hearing loss tend to withdraw from social situations, so family get-togethers become more stressful for everyone."
Approaching this delicate topic can be tough, but necessary. "Adult children should make sure their parents take care of their hearing for all the reasons above. It helps improve their quality of life. All of their life—physical, mental and emotional health—can be improved by better hearing. At our practice, we always value input from the people closest to our patients. Hearing loss does not only impact the person who has it—the whole family is affected," he continues.
If the conversation leads to exploring long-term care options, adult children must also try to show that, while hard to leave a home they love, they will be gaining so much more.
"In the past 30 years the face of senior living has changed drastically," says Clinkscales. "The first step would be to educate yourself on senior living options. Discussing options now can better help your family to know what will be the right choices to make when you yourself will need help. Being prepared for this time takes the fear out of it. Getting to visit senior living communities is usually eye-opening. Your best option for a happy future is one that you have prepared for."
Tours offer the opportunity to see what life can be like in an assisted living community. Among some of the benefits at Brandywine are 24/7 on-site nursing, all-day dining restaurant, in-house physicians, transportation for appointments, in-house physical therapy, plus socialization through an exciting activities program.
At Brightview, resident independence is encouraged. "Residents play the biggest part in their own care and we of course will be there for support and help when they need us," says Clinkscales. "But allowing a resident to do as much for themselves as they possibly can is our goal. When here, residents' activities and daily living are taken care of, so it allows their family to return to their roles as sons, daughters and spouses rather than full-time caregivers. Residents find themselves enjoying more time with their family rather than depending upon them to simply get through the day."
Costa says adult children are often surprised at how well their parents adapt to the new routine and environment. "Once we start providing them with the proper care that they were not receiving before coming to us, we see a change in their overall mood and health. The families are usually surprised to see that their parents are out and about at programs and eating three meals a day. Parents become more alert, more active, more social, less depressed and can re-gain more independence with our supervision that they did not have before moving to Brandywine Living."
Choosing the best care for your aging parents is a heavy burden, but any hesitation only hurts them in the end when they could be thriving in a community of peers, instead of isolated at home. "Having a plan makes for a smoother transition for the parent and the adult child as well. Having to make this decision due to an emergent situation puts stress on all parties. Parents want to be involved in the decision of moving to a community. This helps their sense of control and independence, so parents feel they have had a say," says Costa. "I have heard it time and time again, 'I should have done this sooner,' not only from the adult children but even the parents themselves."
Published (and copyrighted) in
Suburban Family Magazine
, Volume 11, Issue 12 (March 2021).
For more info on Suburban Family Magazine, click
here
.
For information about advertising in Suburban Family Magazine, click
here
.
To find out where to pick up your copy of Suburban Family Magazine, click
here
.