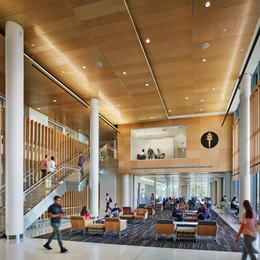 Rowan University
Fourth-fastest growing: Right where we want to be.
Just 10 years ago, Rowan University could describe itself as a well-regarded state university with a nationally ranked engineering program.
Today, Rowan is a dramatically different institution: a top 100 public research university and a model for strategic change. For two years running, Rowan has been recognized by The Chronicle of Higher Education as the nation's fourth fastest-growing public research university.
Enrollment nearly doubled between 2008 and 2020, the result of a careful investment in research, while remaining focused on building high-quality undergraduate programs designed to meet the needs of a fast-changing world.
To get here, Rowan broke norms, operated like a business and maintained a laser focus on controlling costs—for both the University and its students.
"Affordability is critical," says President Ali A. Houshmand, Ph.D. "As a state institution, we have the obligation to provide access, affordability and a quality education to everybody."
Unique partnerships, creative thinking
Through unique partnerships with two community colleges, Rowan University forged new pathways toward a bachelor's degree at a significant cost savings for students, without sacrificing quality.
In turn, Rowan shared its name and reputation with the independently operated colleges, now Rowan College of South Jersey and Rowan College of Burlington County.
Creative thinking also fueled a public-private partnership between investors, Rowan University and Glassboro, home to the University's main campus.
Out of 26 acres of mostly privately owned student rental properties came Rowan Boulevard, a mixed-use cityscape that rapidly met the University's need for modern student housing and academic space, while attracting new businesses and visitors to a revitalized downtown.
In 2009, Rowan University began partnering with Cooper University Health Care to open the state's first new medical school in 35 years, Cooper Medical School of Rowan University in Camden.
In 2012, New Jersey passed legislation to restructure its medical and health sciences educational system, designating Rowan as its second comprehensive public research university. With the legislation, the School of Osteopathic Medicine in Stratford also became part of the institution. Rowan is now one of only three universities in the country offering M.D. and D.O. degrees, helping address the physician shortage by producing more than 250 new physicians each year.
Nurturing research
Spurred to further innovate, Rowan expanded its research division, attracting fast-rising faculty interested in solving real-world problems through applied research.
In 2018, Rowan received classification as a Carnegie R2 doctoral university with high research activity, a distinction shared with just 135 universities among 4,300 institutions of higher education. Its academic programs now include 90 bachelor's, 48 master's, two professional and eight doctoral degree programs. More graduate programs are under development.
The Henry M. Rowan College of Engineering continues to rank among the nation's best engineering programs and is now 17th in its category, according to U.S. News & World Report.
Throughout its growth, according to Georgetown University's Beeck Center for Social Impact + Innovation, Rowan University never lost sight of its mission to prepare undergraduates for the workforce, particularly first-generation students.
"By seeking new sources of revenue, affiliating with other colleges and looking for ways to grow enrollment without taking on the added cost of building and maintaining more than it had to, Rowan was able to carefully manage the bottom line," the report concluded.
Flexible, responsive and innovating
Undeterred by the pandemic, the University aggressively planned for safety and well-being. While others remained closed, Rowan opened in fall 2020 with flexible class options, as well as housing for 4,100 students who wanted to live on campus. More than 40 percent of Rowan's classes are held in person.
Working together, the Camden medical school and the engineering college designed and produced personal protective equipment for area health care providers last year. The Rowan Medicine COVID-19 Vaccination Center was among the first to open in New Jersey.
In the University's recent accreditation review, the Middle States Commission on Higher Education gave Rowan glowing remarks in all areas, stating that Rowan is a "model for institutional transformation."
Unsatisfied with incremental growth and change, the institution continues to press forward, leapfrogging traditional thinking and innovating higher education.
Rowan University
Rowan.edu
Published (and copyrighted) in Suburban Family Magazine, Volume 11, Issue 11 (February 2021).
For more info on Suburban Family Magazine, click here.
For information about advertising in Suburban Family Magazine, click here.
To find out where to pick up your copy of Suburban Family Magazine, click here.