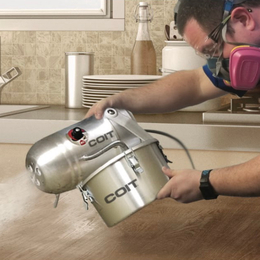 A Clean New World
The COVID-19 pandemic took a magnifying glass to what clean really is and for many the old ways of cleaning are no longer acceptable.
Constantly wiping down the high-touch areas of your home or business, regular hand washing, decluttering, not sharing personal items, etc., are the new "norms" after one year into the pandemic. However, as the world begins to recover and more restrictions are lifted, businesses need to continue protecting themselves, their staff and customers with cleaning levels like never before. Homeowners as well need to look at clean in a whole new way.
Especially for businesses, basic cleaning methods are a thing of the past and "clean" is top priority. Much of the new world of cleaning starts with the right products and trained technicians. "At Coit, we've created a Rapid Response Team," says Lori Topiel, co-owner of Coit Cleaning and Restoration. "Business owners are so concerned about keeping their staff and customers safe and we've made it our goal to help them do just that. We are able to provide a free written quote within 30 minutes and have a team to the home or business within two hours."
Cleaning, Disinfecting, Sanitizing
Three words that have become as ubiquitous as hand sanitizer are: clean, sanitize and disinfect. These words are used interchangeably, however it's important we understand their differences, their effectiveness and how they will remain essential to helping maintain public health. Let's begin with cleaning: this removes soil from a surface. Easy, we all do it right? These days it's no longer enough. Cleaning alone does not kill disease-causing organisms. Sanitizing kills 99.9% of surface bacteria and helps ensure that there are only low levels of disease-causing bacteria remaining. Disinfecting is where the power comes in to kill a broader range of virus-activating bacteria.
Proper use of professional-grade, EPA-approved cleaning and disinfecting agents and special equipment such as foggers are essential in a clean new world. "Coit uses a COVID-19 fog and wipe process," says Topiel. "The combination of fogging, wiping and using the commercial-grade disinfectant is very effective in helping stop the spread of germs."
Don't Take the Floors for Granted
The pandemic stirred up many questions about how to create and maintain cleaner, healthier high-touch surfaces often forgotten about. By now we all know what the high-touch surfaces are and the importance of keeping them clean but don't forget about the floors. They are not to be taken for granted. Floors are the largest reservoir for contaminants which are tracked throughout homes and businesses alike.
There is Nothing Like Experience
With contactless appointments and trained technicians who wear masks 100% of the time while working in homes and businesses we take no chances, says Topiel. "Our technicians have been on the front lines since the start of the pandemic providing emergency services. Coit always had strict protocols even prior to the pandemic to protect our technicians and customers. Wearing masks, gloves, booties and Tyvek suits is nothing new to us."
Also when using a professional service such as Coit, staff are trained to know which processes and which cleaning agents to use for each job. Sanitation and disinfection are distinct processes that may call for specific applications depending on what's being cleaned. Also, following the correct procedures when cleaning, disinfecting and sanitizing ensures the effectiveness of the process. Pre-cleaning a surface is a crucial first step. It removes debris that can form a barrier between the disinfectant and the germs it's targeting. Without pre-cleaning, disinfecting is really not effective.
The new world of clean is here to stay. Clean is taken more seriously by most of us than ever before and will be for a long time to come. Do what you can such as frequent hand washing and constantly wiping down surfaces, however the future is regular professional cleanings to help protect your family, your customers and your employees. "We are beginning to see a glimmer of light at the end of the tunnel and we can't let down our guard when it comes to cleaning," concludes Topiel.
Coit Cleaning and Restoration Services
609 Grace St.
Somerdale
(856) 534-7320
Coit.com
Published (and copyrighted) in Suburban Family Magazine, Volume 11, Issue 11 (February 2021).
For more info on Suburban Family Magazine, click here.
For information about advertising in Suburban Family Magazine, click here.
To find out where to pick up your copy of Suburban Family Magazine, click here.