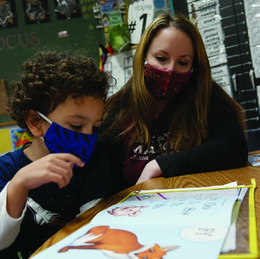 Exceeding Education Expectations
Calvary Hill Preschool in Glassboro continues to show why it was voted Best of Family by readers.
IN A YEAR WHERE PARENTS COULD NOT COUNT ON MUCH WHEN IT CAME TO SCHOOL, Calvary Hill Preschool stepped up and committed to staying open to provide crucial education and care for children.
From day one of the pandemic, Calvary Hill has remained open, operating as an Emergency Child Care Center for the children of essential workers. "Medical workers and first responders needed somewhere for their kids to go and we feel like we played a critical role during that time when other schools shut down," says Kathy Lamastra, director. "Staying open gave us time to work through the new safety measures required to keep the children and their families safe from the spread of COVID-19."
Among those measures was implementing temperature checks before it was directed by the state. The school also added six more portable sink stations, one in each classroom, to make it easier for students and staff to keep up with hand washing without using the same bathroom.
Kids at Calvary Hill were able to have healthy and safe interaction within their own classes. "Classes do not co-mingle," Lamastra says. "We have taken additional efforts to keep the groups separate. … To date, not one case of COVID-19 has been generated from the school and we have not had to close or shut down rooms for quarantining. Anyone who was exposed outside of the school remained home."
The school has since welcomed back all students under the state's capacity limits and continues to showcase the values for which it was recognized as a Best of Family pick by Suburban Family.
Located on Route 322 and just a quarter-mile from Route 55 and nearby Inspira's Mullica Hill Hospital and Rowan University's campus, Calvary Hill provides a Christ-centered education with an emphasis on phonics and hands-on learning.
"Our Christian background is part of our distinction. Kids come here and they experience the love of Christ," says Lamastra. "What we provide in a Christian environment is love and acceptance. We focus on character development. Everything we teach benefits their child."
And the school is open to every child—coming from a Christian background is not mandatory. "Anyone is welcome to enroll at Calvary Hill Preschool," Lamastra says. "They don't have to be a church family. They don't even have to be a Christian family; all are welcome."
Beginning at 18 months, Calvary Hill's curriculum introduces children to developmentally appropriate activities that adhere to early childhood education standards. Up through age 3, students have a phonics-based program of forming familiarity with letter sounds integrated into engaging activities such as painting, music and outdoor play. After age 3, Calvary Hill uses the ABeka Curriculum, building their base of language and math.
"This is an inquisitive age and our teachers offer lots of hands-on learning to excite children in every subject. Counting and sorting are a big part of math, and messy hands-on science experiments are quite popular. Apple peeling, muffin making, experimenting with colors, practicing letter writing with shaving cream and other hands-on activities are among our students' favorites," Lamastra says.
As students work through their final year before kindergarten, they are already reading books on their own, and soon after they are introduced to long vs. short vowel sounds, two-vowel rules and the concept of a silent E. Four-year-olds also work on the Saxon Kindergarten Math Curriculum, counting to 100 by 1s, 2s, 5s and 10s, tell time and solve basic addition and subtraction problems.
"When children graduate from our preschool, they know how to read and have already done kindergarten-level math. This strong foundation of math and reading puts them on a successful path," Lamastra says.
Students' days are rounded out with Bible lessons and of course art projects, music and motion activities and playtime.
From the health checks upon arrival, extra disinfection and classroom social distancing to the important sense of normalcy and routine for kids, parents have found Calvary Hill's dedication to the health and safety of their children invaluable throughout this pandemic.
Calvary Hill Preschool
535 Mullica Hill Road | Glassboro
(856) 881-3669, ext. 2
Office@calvaryhillpreschool.com
Facebook.com/CalvaryHillPreschool
Published (and copyrighted) in Suburban Family Magazine, Volume 11, Issue 11 (February 2021).
For more info on Suburban Family Magazine, click here.
For information about advertising in Suburban Family Magazine, click here.
To find out where to pick up your copy of Suburban Family Magazine, click here.