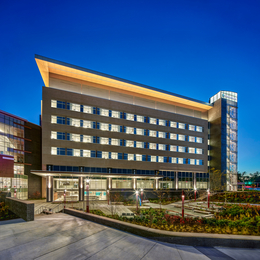 A Stunning Transformation
The beautiful new Patient Pavilion at Jefferson Hospital Cherry Hill signals the organization's commitment to providing world-class health care to South Jersey.
Thanks to Jefferson Health's unwavering commitment to our region, the medical landscape in South Jersey has changed dramatically in recent years, with world-class services becoming available on this side of the Delaware River and the needs of the patient being pushed to the forefront more than ever before. And the best part is, there is still more to come.
The latest—and one of the most impressive—developments in the forward-thinking organization's transformation can be found at Jefferson Cherry Hill Hospital, which unveiled its new seven-story, 230,000-square-foot Patient Pavilion in December. The culmination of a five-year, $250 million renovation, the project brought much-needed updates to the 60-year-old hospital with the goal of enhancing the experience of both patients and their families.
"I've been with Jefferson for 10 years and when I joined one of the things that was exciting for me at the time was the possibility of being able to do something like this in South Jersey," says Lisa Dutterer, chief administrative officer of Jefferson Cherry Hill Hospital. "We are the only hospital in Cherry Hill and the community very much deserves an environment that promotes health and healing. That's definitely something we tried to create here. I love being a part of Jefferson and I'm proud of what we're able to offer to the community."
A majestic facility with an abundance of windows to let in natural light, the Patient Pavilion perfectly blends modern features with a warm, inviting feel.
"The natural light and the sun just make people feel better," Dutterer says. "The older hospital was so dark and it just didn't feel as welcoming. What I love is throughout the building, there are little spaces for a visitor to go if they need a moment to themselves, which is helpful to folks when they're here with a family member. We really tried to get beyond a hospital feel and make it more about health and wellness."
There has been a strong push from patients for private rooms and the hospital heeded that wish by providing 90 of them, which has become even more important for the safety of staff and visitors during the COVID-19 pandemic. These spaces were designed with the patient experience in mind, giving them control over the blinds, light and temperature in the room while providing comfortable furniture for family members to stay over when COVID restrictions are lifted.
"For anyone who has been in a hospital over time, it's not always great to have a roommate, because when you're feeling sick you just want to rest and it can be hard to do that with someone in the next bed," says Brian Sweeney, president of Jefferson Health – New Jersey. "Private rooms also provide the ability for families to close the door and talk about difficult topics such as end of life."
Patients and families benefit from an electronic patient information board in the room, which allows them to stay engaged and informed about their care plan by including essential information like providers and treatment schedules. The rooms are in close proximity to physician offices and surgery centers under the same roof, making things easier for everyone involved, including the staff.
"It's really an integrated experience for people to move in and out of the building in a very seamless way," Sweeney says. "From a design perspective, there's a lot of thought that went into it based on interactions with patients, families, staff, physicians and making sure that we're meeting their expectations. It's not always a pleasant experience to be in a hospital, so when patients are here we want to make sure they and their loved ones feel like they're in an environment that is safe."
The renowned Sidney Kimmel Cancer Center will be coming to Cherry Hill in the near future, and Jefferson Washington Township Hospital is currently undergoing its own massive renovation, with the seven-story Silvestri Tower featuring 90 private rooms on track to open in July. As two important hubs in South Jersey, both campuses are significant symbols of Jefferson's progress in the area.
"The facilities are important but what our focus really has been is bringing advanced programs like digestive health, ENT or cancer services to New Jersey," Sweeney says. "That way people don't have to go to Center City or Camden. It is very much a plan that starts with the facility and then it ends up being something that is more robust from a clinical perspective. Cherry Hill is a great community and it's also convenient to Moorestown, Haddonfield and other areas because of all the major roads that are here in South Jersey. We're hoping to draw from a much broader area now that Jefferson is here and able to provide advanced clinical care, education and research at this site."
At the same time, the compassionate care Jefferson is known for will never go away. "You can have beautiful new facilities, but you really need to ensure that the staff is connecting with the patients, hearing what their needs are and how we can best meet those needs from a health care perspective," Dutterer says. "That's important and something we always strive for."
Jefferson Hospital Cherry Hill
2201 Chapel Ave. W. | Cherry Hill
(856) 488-6500
JeffersonHealth.org
Published (and copyrighted) in Suburban Family Magazine, Volume 11, Issue 11 (February 2021).
For more info on Suburban Family Magazine, click here.
For information about advertising in Suburban Family Magazine, click here.
To find out where to pick up your copy of Suburban Family Magazine, click here.