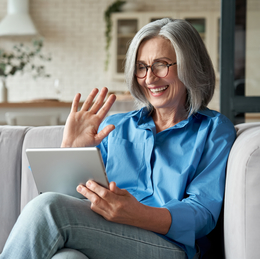 Health from Home
How virtual visits keep treatments on track.
OVER THE COURSE OF THE LAST YEAR, HEALTH CARE HAS BEEN FRONT AND CENTER NOT ONLY ON THE FRONT LINES OF THE PANDEMIC, BUT ALSO FOR ADAPTING ROUTINE MEDICINE WHEN MOST PEOPLE COULD NOT LEAVE THEIR HOMES. Technology has helped doctors continue caring for these patients and improved their experience as well, laying the foundation for telemedicine as one of the new "normal" aspects of our lives.
Before the pandemic, telemedicine was not as widely accessible as it is now, but the circumstances of the last year have forced everyone to become more comfortable with it, and physicians see this becoming a preferred option for much of the population.
"Telemedicine benefits physicians by allowing us to access patients who have difficulties traveling to a particular office. This may be due to cost, inconvenience, inability to get out of work or inability to leave their home due to illnesses. It allows greater access to patients and patients love it," says Dr. Alexander R. Vaccaro, president of Rothman Orthopaedics.
In the case of teenagers undergoing orthodontia, virtual visits mean less time away from school. At Kadar Orthodontics, they utilize HIPAA-compliant texting, email, Zoom Healthcare and a customized virtual visit platform where patients can upload photos. "For new patients, we can review their bite virtually, discuss goals, define treatment options and review finances/insurance before their first in-office visit. For our existing patients, it enables us to quickly respond to questions, monitor progress, identify potential problems early and clarify care instructions," says Dr. Tom Kadar.
"Communicating online is second (or perhaps first) nature to today's teens. Now, our patients are much more engaged in their orthodontic treatment and find the process fast, easy and fun. They love being able to chat with myself and interact with our staff via our online portal. Parents really appreciate our ability to check in on their progress without a trip to the office. It's a win-win-win for the orthodontist, the parent and patient." How virtual visits keep treatments on track.
The immediacy of virtual visits can influence patient outcomes positively, Vaccaro adds. "One benefit of telemedicine is that it allows timely access to a medical care provider. This can be in the setting of an emergency or a less urgent situation. As time for access is lessened, the medical morbidities related to delay are minimized. As different tests are obtained, these can be readily reviewed with the patient by the care provider," he says.
Health care providers believe there are more opportunities out there to harness technology to improve patient care and outcomes. "Virtual visits have enabled us to combine our clinical strengths with administrative systems that benefit all involved. As the electronic portals improve, we will be better able to share information and collaborate with a patient's general dentist, oral surgeon or other specialists to provide more comprehensive patient care," Kadar says.
One of the least favorite parts of visiting the doctor could also be eliminated—sitting in the waiting room. "The technology is always being improved. We may have virtual waiting rooms and virtual visits in the near future which will improve the patient experience," Vaccaro says. "We will develop systems that are portable and encrypted to protect patient security. For a physician, telemedicine is extremely useful when a physician travels to an academic meeting. They can continue to see and manage patients' clinical needs regardless of their schedules. This technology is also useful on surgical days between surgical cases."
Ultimately, virtual health technology has made it possible for patients to receive the essential care they need to remain healthy without leaving their home.
Published (and copyrighted) in Suburban Family Magazine, Volume 11, Issue 10 (January 2021).
For more info on Suburban Family Magazine, click here.
For information about advertising in Suburban Family Magazine, click here.
To find out where to pick up your copy of Suburban Family Magazine, click here.