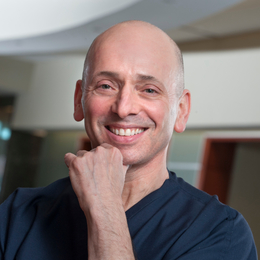 Embracing Change
At Cosmetic Surgery Center of Cherry Hill, Dr. Lyle Back helps patients make improvements to their lives in more ways than one.
CHANGE IS A WORD DR. LYLE BACK IS FAMILIAR WITH. In fact, as a plastic surgeon, it is the foundation of his profession. But as 2020 has continued to present itself as a force to be reckoned with, change has taken on a new meaning for the doctor, who has been in private practice in the Cherry Hill area for over 25 years.
"You might think that procedures having to do with the face would be pretty popular right now, because of the scrutiny everyone is getting in the Zoom community," Dr. Back says. "And you'd be right about that. But it's also kind of interesting to note that all the surgical procedures we offer right now have seen an uptick in popularity.
"My feeling is that there's a lot of people taking stock of things and thinking, 'If not now, when?'" he adds. "I think people are taking a close look at a lot of things in their lives as a result of what we've been through this year, and I think there's a renewed sense of solidarity and getting in touch with family— and realizing the simple things in life that used to be taken for granted. A lot of that starts with how you're taking care of yourself and what you're doing for yourself and your own life."
While taking care of yourself means something different to every person, Dr. Back says taking that first step to self-improvement is the most important.
"The person most responsible for your life is you," he says.
Dr. Back and his staff at Cosmetic Surgery Center of Cherry Hill offer a variety of services to those looking to make changes—whether they're changes that have been a long time coming, or they're newly developed. From facial rejuvenation to breast augmentation, Dr. Back offers modern—often non-surgical—solutions to problems that plague both women and men.
"As a surgeon I've honed my craft to do special things with the face and to have it look rejuvenated and refreshed in a natural way with my surgical procedures," he notes. "That expertise and ability has been shaped over many years, and it's almost come full circle now where we can get those results without surgery.
"The injectables and other offerings we have today are amazing and it's just heartwarming to know that they're so advanced that as a surgeon I can look at those things and say, 'There's a lot I can do for you and we don't even have to go in to the operating room,'" Dr. Back continues. "It's crazy, and it's only going to get better."
Procedures aside, 2020 has also brought many changes to Dr. Back's office itself, along with the way he initially sees patients.
"Like most medical practices, we've done everything at the physical facility—including some things you may not even think about— that needs to be done to make things extra safe," he says. "And nothing is safer than a virtual consultation. They've been fantastic and we're so glad we're doing them."
Dr. Back says virtual consultations offer a way for potential patients to get to know him, and vice versa, while also having numerous questions and concerns addressed.
"It's a fantastic way for someone to get off the consultation and say, 'I feel comfortable and what he says makes sense, and I'd like to explore more and see him in person,'" he says. "Or, it's the opportunity to say, 'This guy isn't for me,'—and I hope that's not the case, but it might be, and that's OK.
"[Virtual consultations] offer an opportunity for a much easier and more efficient way to have more than one consultation," Dr. Back continues. "It takes away the headache and practical nightmare and time you'd put in if you were to see two or three plastic surgeons to get more than one opinion. This way, you can get more than one opinion without leaving your kitchen, and I encourage that."
When Dr. Back first began his practice, the No. 1 procedure in the country was breast implants. He says a lot has changed since then, and not just in the way that he can help people, but in what people are looking for in their bodies.
"Over the past few years women have gotten away from the voluptuous type of look," he says. "They're looking for a healthier, leaner, more athletic look."
The goal is to create a physique and body and shape that is very appealing, Dr. Back says, which is the case with whichever procedure it may be that a patient is seeking. For Dr. Back, plastic surgery is not about looking unnatural and overdone. It is about looking natural and feeling good about yourself.
"The goal is to make things look really, really nice," he says. "We don't strive to make things so perfect that we lose sight of the fact that perfect doesn't necessarily mean better. Natural is more important than perfect, and I work really hard to give people that."
Cosmetic SurgeryCenter of CherryHill
1942 Route 70 East
Cherry Hill
(856) 751-7550
ILoveLyleBack.com
Published (and copyrighted) in Suburban Family Magazine, Volume 11, Issue 8 (October 2020).
For more info on Suburban Family Magazine, click here.
For information about advertising in Suburban Family Magazine, click here.
To find out where to pick up your copy of Suburban Family Magazine, click here.