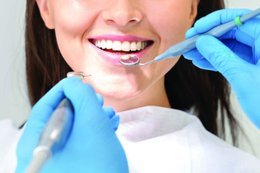 Word of Mouth
Professionals share their thoughts on the important qualities every dentist or orthodontist should have.
Whether looking for a new dentist or visiting an orthodontist for the first time, people should make sure the doctor meets their standards. We spoke to professionals from across the dental field and asked them to name some of the most important qualities for patients to consider.
"IN MY EXPERIENCE, A PATIENT'S PRIMARY CONCERN is finding a compassionate, trustworthy office and staff. In the eyes of most patients, from the outside, dental offices are all the same. It is that human element that will set certain practices apart. I have aligned myself with 10 other like-minded doctors to create Growing Smiles in Mount Laurel and Voorhees. Our primary focus is delivering high-quality care, which means listening to our patients' needs, addressing their primary concerns and treating them as efficiently and painlessly as possible. We do not focus on finances, we focus on our patients."
Dr. Sonny Sekhon
Growing Smiles Pediatric and Family Dentistry
"FOR OUR PATIENTS, THE MOST IMPORTANT FACTOR is getting the smile they've always wanted as quickly as possible. That's where 30-plus years of experience combined with personal attention and top-notch technology play important roles. Our same day start program combines our proven processes with the latest virtual technology. Before their first in-person visit, we conduct a remote consultation which allows our board-certified orthodontists to begin treatment planning, enabling us to deliver a same day start for traditional braces, appliances and removable aligners. We also offer virtual follow-up appointments as a new way to save time."
Dr. Tom Kadar
Kadar Orthodontics
"THE HALLMARK OF ANY PATIENT-DOCTOR RELATIONSHIP IS TRUST. Ask friends and family for personal recommendations. Evaluate numerous offices online and read reviews. Ensure you can communicate easily and clearly with the front desk when making an appointment. Lastly, treat your first appointment as a working interview. How does the doctor make you feel? Is the staff friendly and polite? Is the office clean and modern? The experience should not only meet, but exceed the patient's expectations. While a dentist manages oral health, it takes a team to manage a patient's experience, trust and confidence."
Dr. Joseph Gallelli
Staffordshire Dental Group
"WHEN CHOOSING AN ORTHODONTIST, patients should feel like they are receiving a personalized, customized treatment plan from a highly skilled and caring orthodontist. Offices equipped with the latest treatments and technology help the orthodontist craft a treatment plan that is as unique as each patient."
Dr. Jessica Bowen
Bowen Family Orthodontics
"THE MOST IMPORTANT FACTOR in seeking a health care professional would be reading patient reviews. If a patient goes out of their way to specifically talk about an experience, you know it is genuine. Another factor in choosing your health care provider is trust. The patient does not know exactly what is in their best interest in regards to treatment and therefore it is essential you trust your health care provider in making the correct decision related to the patient rather than financially."
Dr. Nermeen Rifai
All Smiles Family Dental
"TRUST, CONVENIENCE, SAFETY, TECHNOLOGY —it's all of the above. All of those things boil down to reputation. Everything you do builds your reputation, and once you are gone, your reputation is the only thing left. I believe that if you try to do your best and take care of patients like they are family, it keeps your reputation intact. What people hear and see about you should make them want to come to you and all of those qualities are embodied in your reputation."
Dr. Richard Kaye
Morrone, Kaye & Yucha Orthodontics
"AN ORTHODONTIST WITH EXPERIENCE IS HIGHLY RECOMMENDED. Second, choose a good reputation. Ask friends, neighbors and dentists if they know the orthodontist you are considering. Third, check their social media, it's all there. Most important is trust and confidence. First impressions will say it all. You must feel confident in the practice you choose and trust the doctor you select. You need to connect as if it were your best friend. If not, then consider getting another opinion. But most of all, choose a practice you feel comfortable with."
Dr. Frank Batastini
Frank Batastini Orthodontics
Published (and copyrighted) in Suburban Family Magazine, Volume 11, Issue 8 (October 2020).
For more info on Suburban Family Magazine, click here.
For information about advertising in Suburban Family Magazine, click here.
To find out where to pick up your copy of Suburban Family Magazine, click here.