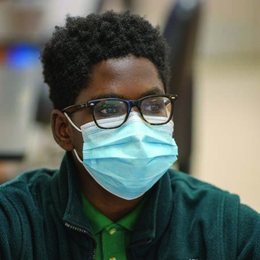 Why We Chose Private School
Families share the factors that went into their decision and how they know it was the right choice.
PARENTS HAVE A LOT OF RESPONSIBILITY WHEN IT COMES TO SENDING THEIR CHILDREN TO SCHOOL. Not only do they want the education to be top-notch, but they also want a community that will build a well-rounded person. For many, private schools deliver on these hopes, and we asked local families to share why this choice was the best for them.
Holy Cross Preparatory Academy
From the moment we attended our first open house over two years ago, we felt that something special was happening on campus, and Holy Cross Preparatory Academy (HCPA) has exceeded our expectations. Along with strong academics that include honors and AP classes, as well as collegiate scheduling, HCPA has teachers and faculty that genuinely care about the success of each student. Its faith-based environment encourages each student to grow academically, spiritually and emotionally." —Rogers Family
Archmere Academy
My husband and I are both educators, so we know firsthand the challenges that schools are presented within this current environment. We have been impressed with the way Archmere has approached these challenges to continue to provide the students with an education that is focused both on strong academics, as well as the strong social community that we have come to love. In these uncertain times, Archmere has given us a wonderful gift." —Julie Hamberger
Padua Academy
I love Padua for many reasons, but after having my three daughters attend, it's the caring commitment by faculty and administrators that is the single greatest gift. Our girls have a centered confidence due to the authentic connection developed by the Padua environment and that instills security and the encouragement girls need today; to flourish with God in their hearts, to graduate with pride and to go on to live their fullest potential." —Karen Thomas Iannucci
Westfield Friends School
In a time where community, family and friendship is much needed, sending our girls to Westfield Friends School (WFS) gives us exactly that. To see their teachers and administrators smiling while working hard each day means the world to us. [It's an] added bonus that our children are not only safe, but thriving academically and emotionally, in a world of the unknown. We are forever grateful to WFS!" —Shantay Brown
Moorestown Friends School
The school's commitment to challenge students academically and develop strong moral character is why we choose Moorestown Friends School. The inclusive community creates an environment for growth of intellect and character through positive, nurturing interactions. Through academic structure, educational and athletic activities, students gain knowledge along with learning leadership, communication, collaboration and decision making. Students emerge from Moorestown Friends School not only prepared for college, but also well-equipped to find success in their adult lives." —Mike and Toni Paznokas
Paul VI High School
A superior high school education must also foster faith and self-confidence. Paul VI has played a big role in our children's growth; they have become wonderful young adults. Ask any of them, 'How do you like Paul VI?' and the answer is always 'I love it!'" —Mary and Paul Bakey, class of '85
St. Rose of Lima School
Our two older boys, Andrew '19 and Robert '24, enrolled at St. Rose for many of the same reasons that my parents started sending me and my three siblings to St. Rose three decades ago—the academics, the religious teachings, the facilities, the discipline, the athletics, the arts, the high school preparation and the community. But, the aspect that I cherish the most about St. Rose and what makes it so special to me is the people. I am so proud to be able to say, 'I went to St. Rose,' and even more proud to be able to say 'My kids go to St. Rose.'" —Matt Crawford, class of '95
Published (and copyrighted) in Suburban Family Magazine, Volume 11, Issue 8 (October 2020).
For more info on Suburban Family Magazine, click here.
For information about advertising in Suburban Family Magazine, click here.
To find out where to pick up your copy of Suburban Family Magazine, click here.