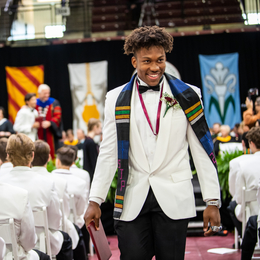 Preparing Young Men for College and Beyond
St. Joseph's Preparatory School gives students the tools to be service-oriented leaders in society and to find their passions.
Daydreaming might not be an activity that is encouraged at most schools, but St. Joseph's Prep has proven over and over since its founding in 1851 that it is not like most schools. With a focus on a challenging, holistic education that extends far beyond the classroom and a commitment to serving the community, the all-boys institution in Philadelphia prides itself on preparing young men to move on to college and the rest of their lives with a true sense of self and empathy for others.
"The Prep" is steeped in Jesuit tradition and it was the founder of the Jesuits, St. Ignatius of Loyola, who credited daydreaming with helping him discover his calling in life. Howie Brown, director of admission at the Prep, believes that lesson still resonates today.
"Daydreams say a lot about what's important to you or something deeper in you that you need to spend time thinking about, and they're usually something positive about what makes you tick," he says. "This school was built on the ideals of a man who said, 'Pay attention to your daydreams.' We might have a rigorous pursuit of holistic education and service but it's rooted in trying to find out what's important inside of you, finding your passion, and highlighting those things."
Located just a short drive over the Ben Franklin Bridge, the Prep draws 20 percent of its student body from South Jersey. Brown, who grew up in Washington Township, was once one of those students and formed a brotherhood with classmates that continues to this day.
"A lot of people say your four years at the Prep determine your next 40 years. It's a cliché that rings true because the relationships that you form stick with you after you leave, both with your classmates and the adults in the building," he says.
Brown also has high praise for the Prep's learning opportunities both in and out of the classroom. That includes renowned athletic teams and nearly 50 clubs, such as a nationally recognized school newspaper, a student broadcast club and a stellar theater program that has been widely heralded, even by the Walt Disney Corporation. These pursuits act in concert with the academic program, which is also held to a high standard and gets students in the right mindset for college.
"Where their classmates in college may struggle with studying or writing multiple things at the same time for different classes, that isn't a problem for our graduates because they learn how to manage their time, how to study and how to organize at the Prep," Brown says.
Unlike Brown, Erick Woods did not attend the Prep but became familiar with the school during his time as a student-athlete at St. Joseph's University. He was thrilled to join the Prep last February as campus minister for Ignatian service.
"I have always held the Prep in high regard," he says. "When the opportunity came to work here, I jumped at it quickly because I know what The Prep stands for and I know what it means to live with Jesuit values. I wanted to share all of my knowledge with the young men who are here now."
In his role, Woods uses relationships with local charitable organizations and elected officials to create invaluable opportunities for students to give back to their community. For example, this fall they will hold bi-weekly neighborhood cleanups to pick up trash and debris on streets near their North Philadelphia campus. The school is also partnering with a charitable food distributor to provide groceries for 150 families every other Saturday throughout the fall. Before the school year, the Prep also gave away backpacks filled with books to students at nearby St. Peter the Apostle School.
The COVID-19 pandemic has led to virtual service possibilities as well, from tutoring elementary-aged children in math and reading to creating videos for senior citizens. No matter what the endeavor, students are urged to look beyond the material goods or service they are providing to forge a personal connection with those they are helping.
"If that means asking the person a question about who they are, where they're from or just asking how they're doing that day, it goes a long way," Woods says. "We call it seeing the face of Christ in those we serve."
Service extends beyond the region with weeklong immersion trips over spring break or during the summer. Last school year, trips were planned as far away as Puerto Rico, New Mexico and Virginia, although all were postponed due to the coronavirus. The Prep is hoping to resume these trips in 2021.
All of these experiences combined lead to well-rounded young men, and when they're ready to leave the Prep and enter adulthood, they often become difference-makers in society.
"We are creating leaders who are competent, conscious and compassionate to a committed way of life, and that way of life is living how Christ wants us to live and being of service to others," Woods says. "I strongly believe if a young man attacks his day in that way, he has the power to influence people in his circle, in his family, in his community and hopefully in his workspace. As he grows, that way of life will have an impact on everyone around him."
St. Joseph's Preparatory School
1733 W. Girard Ave. | Philadelphia
(215) 978-1950 | SJPrep.org
Published (and copyrighted) in Suburban Family Magazine, Volume 11, Issue 7 (September 2020).
For more info on Suburban Family Magazine, click here.
For information about advertising in Suburban Family Magazine, click here.
To find out where to pick up your copy of Suburban Family Magazine, click here.