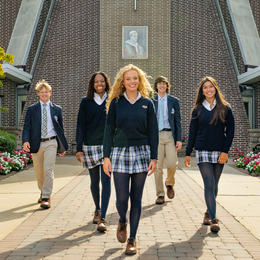 Learning in the New Normal
How Paul VI High School is making in-person instruction work.
IN SOUTH JERSEY, PAUL VI HIGH SCHOOL HAS A REPUTATION FOR EXCELLENCE. In order to best prepare students, the Catholic co-educational college preparatory school, which opened in 1966, has continued to adapt to changes in the world around us, tailoring curriculum to match the fields of study that are gaining traction in society.
Another change in the world— the coronavirus pandemic—has forced Paul VI to adapt again. While the school is in-session, in-person, five days a week for full school days, daily life at the school looks different. But school staff have made a coordinated effort to keep students safe, while providing some sense of normalcy and maintaining the educational standards families expect for those who are back inside school walls.
To make this successful, a planning committee of staff, administrators, parents, teachers and students met frequently over the summer. Two people who played essential roles in designing the day-to-day of in-person learning for students were school nurse Mrs. Cele Walter and Director of Food Services Mr. Keith Walters. Mrs. Walter was relied on for providing resources and access to the most correct information available related to COVID-19, and she helped create a centralized website. Walter says she educated school staff on the key concepts of the virus: how it is spread, why masks are effective, using 6-foot markers.
Mrs. Walter has been impressed by how respectful everyone has been of the protocols established by the school. "Kids and staff are excellent with face coverings. … A few reminders on day one and all have done well. We continue to remind about distancing and we're pleased with the student response. Both students and staff use health apps that monitor symptoms and history each day and are asked to show the green 'go' sign or 'green checkmark' when entering the building," she says.
Since the school's dining hall is one of the most social areas of the school, Keith Walters and others felt it was important to maintain this aspect of student life as well. "Our students are here from 8 a.m. until 2:30 p.m. each day so it was imperative to offer our students meals. As our dining hall is the school's social hub during the day, we felt it important to bring this aspect back into the daily life of our students—especially after the isolation of remote learning. Our dining hall is one of the most talked about aspects of daily life at PVI," he says.
Mr. Walters says a new dining hall monitor has been added to ensure students maintain distancing during their lunch period and all kitchen associates wear appropriate PPE and sanitize surfaces constantly.
The biggest difference is the elimination of self-serve food. "Gone for now are the open-air refrigerators to serve yourself a beverage, piece of fruit or snack. Our super popular salad bar has been replaced with pre-made salad options, and items such as utensils are wrapped and handed to students. Even something as simple as a condiment pack will only be available upon request," Walters says. Students can now use a cashless payment system and online ordering platform on their phones, further limiting the amount of contact. They simply approach one of three lunch terminals with their food, scan their ID card and off they go—touchless.
At Paul VI, the dedication to students' body, mind and spirit has been a pillar of the school. While the community continues to turn to its roots in the Catholic faith for strength, Paul VI has not overlooked the mental and emotional adjustments students are making in this unprecedented time. "In addition to our four guidance counselors, we are truly very fortunate to have a full-time mental health counselor, Connie McSherry, LCSW," says Mrs. Walter. "She works closely with students in all grades to help them manage things like anxiety, panic, depression, school and athletic performance, as well as relationship concerns. Students meet with Connie individually or in groups during the school day or even after school if requested."
As Paul VI confronts this new frontier, its students are exemplifying the very best values of humankind, no doubt learned and reinforced by the school itself. "The students here are incredible and are the reason I truly love what I do," Mrs. Walter says. "It is hard enough being an adolescent; hard enough juggling friendships and schoolwork, and social media and relationships and pressures—throw a global pandemic into the mix and these kids really do have a lot to handle. They are brilliant in their resilience, their concern and care for each other and their overall kindness and willingness to do what's needed to make this work."
Paul VI High School
901 Hopkins Road, Suite B
Haddonfield
(856) 858-4900 | PVIHS.org
Published (and copyrighted) in Suburban Family Magazine, Volume 11, Issue 7 (September 2020).
For more info on Suburban Family Magazine, click here.
For information about advertising in Suburban Family Magazine, click here.
To find out where to pick up your copy of Suburban Family Magazine, click here.