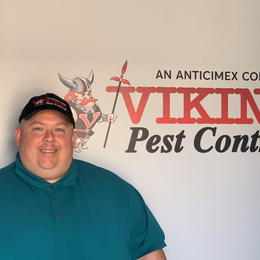 Viking Pest Control
Jersey's Premier Exterminator Discussing Spotted Lanternflies, Mice and Fall Pests
The fall season brings cooler weather, shorter days and changing leaves. But it can also be the start of a home infestation as insects and rodents start to look for shelter from the cold weather.
That's why it's important to take precautions now, says Jay Walters, Branch Manager for Viking Pest Control.
"In the fall, pests are trying to overwinter in or under the siding of your home," he says. "By having Viking treat your home we can control these infestations from occurring."
Viking Pest Control is a leader in preventing and treating infestations including those of ants, spotted lanternflies, termites, bed bugs, mice and rats. The company is also the first call for homeowners, in communities throughout New Jersey, Pennsylvania, Delaware and Maryland, who need wildlife control for pests such as racoons, groundhogs, opossums and more.
One pest that has newly become a problem in the Pennsylvania and New Jersey area is the spotted lanternfly, an invasive species that entered North America several years ago. Spotted lanternflies are known to damage crops, plants and trees.
"It is best to call a professional to treat spotted lanternflies because some insect repellents and other materials are hazardous to the environment if not used properly," Walters says. "Viking uses specialized materials to treat spotted lanternflies while remaining cautious to the environment."
Rodent infestations are another headache for homeowners. Viking utilizes the latest in pest control technology to stop mice and rats from proliferating in the home. Known as the SMART system, this technology gives the company the ability to detect rodent activity digitally in real time. Adding the SMART system to your home is like having a professional constantly inspecting your home 525,600 minutes per year. Real-time alerts mean quick reaction times and treatment from the Viking Pest team to avoid costly rodent infestations.
Although birds are often viewed affectionately, they can also be a serious threat to your property and health, too. Luckily, Viking also has a Bird Doctor division that removes and prevents pest birds from taking up residence in or near your home or commercial property.
"Pest birds such as pigeons, starlings and sparrows are responsible for millions of dollars of property damage each year," Walters says. "Birds roost on ledges, signs, cornices, rooftops, and other man-made structures, resulting in destroyed equipment, clogged vents and reduced property value."
Although the COVID-19 pandemic has interrupted the normal course of business for many companies, as an essential service, Viking is operating and taking precautions to ensure the safety and health of its employees and customers.
And in response to the pandemic, the company is now offering a new disinfectant and sanitation treatment. The Pro-Clean Disinfectant and Sanitation treatment combines a variety of application methods to thoroughly disinfect the inside of your home or business, keeping you safe from bacteria and viruses including coronavirus, hepatitis B and more.
Recently, Viking gifted a Pro-Clean Disinfectant and Sanitation treatment to a New Jersey firehouse as a part of its 40 for 40 initiative, which celebrates the company's 40 years of business with 40 acts of kindness completed in 2020.
Viking team members have raised money to combat brush fires in Australia, hosted a blood drive and collected pantry items for the Food Bank Network of Somerset County.
"We believe in giving back to the community," Walters says.
Forty years is a long time, but Viking's commitment to using cutting-edge technology and sustainable solutions to help customers keep their properties free of pests has given the company longevity.
So make sure your property is ready for this fall season by calling Viking Pest Control before unwanted insects and nuisance wildlife threaten your health and the safety of your home.
Viking Pest Control
Serving communities throughout Pennsylvania, New Jersey and Maryland
(856) 539-2411
VikingPest.com
Published (and copyrighted) as a Suburban Family Magazine (August 2020) web exclusive.
For more info on Suburban Family Magazine, click here.
For information about advertising in Suburban Family Magazine, click here.
To find out where to pick up your copy of Suburban Family Magazine, click here.