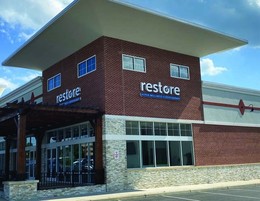 Top 5 Reasons to Take Control of your Own Wellness
Restore Hyper Wellness and Cryotherapy
IT'S NO SECRET THAT THE BETTER WE CARE FOR OUR BODIES, THE LONGER, MORE FULFILLING LIVES WE WILL LEAD. Steve Chaloult was exposed to the services and opportunities with Restore Hyper Wellness and Cryotherapy and the entrepreneur jumped at the chance to open a location in Marlton and has plans for nearly a dozen more across New Jersey. Chaloult told us about the revolutionary concept behind Restore and who are the ideal candidates.
1. Health Modalities for Everyone
Chaloult first heard about Restore and its building momentum in 2018. At the time Chaloult operated another business but was nevertheless intrigued. As a West Point graduate and football player, he was familiar with the measures athletes would take to heal their bodies, including cryotherapy, hyperbaric oxygen therapy and IV drips. Restore brings those modalities to everyone, not just professional athletes. "I've dealt with perennial dehydration due to blood pressure medication," says the 53-yearold. "I can never get enough fluids, and learning about how these modalities work and can help regular people like me who have a young child at home—now I can elongate the number of years I can be active with my daughter by concentrating on my wellness needs."
2. The Importance of Hyper Wellness
The mindset behind Hyper Wellness is making it accessible to everyone and letting each individual take charge. Chaloult says different modalities offered by Restore, such as photobiomodulation (PBM) therapy, are showing positive effects on circulation, sleep and regulating our circadian rhythms and improving mood. Other therapies can help our bodies heal faster. "A prime example is someone who is training for a marathon. If they run 14 miles on Saturday, on Sunday they are out of commission because their legs are so sore," Chaloult says. "Compression therapy where sleeves are placed over the legs, circulates the lactic acid and one hour is worth two days of traditional recovery." Additionally, time in the cryotherapy chamber can also help joints and inflammation, and hyperbaric oxygen therapy (HBOT) can benefit those who suffer from chronic illnesses such as lupus, Crohn's or multiple sclerosis.
3. Modalities for All Ages and Budgets
Chaloult says clients range from ages 12 to 80, and with the fall sports season approaching, now is a great time for student-athletes to consider a visit to Restore. "These modalities—compression, cryotherapy, hyperbaric—used to only be accessible by the ultra-rich or professional athlete. Restore has made it affordable." Additionally, hyperbaric oxygen treatment has also been linked to curb the long-term effects of traumatic brain injuries, as concussion risks are on the minds of everyone in the sports arena.
4. Evaluations by Trained Medical Personnel
The best way to learn more about Restore is to take a tour where the staff will discuss your individual goals. Treatments are in two categories: medical and non-medical. There are multiple registered nurses on staff who administer IV therapy— for which there are some restrictions. All medical services require a telemedicine session with a doctor or nurse practitioner at Restore's Austin, Texas headquarters. "We want to make sure you are cleared and authorized for treatment," he says.
5. Enhanced Safety Protocols
"We have a number of protocols in place, including daily store cleanings," according to Chaloult. "Linens, sheets, robes and socks are changed between each client/session and we maintain social distancing by adhering to a maximum number of people in the building, in concert with individual rooms for treatments."
Staff and clients must wear masks and pass a temperature check before entering the building. Additionally, anyone who enters the facility is first brought to a hand-washing station so everyone begins with a baseline level of cleanliness.
"We have been cognizant of not just clients, but the safety of our staff as well," Chaloult says. "A cornerstone of our approach is providing Hyper Wellness while being safe."
Restore Hyper Wellness & Cryotherapy
of Marlton
1041 Route 73 | Marlton
(856) 595-9027 | Restore.com
Published (and copyrighted) in Suburban Family Magazine, Volume 11, Issue 5 (July 2020).
For more info on Suburban Family Magazine, click here.
For information about advertising in Suburban Family Magazine, click here.
To find out where to pick up your copy of Suburban Family Magazine, click here.