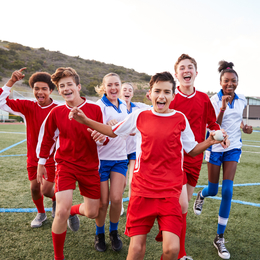 Expert Care Close to Home
Nemours duPont Pediatrics offers families specialty services in their own backyard.
Bernadette B., a resident of Pine Hill, experienced the value of having pediatric specialists in such close proximity when her son Ricky was injured in a dirt bike accident.
While riding at a track in Millville, Ricky took a hard landing and immediately experienced extreme pain in his knee, which became swollen within minutes leaving him unable to put weight on it. Bernadette took him to a local hospital where he was treated for a sprain. Her intuition told her it was something more severe, so she made an appointment at Nemours in Deptford where an MRI revealed an ACL tear and cartilage injury.
Suburban Family recently spoke to Dr. Alvin Su, the Nemours pediatric orthopedic and sports medicine surgeon who performed Ricky's surgery, to find out more about his injury and his amazing recovery.
SF: Why was it important for Ricky to see a sports medicine specialist?
Dr. Su: This type of injury, whether it occurs from falling off a bike or during sports, may look like a sprain when it is actually something more severe. Being able to quickly detect the difference is why seeing a sports medicine specialist can be beneficial. And of course, a detailed exam and some imaging studies are needed to reach a correct diagnosis.
SF: What was Ricky's diagnosis and treatment plan?
Dr. Su: The MRI revealed an ACL tear. This is a crucial ligament used to stabilize the knee when running or turning. Since we are born with only one ACL in each knee, once it is torn, the knee destabilizes. Further activity can create stress around the joint and further damage. We determined the best plan would be a reconstructive surgery of a new ACL using Ricky's own tissue from his knee.
After surgery, Ricky had physical therapy twice a week for three months and within six months he was cleared for normal activities. While Ricky recovered ahead of schedule, we advise teenagers to wait nine months before returning to full-contact competitions to lower the risk of future injury.
SF: Was Ricky's recovery enhanced due to the skilled care in one location?
Dr. Su: I think a big advantage is that we have everything under one roof—with 20 different specialists, medical imaging, a surgical suite, rehabilitation therapy. We communicate with each other daily. In other facilities, patients are often shuffled from one place to another for diagnosis, then to another office to meet a surgeon, and then to another place for PT. All of them are getting their information from letters or faxes, which risks miscommunication and creates a burden on the patient and family. Here, we're in the same building, working together to deliver comprehensive, highly personalized care.
As a parent, Bernadette was thankful to have the second opinion of Nemours. "We are so grateful for the wonderful experience we had at Nemours. It was so convenient! We highly recommend Nemours to everyone!" she says.
With the fall sports season approaching, Dr. Su says, "We love seeing patients like Ricky recover quickly, and I believe that it all starts with an accurate diagnosis and a sports medicine team that understands the psyche of active kids, their competitive spirit and how important it is for them to get back to doing what they love to do. For Ricky, that's back to dirt bike racing."
In-Person and Video Visits Available: (800) 416-4441
Nemours duPont Pediatrics, Deptford
1280 Almonesson Road
Nemours.org/Deptford

Nemours duPont Pediatrics, Cherry Hill
325 Marlton Pike East
Nemours.org/CherryHill