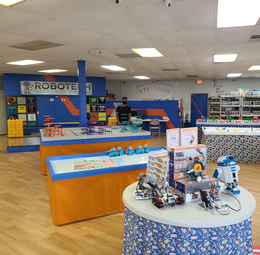 Expanding Their Horizons
Local students are discovering a passion for robotics and STEM-related fields thanks to Robotech Educational Services Inc.
It's a beautiful afternoon in July and dozens of South Jersey youngsters have flocked to Robotech Educational Services in Mount Laurel to attend a fun and informative summer camp. Some are building Lego models complete with motors and sensors, while others are programming robots or even preparing for an upcoming robotics competition.
As John Grater proudly looks around the facility, three individuals in particular stand out to him. "We have three high school students here right now and we're not even running a high school camp," he says. "They're just here to work on their robot. They're here because they love it so much."
Grater, a retired teacher, has that same passion for STEM (science, technology, engineering and math) concepts, and he started Robotech in 2011 to share it with local children and give them more opportunities to learn about these fields. What began as an after-school program in a handful of low-income districts has now spread to 12 schools and expanded to include the aforementioned summer camps, evening clubs for members, home-schooling programs, and several robotics teams that compete statewide and even nationally.
With at least one New Jersey-certified teacher leading each program and an ambitious curriculum, Robotech of course places an emphasis on instruction. But children are encouraged to enjoy themselves as well.
"We have a rule: You're not here to have a good time but you're allowed to have fun," Grater says. "The children have a good time and they learn. They don't even know they're learning most of the time but they're discovering new ways to make robots do things, whether it's something mechanical or a new way to write code."
While teaching at Burlington County Institute of Technology, Grater helped start the robotics team to give students experience with motors, gears, pulleys, torque, ratio and teamwork. Other schools have followed with their own programs, but he believes overall opportunities are lacking.
"There are still a lot of schools in South Jersey and around the country where the administration would rather put money into sports than competitions using technology," he says. "STEM has been a big word now for 10 years, maybe even longer, but some schools aren't using the robot as a tool for children to learn.
"As I look around our clubhouse during our summer camps, most of the parents have been here before because we offer something the local schools do not. We have children from Gloucester, Camden, and Burlington counties. They're coming from all over because some schools aren't doing a good job with it, at least in the parents' opinion."
Parents who choose to home-school their children are also on board. Families in this tight-knit community often break into groups for instruction, and while subjects like English and math might be easily covered, they turn to Robotech for a variety of classes from third grade through high school. With the uncertainty surrounding this coming school year amid COVID-19, more students than ever may be able to take advantage of courses such as Young Engineers, Lego Robotics and the STEM Program.
Robotech also offers virtual and in-person coding classes, ranging from basic concepts for second- and third-grade students all the way to industry-standard coding like Java and Python for the older children. Finally, there are teams such as the Cyber Patriots, who had three squads take part in a national competition last year and expect to expand to five this year.
"That is run by the Air Force and Northrup Grumman Foundation so it's a first-class operation and the children get a nice recognition out of it," Grater says. "We actually have access to millions of dollars in scholarship money through our robotics programs, because we compete in the same events that the high schools do."
As Robotech approaches the 10th anniversary of its founding this spring, Grater marvels as the growth the nonprofit organization has experienced. A few of the original students are now in high school and planning on pursuing engineering degrees in college, but even if the children don't turn out to be doctors or scientists, Grater is thrilled to give them a background in important subject matter.
"My goal is to get them excited about science and technology," he says. "Even when I was teaching in high school, the whole idea for me was to whet their appetite, introduce them to as much technology as I can, and if they go in that direction, great. If they don't go in that direction, at least they have a good foundation in it if something comes up in their life. Most of these children aren't pushed to do this. Once they walk in the door, they want to be here."
Robotech Educational Services Inc.
3815 Church Road, Suite 7, Mount Laurel
(856) 424-2777
NJRES.org
Published (and copyrighted) as a Suburban Family Magazine (August 2020) web exclusive.
For more info on Suburban Family Magazine, click here.
For information about advertising in Suburban Family Magazine, click here.
To find out where to pick up your copy of Suburban Family Magazine, click here.