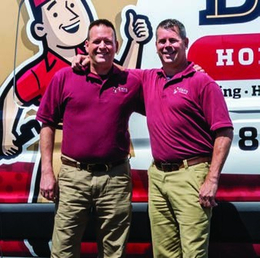 Family Owned and Operated
Brothers John and Ron Davis combined their companies into Davis Home Services for all your HVAC and plumbing needs.
WITH SUMMER IN FULL SWING, THE HOT WEATHER IS HERE TO STAY AND IT'S NOT TOO LATE TO GET YOUR AIR CONDITIONING SYSTEM CHECKED IF YOU HAVEN'T ALREADY CROSSED THAT OFF YOUR LIST. You want a reliable, trustworthy company to make sure your house is ready for the summer season—look no further than Davis Home Services.
Run by brothers John and Ron Davis, they have over 20 years of experience operating their own companies, Davis Heating and Air and Davis Plumbing, before combining all services into one company last year.
"We came together so we can service our customers better and have a more streamlined process, so they don't feel like they have to go outside of the company to take care of more items," John says.
On the HVAC side, services include heating service and installation, air conditioning repair and replacement, boiler systems, commercial rooftop unit replacement, checking indoor air quality, Aeroseal and duct cleaning.
On the plumbing side, they offer all types of service and repair, drain cleaning, hydro-jetting, video pipe inspections, leak detection, water filtration, along with trenchless sewer replacements and one-day bath remodels.
One thing that sets Davis Home Services apart is the Davis brothers constantly keep up with the latest technology to provide the best services possible, such as installing smart thermostats and zone systems.
"We have what most other companies don't have," Ron says. "I purchased a $10,000 camera for our video pipe inspections. When it comes to leak detection, we are able to install a system that notifies the customer through their cell phone they have a leak in their house and the water is automatically shut off. We invest in technology to be able to take care of any situation we're involved in."
Even if you don't have any visible problems, the Davis brothers stress the importance of routine maintenance, which doesn't just keep your systems up and running, it keeps you and your family safe.
"You want to go to bed at night and not worry," John says. "Would you get on a plane that never had maintenance or safety checks done? There are things in your house that can be deadly with carbon monoxide, such as heaters and water heaters. Things like making sure batteries are changed in smoke detectors as well as carbon monoxide detectors, people miss that. It's very important to get everything checked."
"We emphasize safety and comfort, and in addition to that, you're assured every job is done correctly and it's not just a Band-Aid or patch repair," Ron says. "If we find items that could potentially cause damage, we point that out to folks while we're there, instead of just getting in, fixing one leaky pipe and we're out. We educate homeowners by not just telling them what's wrong with what we're fixing, we explain why, how it possibly could have broken down and give them different scenarios on how we could avoid it in the future."
To ensure an added level of safety, customers receive a picture of the technician who will be completing the repair, along with information about them, in advance. They can also track his time to the customer's house.
"We want the customer to know who's coming to their house," Ron says. "That makes it comfortable, especially in times like these, for them to ensure safety of their family and also our team."
Davis Home Services has offers for a lifetime warranty. They even offer a clean house guarantee. If they don't have your house clean to the customers' satisfaction, they will have a company come in to clean it free of charge.
"We'll leave the area cleaner than when we found it," Ron says. "We've always worn boot covers and rubber gloves, we've always cleaned and disinfected the area, and now we've added face masks and hand sanitizers due to COVID19 and are social distancing with customers."
Combining two companies into Davis Home Services has not just provided customers with the highest quality of service, it has given the Davis brothers an opportunity to work together and create an atmosphere where their employees love coming to work and being there for customers.
"We enjoy each other's company in limited time," John says with a laugh. "It's nice getting to work with my brother."
"We're building an environment where we're very serious about what we do, and at the same time, we make it fun for everyone," Ron says. "It's important to have happy employees. We take care of our people, we live by our core values and that's transferred to the customers. We pride ourselves on building relationships with our customers."
Davis Home Services
Cherry Hill | (800) 913-8272
DavisHomeServices.com
Published (and copyrighted) in Suburban Family Magazine, Volume 11, Issue 4 (June 2020).
For more info on Suburban Family Magazine, click here.
For information about advertising in Suburban Family Magazine, click here.
To find out where to pick up your copy of Suburban Family Magazine, click here.