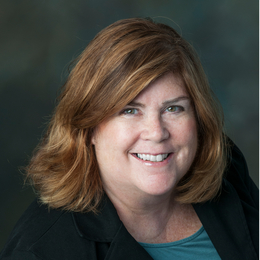 Committed to her Causes
A certified matrimonial attorney, Marianne Rebel Brown helps clients navigate through divorce and other family law matters.
TO BECOME A CERTIFIED ATTORNEY BY THE SUPREME COURT OF NEW JERSEY, ONE MUST MEET A STRINGENT LIST OF REQUIREMENTS, including a substantial level of experience, continuing education in a particular field, a rigorous examination and an unblemished reputation supported by other lawyers and judges. Of the nearly 100,000 attorneys in the state, only a small percentage have received this designation.
It comes as no surprise that Marianne Rebel Brown, a certified matrimonial attorney, is among that distinguished group. From the very beginning of her career more than 30 years ago, she has made it her personal mission to go above and beyond for clients going through a turbulent time in their lives.
"I have a social service background and I'm able to communicate with people, and that has helped in terms of being able to do family law," she says. "When clients are going through the emotional drama of a divorce, they need someone on their side who knows the law and is negotiating on their behalf. My job as a family lawyer is to keep track of the assets and make sure people get what they're entitled to."
As the founder and managing partner of Rebel Brown Law Group—with offices in Haddon Heights and Glassboro—she focuses her firm on several areas, notably family law and all it entails, such as divorce, custody, visitation and matters relating to domestic violence. Brown practices in every county of South Jersey, from Burlington to Cape May.
Rebel Brown Law Group includes Law School Graduate, Ifeanyi Anyanwu, awaiting final approval from the New Jersey Board of Bar Examiners, and a devoted staff and will soon add a third lawyer. It has a strong commitment to technology and the similar resources of a large firm, but provides the connection of a small firm where clients are viewed as people and not a number. "We give clients the personal touch they need," Brown says.
Brown offers free consultations and starts laying the groundwork for a divorce case from the first meeting. She stresses the importance of collecting important documents like tax returns and keeping track of all assets, from bank accounts to pensions plans. Her goal is to give clients everything they need to produce the best outcome.
"I try to give them good information to make decisions themselves moving forward," she says. "If I can possibly avoid a trial I will, but I don't want to avoid a trial to sacrifice what my client is entitled to." In cases that involve children, those rights include custody. With courts moving toward a co-parenting schedule in many instances, Brown advises her clients to put aside differences with their spouses and focus on the best interests of their kids. She encourages them to take advantage of available resources in the community as well as therapy if needed. In shared parenting cases, she encourages clients to develop a detail-oriented plan that accounts for the cost of everything from school lunches to clothes.
"It can be very difficult for a lot of people, but they have to find a way to make the equal parenting schedule work," she says. "They need to live close to each other, they need to both be involved in school and they need to communicate with each other even though they may dislike each other. They have to put the interests of the children ahead of their own agenda."
Another significant practice area for the firm is Social Security disability. Brown advocates for those who have paid into the Social Security system but can no longer work due to a heart condition, cancer, orthopedic problem, mental health issue or other disability, ensuring they receive the benefits they deserve. She also handles SSI cases where her clients may not have been able to work in a gainful way due to their disability.
She prepares estate planning documents such as wills, living wills and powers of attorney as well. She is also a real estate enthusiast who represents buyers and sellers at the closing table or in reviewing contracts.
No matter which area of the law Brown is practicing, she enjoys helping her clients navigate the process and reach a favorable conclusion—especially in her divorce cases.
"The most rewarding thing for me is to make sure somebody can move forward and is comfortable with the resolution that we got," she says. "A divorce is a small part of what's going to happen to you for the rest of your life. You have a right to be happy, to move on and to get what you're entitled to out of the relationship, and not feel tortured or guilty about what happened. You need to be comfortable moving forward with your life."
Rebel Brown Law Group
429 White Horse Pike | Haddon Heights
103 S. Main St. | Glassboro
(856) 881-5000
RebelBrownLawGroup.com
Published (and copyrighted) in Suburban Family Magazine, Volume 11, Issue 4 (June 2020).
For more info on Suburban Family Magazine, click here.
For information about advertising in Suburban Family Magazine, click here.
To find out where to pick up your copy of Suburban Family Magazine, click here.