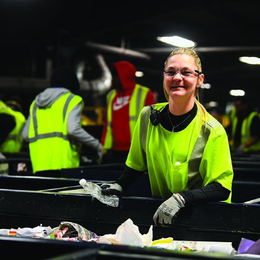 Job Well Done
The Occupational Training Center of Burlington County is proving to be essential in every sense of the word.
The repercussions of the COVID-19 pandemic have been wide-reaching and months later are still being felt. It's been a challenging time for everyone as we adapt our everyday lives and establish a "new normal." But, while many folks were able to work remotely in the safety and comfort of their own homes, there have been thousands of essential workers helping to keep things up and running.
Helping lead the charge have been countless program participants and direct support professionals associated with the Occupational Training Center of Burlington County (OTC). The OTC's mission is to assist individuals with disabilities in reaching their maximum potential, by offering services for employment, day programs and residential services.
The OTC's employment services, or vocational training programs, provide a variety of job options with different levels of support. With the support of the OTC staff, adults with disabilities are encouraged to cross barriers by making their own choices, and finding meaning through the work that they do.
Throughout the coronavirus crisis, these individuals have been working five days a week sanitizing hospitals, performing janitorial work at county and state buildings—including the War Memorial in Trenton where Gov. Phil Murphy gives his daily briefings —and continuing to provide food service at Joint Base McGuire-Dix-Lakehurst and operate Burlington County's recycling program.
"These individuals are helping to provide safe environments and are taking a lot of pride in what they are doing," says Karen Elliot, director of professional services. "They are nervous and they understand the risk, but they also understand the importance of the work they are doing. They know how much others are depending on them."
As of now, the vocational contracts that the OTC does, such as the janitorial, food service, and recycling programs, are not considered to be competitive integrated employment by the New Jersey Division of Vocational Rehabilitation Services. "To me it takes away the value of what they are doing, they have proved that they are essential workers in a competitive workplace," Elliot says. This pandemic has shown the dedication and reliability of these employees.
In addition to great work being done by the vocational program participants, OTC's direct support professionals have also been playing an integral role in maintaining "normalcy" for the individuals they serve. The ability to come up with new routines has been crucial and allowed them to keep a high level of engagement. Whether that has meant creating picnics outdoors for those who regularly enjoy going to the park, or connecting virtually to participate in remote services, the staff's dedication has only been reinforced during these times. "We are trying to be in tune with the individual and help them find what they are missing," Elliot says.
The OTC has also made it a priority to try and gain a deeper sense of how this constantly evolving pandemic is directly affecting each individual.
"The staff has taken the time to not only explain these changes, but to talk to them about how they are feeling about them," Elliot says. "It gives the staff a better understanding on how to help them."
It speaks volumes about what kinds of workers a company has when they are willing to put themselves at risk in order to contribute to the greater good of their work community. The Occupational Training Center of Burlington County is among the long list of companies that has brave employees on the front lines, facing the coronavirus day in and day out.
"Our workers are showing up every day—they are nervous, they are concerned; they don't want to get the virus," Elliot says. "But they are coming in every day because they are essential personnel; the dedication is heartwarming and demonstrates the strong resolve of all our staff and program participants. The OTC is proud and thankful for all our frontline heroes."
Occupational Training Center of Burlington County
2 Manhattan Drive | Burlington Township
(609) 267-6677 | otcbc.org
Published (and copyrighted) in Suburban Family Magazine, Volume 11, Issue 4 (June 2020).
For more info on Suburban Family Magazine, click here.
For information about advertising in Suburban Family Magazine, click here.
To find out where to pick up your copy of Suburban Family Magazine, click here.