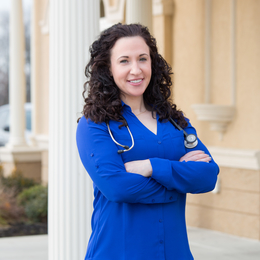 Protecting your Heart from COVID-19
Dr. Vic Bahal discusses how an integrative approach can help the body fight the novel coronavirus.
As time has passed, more is being learned about the novel coronavirus (COVID-19), scientists and health care professionals are seeing the impact it has on various parts of the body, including the cardio-vascular system.
Experts have warned the older population and those with pre-existing medical conditions of their higher risk. Those with coronary heart disease, diabetes, high blood pressure, obesity or history of stroke need to take extra precautions during this uncertain time, because if they contract COVID-19, their symptoms could be more severe.
Dr. Vic Bahal, founder of Advanced Cardiology of South Jersey, says doctors are seeing more patients admitted to the hospital with congestive heart failure and heart attacks who are also testing positive for COVID-19.
"We now know the virus is causing inflammation at the vessel wall, which leads to endothelial dysfunction and ultimately to heart attacks," Dr. Bahal says. "The heart muscle can become inflamed and cause myocarditis which in turn can lead to heart rhythm problems. This inflammation can also weaken the heart muscle and if it becomes severe, it can cause cardiogenic shock, where the heart is not pumping enough blood around the body."
And it's not just the arteries but the veins, as well, he adds. "The virus affects the vessels, causing vascular inflammation which contributes to a hypercoagulable state, which in turn causes blood clot formation (thrombosis) in the lungs and legs, both of which can prove to be fatal. A lot of younger people are actually presenting with this diagnosis."
First and foremost, Dr. Bahal recommends anyone at risk w ith underlying conditions see their cardiologist for an EKG, blood test or echocardiogram to detect any changes. Because symptoms are often subtle, people need to act fast.
Using Integrative Medicine to Protect the Heart
Although there is no cure or proven effective treatment to defeat or prevent the coronavirus, Dr. Bahal states that optimizing immune function and decreasing general body inflammation with lifestyle modifications and supplements will go a long way in surviving the pandemic.
"While research is underway on different vaccines, treatment of COVID-19 should not just be one method—it should be integrative, using conventional medicine and nutraceuticals," he says.
Dr. Bahal says a naturally occurring antioxidant in our body—glutathione—may provide a key for fighting the virus. Glutathione is an antioxidant that can prevent damage to cells. More glutathione in the body could slow down or inhibit replication of the coronavirus in the body. This has been shown to occur in other viruses. Unfortunately, glutathione levels decrease as we get older. A study done in Russia revealed those individuals who had lower levels of glutathione had worse outcomes when infected with the coronavirus, Dr. Bahal says. However, there are ways to raise a person's levels.
"Alpha lipoic acid (ALA) can trigger the production of glutathione. ALA is a very powerful antioxidant which protects the heart and blood vessels, and has shown to reduce stress and inflammation," says Dr. Bahal. "Foods like avocados, asparagus, spinach and broccoli also have glutathione, and ALA is found in tomatoes, potatoes, Brussels sprouts and o rgan meats."
Another supplement that is essential for producing glutathione is N-acetyl cysteine (NAC). "The combi nation of ALA and NAC can prevent a massive release of inflammatory cells known as a 'cytokine storm' in coronavirus patients, where the body is attacking its own cells, damaging the immune system and leaving the body unable to fight the virus," Dr. Bahal says.
Supplements are something Dr. Bahal routinely recommends as preventative measures, after all, he is at the forefront of identifying and treating in flammation and endothelial dysfunction as the root cause of heart disease. Quadruple board certified in Internal Medicine, Cardiology, Vascular Medicine, Anti-Aging/Functional/Regenerative Medicine and Integrative Cardiology, Dr. Bahal has learned so much about how different supplements can be ap plied to treat different ailments not just for the heart, but in the whole body.
"Supplements are tailored to each patient," he says. "We ta ke into account the social factors and spend time going over it with the patients who often don't know these supplements are out there."
Along with integrating supplements, studies show eating certain foods can reduce inflammation. "We should be eating things like fish, turmeric, black pepper and spices in general, along with taking supplements such as vitamin C, vitamin D3, probiotics, fish oil, ALA and NAC supplements to lower inflammation. Regular exercise and good quality sleep is also important because there is a lot of stress and anxiety surrounding us right now, and that is bad for the heart," Dr. Bahal says.
He urges everyone, especially those with high risk, to continue practicing the recommended guidelines from the Centers for Disease Control, including avoiding being around people.
"Nobody knows what's going to work to stop the virus completely, but there are a lot of little studies showing we have to stop inflammation," Dr. Bahal says. "We can't destroy the virus but we can put a shell of armor around us. It may hit us but it won't hurt us because our immune system will be strong and not as inflamed. We're not going to let it kill us."
To further discuss how to protect your heart in this pandemic, call for an appointment at (856) 241-3838.
Advanced Cardiology of South Jersey
4 Burton Lane, Suite 100 | Mullica Hill | (856) 241-3838 | AdvancedCardiologySJ.com
Photography by Alison Dunlap
Published (and copyrighted) in Suburban Family Magazine, Volume 11, Issue 3 (May 2020).
For more info on Suburban Family Magazine, click here.
For information about advertising in Suburban Family Magazine, click here.
To find out where to pick up your copy of Suburban Family Magazine, click here.