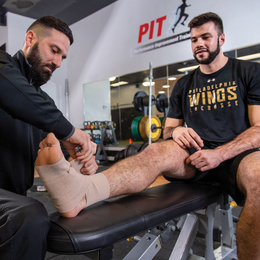 On the Journey to a Healthier Life
Under the leadership of Dr. Keith Kreitz, the bariatric program at Inspira Medical Center Mullica Hill provides safe options for significant and healthy weight loss.
Why Inspira Health?
There is one question that Dr. Keith Kreitz, medical director for bariatric surgery at Inspira Medical Center Mullica Hill, has heard repeatedly throughout his career, yet he never grows weary of answering it. When people want to know why the renowned bariatric surgeon picked weight loss as a specialty, he is happy to explain that it wasn't a decision—it was more like a calling.
"The great part is that I didn't choose it; it chose me," says Kreitz. "In my training when I started doing surgery as a specialty, this is the area I naturally gravitated to. It was a demanding type of surgery and the patients had challenging, complex medical issues. A lot of physicians didn't want to engage with those issues or didn't feel comfortable, and it took a certain kind of physician to go down this path.
"I've always loved a challenge, and it always made me feel better as a person to help someone. I've found that working with these patients and providing this level of service has been the most rewarding thing in my career."
After serving in a similar role for a health system in Philadelphia, Dr. Kreitz was drawn to Inspira for several reasons, primarily Inspira's commitment to bringing leading-edge technology and advanced, comprehensive care to the communities of South Jersey. Inspira Medical Center Mullica Hill is the region's first new hospital in more than 40 years, equipped with smart room technology, all private rooms, state-of-the-art operating suites and comprehensive maternity services.
Inspira Medical Center Vineland is already nationally recognized by the MBSAQIP for its weight loss program and successful outcomes, and with the addition of Dr. Kreitz, that same type of personalized care is now being offered at the new Mullica Hill medical center.
Building the region's leading bariatric program
"On top of Inspira's vision for building the premier bariatric program across South Jersey, they have built a premier facility that is absolutely beautiful and includes the best technology I have ever seen in a hospital," Dr. Kreitz says. "All the pieces started coming together and it wound up being a great opportunity."
But building the elite bariatric program in the region will take a collaborative, multi-disciplinary effort from everyone at Inspira, from the administration and surgeons to the nurses and dietitians.
"I've learned over the years that when you have the right support from above and you have the right people around you, you can really make things happen that you would not be able to do by yourself no matter how talented you are," Dr. Kreitz says.
That team approach will be crucial moving forward as obesity continues to plague the country. According to the Harvard School of Public Health, by the year 2030, half of the U.S. population will be obese and a quarter of the U.S. population will have severe obesity.
Many of those people will not be able to lose a significant amount of weight through diet and exercise alone. The National Institute of Health (NIH) recommends that surgery might be the best option for patients with a body mass index (BMI) of 40 and above, or a BMI of 35 and above along with a severe illness such as diabetes, high blood pressure or sleep apnea. Dr. Kreitz anticipates those guidelines changing soon to cover those with a BMI as low as 27 in certain cases.
Leading the way in patient access and surgical choices
Inspira offers several surgical options, all of which are minimally invasive, laparoscopic procedures that require a brief hospitalization. The most common of these is a sleeve gastrectomy, in which 80 to 85 percent of the stomach is removed, with the remaining portion recrafted into a banana shape. As a result, the patient experiences the sensation of feeling full earlier on in a meal. Thus, resulting in only eating smaller portions, contributing to their weight loss.
"Patients are specifically seeking that procedure because it's proven to provide good results. They've heard the media stories and they've heard firsthand from their family members and friends who've had the procedure, and they realize how much their life will improve afterward," Dr. Kreitz says. "Sleeve gastrectomies are a great tool and one patients can use very easily and effectively."
Inspira also offers a non-surgical option for patients who perhaps wouldn't meet the requirements for more traditional weight-loss surgery. Dr. Kreitz's program has partnered with Orbera—a pioneer in intragastric balloon technology—to provide patients with a safe alternative to surgery known as endoscopic intragastric balloon placement. In this self-paid procedure, a saline-filled balloon is inserted orally and placed in the stomach for six months at a time, where it takes up space and encourages weight loss.
"The Orbera balloon procedure opens the doors to helping almost any patient needing assistance in achieving their weight loss goals," Dr. Kreitz says. "While results are not as dramatic as they would be with traditional weight loss surgeries, the endoscopic balloon is a terrific option for patients looking to lose weight for an upcoming wedding or other event, or for those who just need that little bit of help getting to their ideal self."
According to Dr. Kreitz, data shows that all of these bariatric procedures lead to positive outcomes for patients. While many of these procedures can be performed on an outpatient basis, for those patients who do require a hospital stay, Inspira Medical Center Mullica Hill has all private rooms equipped with the latest technological and lifestyle amenities.
Keeping patients connected
Once a patient of Inspira Health, you become part of the Inspira family. Even after surgery, Dr. Kreitz and his team remain invested in helping their patients successfully reach their long-term health goals.
"Part of the strength of our program is our continuing work with our patients," Dr. Kreitz says. "We don't like to send people on their own after surgery. We encourage them to stay engaged in the program— even if it's just a yearly visit—because we know they will realize a tremendous benefit from that. Additionally, health maintenance is really important. We want our patients to embrace a healthier path forward and to be the best version of themselves they can be."
Undergoing weight loss surgery is only part of the journey and keeping the pounds off can be difficult if patients don't understand how to adjust to their new lifestyle. Inspira's bariatric support team works closely with patients' primary care providers in co-managing their care, including providing at-home monitoring devices, which allow patients to engage with their providers virtually and stay on track with meeting their post-operative milestones. Additionally, this integration allows for better care in patients suffering from a chronic care condition such as diabetes or cardiovascular disease and can ultimately lead to a better quality of life.
To learn more about starting your life-changing journey, or to request an appointment with Dr. Kreitz, contact the staff at Inspira Medical Center Mullica Hill's bariatric surgery program at (856) 508-3706.
KEITH KREITZ, MD
Bariatric Surgery of Mullica Hill
Inspira Medical Center Mullica Hill
698 Mullica Hill Road, Suite 320
Mullica Hill | (856) 508-3706
Published (and copyrighted) in Suburban Family Magazine, Volume 11, Issue 3 (May 2020).
For more info on Suburban Family Magazine, click here.
For information about advertising in Suburban Family Magazine, click here.
To find out where to pick up your copy of Suburban Family Magazine, click here.