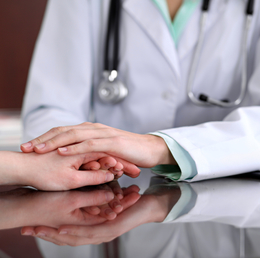 Breaking the Mold in Oncology Treatment
Comprehensive Cancer & Hematology Specialists is leading the way in advanced oncology treatment and personalized care.
THE CONVERSATION OF A CANCER DIAGNOSIS CAN BE RATHER FRIGHTENING WITH THE UNKNOWN BEING THE MOST MEASURABLE DIFFICULTY. There are thousands of treatments and plans out there, and finding an oncologist who understands your diagnosis and treatments is a must. The physicians and nurses at Comprehensive Cancer & Hematology Specialists, P.C. are highly trained in not only experience but in compassion for every one of its patients.
"Most of our nurses have been in oncology and with the company for over 20 years," says Comprehensive Cancer & Hematology Specialists Practice Manager, Kristen Bovio. "Our two newer nurses have practiced oncology certifications making them OCN certified and come highly trained in patient care. They have one thing that you can't train nurses in, which is a sincere compassion for the patients' journey they are about to embark upon. Our nursing staff truly gets to know each patient, follows their journey and is available to them 24/7."
With around-the-clock access to physicians and nurses, each patient is taken care of throughout their treatments, not only medically but emotionally. The company has been in business since 1990 and has made it their mission to provide an understanding of the treatment plans and how patients are going to be affected. Each patient and their family members are walked through the journey with the Comprehensive Cancer & Hematology Specialists team, to ensure they never feel like they are going through this alone.
The physicians Trina Poretta, DO; Richard Gordon, DO; and Ashok Bapat, MD, take pride in being 100 percent there for the patients.
"Our physicians and nurses and even our staff give out their personal cell phones to continue to be advocates for patients and their families," Bovio says. "Our practice is very personalized in the patient's journey and each patient knows we are here for them."
As each patient gets a personalized experience, they also develop a strong understanding of their treatments. Every physician attends multiple conferences, meetings and works with other outstanding physicians to ensure they are always kept up to date with the latest advancements.
"The physicians here attend many conferences throughout the year, attend multiple tumor board meetings at hospitals for all cancer types and continuously read up on literature for ongoing therapies and new advances in medicine," adds Bovio. "Each of our physicians work with multiple surgeons, primary care physicians, gynecological physicians and multiple specialties to be sure the patient's entire medical team is grouping together discussing the patient's care."
One of the advancements in community oncology that the company has established is an approach that offers every patient easier access to their physician and offering quicker treatment start times. Beginning treatment shortly after diagnosis and meeting with the physicians and nurses quickly allows the patient to have a plan. Having a plan is half the battle to understanding what the patient's next steps are. Simply having a plan can give the patient resources that allow them to understand what to expect on their journey.
"Community oncology is able to offer quicker treatment starts, flexible physician schedules, 24/7 doctor and nurse lines, easy access to financial counseling and many informative options are available to afford treatment, taking financial stress out of the equation for the patient," Bovio says.
Unfortunately, whenever a patient is about to start the course of treatment financial questions will arise. But Comprehensive Cancer & Hematology Specialists reaches out to funding programs and drug manufacturers for assistance to help cover out-of-pocket expenses.
"We have multiple resources for funding, copay assistance and even free drug regimens if needed," says Bovio. "Through an insurance benefit investigation we are able to tell the patient what to expect and how we plan to facilitate financial resources for their care."
Although cancer can be a difficult conversation, it doesn't have to be a process you walk through alone. The physicians and nurses at Comprehensive Cancer & Hematology Specialists are working tirelessly to make sure that they are offering the best treatments and support they can.
Comprehensive Cancer & Hematology Specialists, P.C.
705 White Horse Road | Suite D-105 | Voorhees
(856) 435-1777 | ComprehensiveCancer.com
Published (and copyrighted) in Suburban Family Magazine, Volume 11, Issue 3 (May 2020).
For more info on Suburban Family Magazine, click here.
For information about advertising in Suburban Family Magazine, click here.
To find out where to pick up your copy of Suburban Family Magazine, click here.