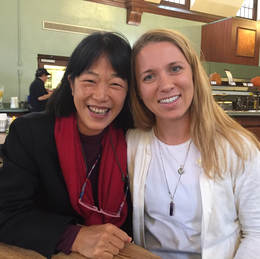 Online Learning that Fits Real Life
Now is the perfect time to pursue a graduate degree and continuing education credits with online courses at Georgian Court University.
For many adults, obtaining a graduate degree was put on the backburner after college. Perhaps, at the time, their career was underway, and then came a family—leaving little time for studying or taking classes on campus. The availability of online graduate degrees at Georgian Court University makes it easier and more affordable than ever to achieve your goals, with programs starting May 26.

Georgian Court University is the only Catholic university serving Central and South Jersey, providing a comprehensive liberal arts education. The university, located in Lakewood, offers a variety of online master's programs from integrative health, higher education and student affairs administration, and theology to autism spectrum disorders, M.B.A., and communication and digital marketing.

Georgian Court's next session of online graduate classes begins at the start of the summer and, with rolling admissions, application packets are being accepted up through the first day of classes, meaning it's not too late to take this next step in your personal growth.

Former Director of Graduate and Continuing Education Patrick Givens says this is the chance for adults to start a new career or enhance the one they are currently in. "The benefit of an online graduate degree is that it fits everybody's wants and needs—whether it's building on that next step in your career path or exploring something new, or even if you're looking for personal growth as a lifelong learner," he says.

It's also a program that adapts to each student's schedule. "Online education is specifically built to be affordable, flexible and to fit real life," Givens says. "You can log in and take classes any time—day or night. If your kids are having their own study time at home, you can study along with them, or on your own schedule if you are an early riser or night owl."

Program offerings also evolve to accommodate the most in-demand skills. Givens mentions the new communication and digital marketing master's program. "With the current situation, businesses are having to adjust from brick-and-mortar operations to online," he says. "Many have never done digital marketing, but now they have to figure out how to do it and be successful. This program will not only help now, but contribute to growing your business in the future."

Others who wish to advance careers in education may see this as an opportune time to obtain a certification to add to their résumé and bring some added skills to a leadership role as a supervisor or principal.

Georgian Court's online graduate students receive the full gamut of support services that an on-campus student would, adds Givens. Counseling, financial aid, advisors, the Writing Center, library, and career services—a lifelong service available to alumni—are all accessible.

Most of all, Georgian Court will be there for every student, despite the circumstances, says Givens. "We pride ourselves on contact with students and potential students. If you apply here, chances are you'll talk to one of the three of us in the graduate office. We stay with our students from enrollment to graduation," says Givens. "We build personal connections, and we maintain them.

Givens encourages prospective students to apply now for the May 26 session, adding that his staff is available via phone, email, and a plethora of virtual platforms (e.g., Zoom) to work through what is required in the application process.

For more information, visit georgian.edu/graduate-programs or call (732) 987-2770.
Georgian Court University
Lakewood | (800) 458-8422 | georgian.edu
Published (and copyrighted) as a Suburban Family Magazine (May 2020) web exclusive.
For more info on Suburban Family Magazine, click here.
For information about advertising in Suburban Family Magazine, click here.
To find out where to pick up your copy of Suburban Family Magazine, click here.