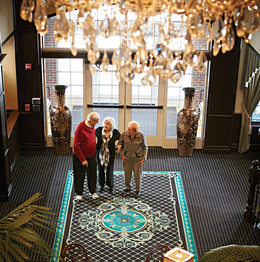 A Golden Opportunity
Residents at Brandywine Living at Moorestown Estates make the most of their golden years in a safe and active community.
For adult children who are watching their parents age, it can be a blessing to have more time together, as well as a burden to worry about their well-being. They have worked hard, raised their family and now deserve to enjoy these golden years, without their children being concerned about their safety, if they've eaten a good meal, if they took their medication.

Brandywine Living at Moorestown Estates provides everything seniors need in one community. One of the premier names in assisted living and memory care, Brandywine Living operates 29 communities, including four in South Jersey: Moorestown, Voorhees, Haddonfield and Linwood. Not only is Brandywine known for its dedication to independence, dignity and high-quality health care services, but it's also creating a new standard for what is expected in an assisted living community. It combines an exceptional level of care—offering 24/7 nursing in all of its communities—with luxurious accommodations and hospitality services one would find in the world's finest hotels.


Assisted living has changed over the past decade, says Stacy Costa, director of community relations. Unlike in the past when anyone who needed assistance would go to nursing homes, assisted living communities can accommodate people who are completely independent or those who do need additional help with daily activities or more attentive medical attention. "There was a pattern of people waiting too long to come to assisted living, but lately more people are coming in younger, or we're seeing couples come together where maybe one person needs more help than the other," Costa says. "The ability to downsize into a community that offers all the privacy of home with supportive services available, helps the transition to this stage of life."

"People move in here wanting to maintain, or even enhance, their independence. They don't want the hassle of paying a mortgage or utilities. They want to spend their retirement enjoying life and our job is to change their life for the better," says Cori Laphan, corporate sales specialist, who has been with Brandywine for 20 years. At Brandywine, utilities are included, as well as all meals, weekly housekeeping, laundry and transportation.

Brandywine Living at Moorestown's residences range from studios to its brand new addition of Serenade East by Brandywine which features one- and two-bedroom suites with ample living areas, walk-in closets and additional bathrooms. Every unit in the community includes a safety and emergency response system, in addition to access to the 24/7 caregiving services, medication administration, daily living activities assistance, health and wellness assessments, internet access and much more.

Brandywine scales the level of assistance available to residents as a person's needs change, they are able to remain in their own suite and receive that care. One of Moorestown's signature programs is Reflections Serenade, which provides support for residents with dementia, Alzheimer's and other memory care needs and includes a neuropsychologist on staff to educate and counsel residents and families on the aspects of living with memory loss.

Every aspect of the Brandywine community is about living, and Moorestown's residents have access to several unique programs, some of which may even have the younger generation feeling envious. Serenade by Brandywine is one such program, providing an exclusive and luxurious lifestyle, including the aforementioned upgraded suites, private dining and lounges and butler services. "We developed this about 13 years ago when we noticed how residents' wants and needs were changing, seeking out luxury upgrades," says Laphan. "The butler is a customer service piece, someone who can provide room service and deliver meals or run errands. Serenade is available to residents at any level of care."

Other programs add to the quality of life for residents, including All-Day Dining, which enables them to eat on their own schedule, choosing from a restaurant-style menu of nutritious gourmet meals. Socialization and personal enrichment are the goals of Escapades…for Life!, featuring fun programs such as Fun, Fit, Fabulous, Karaoke Knights, Card Sharks or Artist's Palette seven days a week.


"A typical day for our residents varies, but it begins with breakfast in the dining room, followed by a program whether it's a bit of exercise or a cognitive social program like trivia to promote brain fitness, and then there's lunch or an outing to a museum or show," says Costa. "And there is happy hour every day in the taproom." That's right—residents can partake in drinks and hors d'oeuvres in a social atmosphere. "Following dinner, evening programming could include a movie in our theater, live entertainment, arts or a musical program. And of course, throughout the day, many residents have family visiting for meals or picking them up for an outing or vacation."

There is much more to enjoy on site, including the pool, a garden courtyard with a walking path and a library. Laphan says next month will welcome the new Serenade East by Brandywine addition, which includes 13 luxurious one-bedroom and two-bedroom suites with multiple bathrooms and Brandy's Jazz Lounge to provide another happy hour option with juke box and entertainment for residents.

All of these amenities add up to a community that fosters care and a culture of family. "It really does feel like a family when you're here," says Laphan.

Brandywine Living at Moorestown Estates
1205 N. Church St.|
Moorestown
(856) 778-0600
BrandyCare.com

Published (and copyrighted) in Suburban Family Magazine, Volume 11, Issue 1 (March 2020).
For more info on Suburban Family Magazine, click here.
For information about advertising in Suburban Family Magazine, click here.
To find out where to pick up your copy of Suburban Family Magazine, click here.