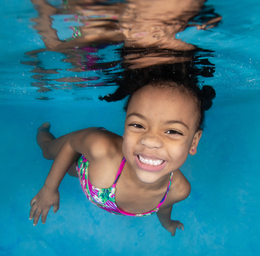 Making a Splash
Bear Paddle Swim School gives children the skills to be a confident swimmer and parents peace of mind.
For active families in South Jersey, summertime means invitations to pool parties, fun-filled afternoons at the neighborhood swim club or weekends spent riding the waves down the Shore. After all, nothing beats a refreshing dip in the water when the temperatures start to creep into the 90s.

Since those hot and humid days will be here soon enough, now is the perfect time to think about water safety, and parents of children who are still finding their way in the water are in luck. Bear Paddle Swim School—a national leader in swim lessons with a strong local presence—is here to help kids of all ages develop their skills in a safe and enjoyable setting.

Most families are interested in their children becoming confident swimmers for life," says John Reilly, who is not only the president and CEO of Bear Paddle but also a father of six. "Of course, parents want to be assured that their kids are going to be safe. But, we're also about inspiring confidence and helping children realize their potential."

Founded in 2008, Bear Paddle has locations in several states, including two in South Jersey in Marlton and Turnersville. Each facility contains a saltwater pool kept at a comfortable 90 degrees, and the pool is also broken into different sections for different abilities.


Safety is at the forefront of everything Bear Paddle does, starting with children as young as six months old, who are taught to self-rescue should they fall into a pool by flipping to their back and floating. Safety is also the primary reason for the company having the smallest teacher-to-student ratios in the industry, with the first three levels of group lessons being limited to three students per instructor.


"If it's one teacher to six kids, it's more challenging to ensure safety during every second of every lesson, and that's critical to us," Reilly says. "We also do that to make sure the kids are active for the entire lesson versus sitting idle. Not surprisingly, the more time the kids are in the pool and getting instruction, the better swimmers they become. Smaller ratios means more individual attention."


Another cornerstone of Bear Paddle's philosophy is fun, as story-based lessons are designed to spark kids' imagination and keep them engaged. Rather than seeing their weekly lessons as a chore, children enthusiastically look forward to returning to the pool.


"We have kids who come through the front door with their goggles and swim suits already on, and it's great to see their excitement," says Spencer Rice, a founding principal of Bear Paddle who also serves as the director of training and curriculum. "The engagement factor is huge—we want the kids swimming, we want them moving and we want them having a good time."

Children are allowed to progress through the seven levels of group lessons at their own pace, and when they master a certain skill they receive a patch to mark the achievement.

"If the kids are focused and the parents are determined, we can really teach them quickly," Rice says. "It's not uncommon for us to have somebody in the 5-6-year-old age group start this time of the year and have them be a level four swimmer by summer. And even with the advanced swimmers, we make sure they have safety skills along the way, like understanding to jump into a pool feet first and not to dive."


In addition to group lessons, Bear Paddle offers private lessons and swim camps, which are scheduled around breaks from school or during the summer. Makeup lessons are provided when kids are sick or have scheduling conflicts, and students also receive free family pool time on the weekends to swim with their parents and continue to work on their technique.


The Bear Paddle team believes that more time in the pool leads to comfortable, confident swimmers, and it hosts special events throughout the year to welcome the community.


"We have found that when families experience what we have to offer, they typically want to become part of the Bear Paddle family," Reilly says. "So we offer complimentary swim lessons to anyone who's thinking about signing up. Families can come in, see the facility, see how we do things and see how their child interacts in the water."


Rice meets many parents who never received swim lessons themselves and suffered the consequences. For them, bringing their children to Bear Paddle is an easy decision.

"They understand that not being able to swim is a missing component for pool parties, going to the beach or just having overall confidence, not to mention the safety element," he says.

"Water-based activities are common, but they can be dangerous, so teaching children to respect the water while also showing them how to enjoy it safely, is important."

Bear Paddle Swim School
515 Route 73 S., Unit 170 B, Marlton
(856) 267-3131
5901 Route 42, Unit 3, Turnersville
(856) 373-5697
BearPaddle.com

Published (and copyrighted) in Suburban Family Magazine, Volume 11, Issue 1 (March 2020).
For more info on Suburban Family Magazine, click here.
For information about advertising in Suburban Family Magazine, click here.
To find out where to pick up your copy of Suburban Family Magazine, click here.