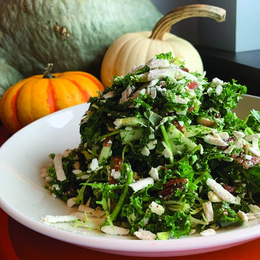 On The Menu
Healthy fare for 2020
Kale Apple Salad
The Farm and Fisherman Tavern, Cherry Hill
This bowl of greens allows for all-day energy and will keep you feeling full thanks to the fall greens, candied pecans and ricotta salata, all drizzled in a delicious white balsamic vinaigrette dressing.
Dolce Salad
Healthy Garden and Gourmet Pizza, Voorhees and Moorestown
This delicious salad is filled with honeydew, blueberries, feta cheese and arugula—a great source of calcium and folate—and doused with a ginger honey vinaigrette dressing, bringing out the savory flavors of the fruits while also providing a filling and healthy meal.
Quinoa Wrap
Organico Pizza, Marlton
Delight in this nutrition-filled wrap made with chickpeas, fresh mozzarella, avocado, quinoa for protein and spinach—which can benefit eye health and reduce blood pressure.
Pear & Walnut Salad
Francos, Marlton
Drizzled in a delicious and unique honey lavender dressing, this salad is mixed with spring greens, grilled chicken, gorgonzola, apples, pears, craisins and walnuts and is topped with fried prosciutto—making it the perfect combination of fruits and veggies for a healthy lunch.
The Impossible Burger
Pat's Select Pizza & Grill, Cherry Hill and Marlton
This plant-based burger is the perfect alternative for those looking to cut back on meat or who are living a vegetarian lifestyle. Each patty is topped with lettuce, tomato, mayo and house dill pickles, providing that classic burger experience.
Power Bowl
B.Good, Mount Laurel and Marlton
Filled with quinoa, spinach, pistachios, avocado, cage-free eggs, chickpeas and feta cheese, all drizzled with a tomato basil vinaigrette dressing, this bowl has a balance of healthy fats and protein to help refuel after your workout.
Perfect Swell
Cali Shakes, Glassboro
Unique in design and flavor, this healthy frozen treat offers lasting energy, vitamins and protein. Based with pitaya—a superfruit high in fiber and rich in antioxidants—this bowl comes with pineapple, banana and coconut flakes topped with granola and either honey drizzle or agave to satisfy your sweet tooth naturally.
The Healthy Start
Amy's Omelette House, Cherry Hill and Burlington
Breakfast is the most important meal of the day and this delicious omelet gives just the right kickstart. Made with egg whites, this omelet includes spinach, chicken and sundried tomatoes, served with a side of fresh fruit for a balanced, heart healthy meal.
Polenta
Heart Beet Kitchen, Westmont
Looking for a hearty meal for lunch that will provide numerous servings of vegetables all within a healthy, quick-to-eat bowl? This polenta provides just that, made with roasted Brussels sprouts for fiber and antioxidants, sliced portobellos, sliced red grapes for sweetness and toasted pistachios.
The Krabby Patty
The Square Meal, Oaklyn
You won't miss the meat in this all-natural, vegan burger. The patty is made with chickpeas, mushrooms, artichokes and flax seeds with a topping of pickles, slaw or a vegan garden spread on your choice of a ciabatta or sourdough roll or over greens—in case you're watching your carbs.
Gluten-Free and Cauliflower Pizza Crust
Brooklyn Pizza & Grill, Haddon Heights
While this neighborhood eatery may be known for its famous Brooklyn square pies, it also recognizes those who choose to lead a healthier lifestyle—or may have a food allergy—with gluten-free and cauliflower pizza crust varieties that help keep us on track, while still providing that traditional taste.
Avocado Artisan Toast
The Turning Point, Cherry Hill, Moorestown and Marlton
As a light, on-the-go breakfast, this avocado toast is loaded with vitamins and omega-3 fatty acids. Thick multigrain toast is topped with plum tomatoes, crushed avocado and lemon zest, with a drizzle of extra virgin olive oil and sprinkled with cracked black pepper and coarse sea salt.
Published (and copyrighted) in Suburban Family Magazine, Volume 10, Issue 10.
For more info on Suburban Family Magazine, click here.
For information about advertising in Suburban Family Magazine, click here.
To find out where to pick up your copy of Suburban Family Magazine, click here.