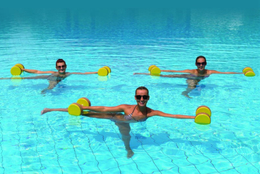 Outside the Box Health & Wellness Trends for 2020
What to consider if the traditional route hasn't produced results.
When it comes to dieting, fitness and beauty regimens, many of us have tried everything to get results. Now that the calendar has turned over to 2020, it's an opportunity for a new approach—one that hopefully sticks. Whether you're looking for the next big thing in nutrition, workouts or beauty treatments, our local professionals have it covered. Read on for their predictions on the health and wellness trends worth trying this year.
Diet and Nutrition
The foods we eat have a big impact on our body, not just in terms of losing weight, but also on our internal functions, disease and mental clarity. The following are some emerging approaches that could improve your overall health.
INTEGRATIVE MEDICINE
"At Advanced Cardiology of South Jersey we use conventional methods to reduce inflammation and fight cardiovascular disease and integrate diet, lifestyle, hormone balancing, nutraceuticals and supplements with conventional methods and have better outcomes quicker with fewer side effects.
"Hippocrates stated many centuries ago, 'Let food be thy medicine and medicine be thy food.' This philosophy is largely neglected by physicians today as many physicians over-prescribe medications and do not instruct patients on the benefits and power of a good diet insofar as fighting and preventing cardiovascular disease. Integrative medicine means using a variety of conventional medicine, along with lifestyle modifications, to treat inflammation, which is the root cause of heart disease.
"A lot of the foods we eat in Western society—red meat, artificial sweeteners, foods with dye, processed foods—promote inflammation, along with stress, smoking, pollution and sleep apnea. These factors create toxins that promote plaque production in arteries, high blood pressure, depression, diabetes, etc. … Eating a diet high in anti-inflammatory foods can prevent cardiovascular disease. The best diet is the Mediterranean diet, which is full of fruits, vegetables, omega-3s, antioxidants, and avoids red meat, which is often filled with preservatives. Spices like cumin, black pepper, turmeric, garlic, onions and cayenne are great for adding to food. Supplements like CoQ10 can reduce inflammation, and foods like spinach, broccoli, potatoes and yams are both anti-inflammatory and anti-aging. Food is medicine—it can destroy you or it can cause you to live longer. Knowledge of how food works goes a long way in health as we age."
Dr. Vic Bahal, founder, Advanced Cardiology of South Jersey
KETOGENIC "KETO" DIET
"In general, most Americans have become accustomed to an unbalanced diet that consists primarily of processed foods high in refined sugar. The ketogenic diet combats these habits and is achieved by restricting caloric intake and carbohydrate consumption, thus decreasing insulin levels in the body. This decrease signals the body's metabolism to break down stored fat into ketone bodies, which can be used as an alternate and primary energy source. When done consistently and safely under medical supervision, this state of ketosis leads to rapid weight loss.
"When nutritional ketosis is sustained for a period of time your body will adapt to this state and over time become more efficient at utilizing ketones for energy. Not only does insulin resistance improve and weight loss occur, but patients also feel an improvement in stamina, focus and sense of well-being.
"It is important to realize that not all ketogenic diets are created equal. Some ketogenic diets are very high in saturated fat which can negatively impact cholesterol levels. Most people who start a ketogenic diet to lose weight consume high levels of fat. Fat is calorie dense and too much of it can slow down weight loss. Adequate hydration is also very important on a ketogenic diet. Consuming the correct amount of electrolytes especially sodium, potassium and magnesium is key to maintaining cellular homeostasis. For these rea- sons, medical supervision is very important.
"Successfully mastering the art of sustained nutritional ketosis has many other health benefits including improved focus, lower stress levels, mood stabilization, increased endurance and improved immune response. When combined together with intermittent fasting, this further increase in ketone levels promotes the activation of cellular repair and recycling mechanisms. These cellular repair mechanisms supported by ketosis can reduce the negative impact of chronic disease and inflammation and promote longevity."
Dr. Andrew Caravello, Medi-Weightloss of Cherry Hill
Fitness
From the days of Jane Fonda on VHS to competitive CrossFit and everything in between, workouts seem to be getting more intense—but how hard do we need to work to see results? Fitness professionals weigh in on the methods that may be more successful.
SMALL GROUP TRAINING
"Over the last five to 10 years, small group training and boot camp-style classes have been on the rise. People are experiencing greater success with camaraderie and accountability in a small group training environment. This platform provides structured and progressive strength training that leads to fitness goals being met. Most people are now learning that losing weight is not simply about burning calories on an elliptical trainer or treadmill, but it's functional strength training and conditioning. Strength training and developing muscle are what fire up the metabolism and change body shape—especially matched with a nutrient-dense meal plan."
Sheena Potts, director of training, Medford Fitness
AQUATIC FITNESS
"Aquatic fitness is a great way to exercise regardless of your age. The water creates 12 to 14 percent more resistance so you actually burn more calories in less time, and [with] less wear and tear on your knees and joints. You will feel your muscles getting stronger, your balance improving, and your cardiovascular endurance increasing after just a few classes.
"If you want a great workout that's also a lot of fun, try the Aqua Zumba class. It's a high-energy class, where you can dance the pounds away. Our paddleboard boot camp class will work muscles in your core that you didn't even know you had—and because the class is done on top of a floating paddleboard, you don't even have to get wet. We also do run-training in our endless pool that allows you to train for your triathlon or distance run without the stress on your joints. Try running in the water then go out and run on land—you'll feel like you're running on air."
Kristen Holcroft, NL Aquatics
STRENGTH TRAINING
"You have to watch out for what's trending, which right now is Peloton. The problem I see with that is if you don't control your heart rate, every thing you're doing is for nothing. When your heart rate goes too high, your body goes into a defensive posture and shuts down. It stores all the fat and burns up all of your muscle. Most people don't realize this. "I think strength training is the better approach because it's the correct way to work out. It's got to be part of the puzzle: controlled cardio, strength training and the way you eat. Those three things are going to give you the look you want to achieve."
Sam Balducci, owner, Giant Fitness Centers
MAKING IT FUN
"We make sure we keep the fun in all training sessions. Why? Because life is heavy and everyone needs to laugh daily—it's so healthy to laugh. We also make sure to keep a safe environment for friends/clients to share and get vulnerable while sharing their emotions when needed. Everyone needs a safe place to share with no judgment. Culture and family are what we pitch so we back our word here at Echelon Health and Fitness. This contributes to people's physical, emotional and spiritual fitness in all areas of their life, which will lead to a healthy and happy lifestyle."
Jeff Quinn, managing partner, Echelon Health & Fitness
Recovery and Self-Healing
After several days hitting the gym, our bodies need time to recharge, and more people are seeing benefits in active rest days and working through soreness to help it heal. Although it can be intimidating at first, yoga is one of the best ways to spend an active rest day.
HOT YOGA
"Many people's first reaction to hot yoga is that its purpose is to loosen the muscles to get a deeper stretch, which (in our genre) is not the case. We use the heat as a tool to promote blood flow and circulation. When circulation is increased in the body it also increases the flow of oxygen. Oxygen is the catalyst in the body to help generate and restore the body back to its normal state of functioning.
"Sure, it is true that you will burn calories, increase your heart rate, sweat and loosen muscles. However, the true intent is to circulate the blood and to create compressions on the internal organs of the body. We believe this supports the body to regenerate itself and promote self-healing.
"Hot yoga is the perfect complement to any other traditional form of fitness. The intent of the heat is to stimulate blood flow and internal functions; it helps to remove lactic acid that can be created by other strenuous forms of exercise. Many athletes and even professional players use it as a means to create longevity to their other routines and performance-based activities.
"All types of yoga genres can be used as a means to restore the body on all different levels. From injury, illness to athleticism, each genre can be used to create the desired results. In my classes there are always many different levels. Sometimes we can have a person with an injury they are working through, sometimes people are going through chemo, others recovering from surgery, others looking for performance enhancement—the beautiful thing about our hot yoga genre is all of those levels practice in the same room together and we do yoga together as a supportive community."
Jessie Gardner Amitrano, yoga teacher, studio owner, Voorhees Hot Yoga Center, The Barkan Method
Beauty Treatments
Having a little work done is no longer taboo; in fact, it's becoming even more widely embraced thanks to advancing technology and techniques. With almost no downtime, these innovative beauty treatments help us all look and feel our best.
VELASHAPE III
"VelaShape III is a non-invasive body contouring modality that utilizes radiofrequency technology to target stubborn cellulite and reduce the appearance of dimpling on the skin. Results vary for every patient; eating a well-balanced diet and exercising is encouraged to see optimal results. Weight gain will prevent you from being able to appreciate your full results. … Benefits of VelaShape III include improved self esteem, as well as motivating a patient to live a well-balanced lifestyle. Receiving treatment encourages patients to eat healthier as well as work out more consistently to see the best results for their body. All treatments are great for both men and women looking to feel good about themselves and experience a new and improved body and mentality. Treatments are comfortable, safe, effective and provided by medical professionals—and do not require downtime."
Dr. Ingrid Warmuth, The Warmuth Institute of Dermatology
JEUVEAU
"A treatment that I predict will trend for 2020 is the use of Jeuveau in place of Botox. Jeuveau, like Botox, is an injectable that can help eliminate wrinkles and fine lines. The chair time, injection procedure and recovery time for patients are the same as Botox. The advantage of Jeuveau is that it is available at a lower price point, and an anti-wrinkle treatment available at a discounted fee is a huge deal for consumers. The low cost of Jeuveau is possible because it is FDA-approved for aesthetic purposes only. Patients suffering from certain medical issues such as TMJ disorder or chronic migraines will still have to use Botox as their treatment option."
Dr. Ahkiah Sekhon, Precision Facial Esthetics
HYDRAFACIAL
"The HydraFacial process includes a very satisfying deep cleaning and exfoliating peel for the face with the simultaneous extraction of clogged pores with a sophisticated light suction. Everyone loves the way their skin feels just as much as they love the way their skin looks. … We usually give the skin a final restorative health boost by infusing specially selected, powerful soothing skin serums and hydration gels once the HydraFacial has been completed. … The HydraFacial gives your skin the deep hydration it craves that helps create a firmer, fuller, healthier look for your skin. People notice that they have a more youthful glow and a generally more refreshed, clean and rejuvenated appearance. It is an easy 30- to 45- minute, painless treatment that produces an instant refreshed look with zero downtime. So it can be done hours before an important social event. Even so, the glowing results last for up to four weeks." Kara Lyons, medical aesthetician, Cosmetic Surgery Center of Cherry Hill
Published (and copyrighted) in Suburban Family Magazine, Volume 10, Issue 10.
For more info on Suburban Family Magazine, click here.
For information about advertising in Suburban Family Magazine, click here.
To find out where to pick up your copy of Suburban Family Magazine, click here.