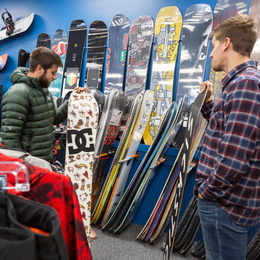 Back and Better Than Ever
Just in time for winter sports, Danzeisen & Quigley has reopened, ready to service your equipment.
When it was announced that South Jersey staple Danzeisen & Quigley (fondly known as D&Q) was shutting its doors, there was an instant void created for ski and snow rentals and fit- tings. Recognizing that this iconic retailer still had lots of life left in it, three veteran staffers—Curt Wrzeszczynski, Brandon Donegan and Luke Shrader—set out to find an investor and get the store reopened. Today, thanks to their efforts, there are familiar faces as well as plenty of new ones that are constantly streaming through the doors, thrilled to have a local place in which they can gear up for their winter sports.
Wrzeszczynski, who is the ski manager and buyer, says that the biggest change with the new D&Q— which is still on Route 70 but in a different, smaller location—is that it is now focused solely on ski, snowboard and winter apparel. Focusing on those markets alone (as opposed to delving into bike and swim, as the store once did) is allowing them to offer truly superior service in that arena.
"With the shop closed in the summer, we'll be busy repairing and tuning equipment and making purchases for the upcoming season," explains Wrzeszczynski.
Ultimately, it has been the winter market where a customized and in-person experience has always been most critical. D&Q will continue to offer custom boot fittings, which is one of their most valuable services since, as Wrzeszczynski puts it, "every foot and every boot is different—and we need to match the boot to the foot." That's not something that can simply be done online.
The ability to be able to rent equipment through the store has also been incredibly valuable to the local community—and a reason why many were devastated when the old location announced its closure.
"At the end of last season, I had customers in a real panic asking where else they'd be able to go to get rentals or repairs," recalls Donegan, snowboard manager and buyer. "Without D&Q their only option was to go to the mountain—but then you're handcuffed by whatever they have. By reopening, we are definitely filling that void that was created."
Donegan says that the store's customer ser- vice is another differentiator. When you come to talk to a team member at D&Q, you're getting true expertise. Donegan himself has been riding for nearly a decade and says that every item in the store has either been used by the staff (so they can speak to it personally) or heavily researched.
"We are really focused on pinpointing the exact products that will serve our customers best," Donegan adds.
Repairs and fine-tuning are also all performed in-house by Shrader, who is a longtime veteran of the store and actually started there when he was just 16 years old. Though it's a lot of behindthe-scenes work, it is Shrader's skilled workmanship that helps keep all of the equipment in optimal shape. Working together, this team is bringing a great experience back to the area.
"We're really proud to be able to fill this void," adds Wrzeszczynski. "The wealth of experience and skill that existed with the old store is still here today. All of our boot fitters from the old location are still with us. And we're still offering the same, high-quality brands such as Spyder, Armada, Arc'teryx, and Obermeyer that our customers love."
Donegan adds that one change that customers will appreciate is that by going "smaller," the store is focused on delivering a "community feel."
"The old store grew huge which was a testament to how popular it was," he adds. "But by being smaller, we're more focused than ever on getting to really know our customers and have a small-business feel. With that small-town feel in mind, we've also been researching smaller and more local companies that we can support, including a Sicklerville-based company. We've already sold a few of their boards."
There's no question that the good vibes and positive energy coming from D&Q abound.
Wrzeszczynski sums it up well: "We're just really excited about the opportunity to be part of the community again and back to doing what we love."
Danzeisen & Quigley
2070 Route 70 E. | Cherry Hill
(856) 375-2199 | DAndQ.com
Images courtesy of Debbie Troy
Published (and copyrighted) in Suburban Family Magazine, Volume 10, Issue 9 (November 2019).
For more info on Suburban Family Magazine, click here.
For information about advertising in Suburban Family Magazine, click here.
To find out where to pick up your copy of Suburban Family Magazine, click here.