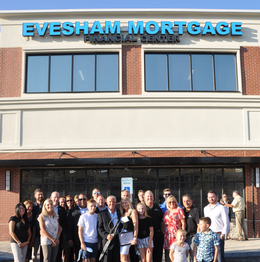 Hometown Feel
Evesham Mortgage is your community-friendly mortgage lender, celebrating 10 years of service.
Rick Brown has a lot to be thankful for lately. As owner of Evesham Mortgage, he and his employees recently moved into a new space in Evesham, almost 13,000 square feet at The Shoppes and Residences at Renaissance Square. The mortgage company is also celebrating its 10-year anniversary.
"It's a dream come true," Brown says of his recent successes, especially the recent move. "It's the nicest rental complex in all of Marlton, if not all of Burlington County when [the complex is] completed."
Brown knows a thing or two about selling mortgages, as this is his 25th year in the mortgage business. He points his success to the combination of running a solid business and serving the community at the same time.
"How we give back to our town is important," he says. "We provide customer service to all of our clients, borrowers and referral partners, and creating those relationships is important to us."
Brown's trusted mortgage advisors are licensed professionals who have at least 10 years' experience originating mortgages. They use their knowledge, expertise and professionalism in each of their clients' cases, some of which are the biggest purchases they will make in their lifetime. Every trusted mortgage advisor can help you get preapproved for a mortgage and make the process easier when applying for various loans.
"We work directly with anybody who has anything to do with a mortgage— that's how we build our business," Brown says. "The biggest purchase anyone will ever make is buying a house and you want to make sure you have professionals who do it for a living and not talking to a computer."
Giving personalized attention and forming relationships with customers is important to Brown and his staff, but that doesn't mean they don't have an online presence. Brown says it's crucial they cover all bases and still give you that personalized attention, whether it's in-person or over the computer. Evesham Mortgage is licensed in three states—New Jersey, Pennsylvania and Florida. "Everywhere we have a branch, we have a license," Brown says. "Only 10 percent of the population qualifies for internet-based mortgages to where they get approved without talking to someone. The other 90 percent need a professional working with them. … That's the difference between us and everybody else. You have a licensed mortgage professional who calls you back. You don't need to see us, but you have the ability to get a mortgage in any of the states we're licensed in. We have licensed professionals, all with over 10 years handling mortgages, who are ready and willing to help you.
"We have the best of both worlds—that's what sets us apart. We have all of the technology and everything else, and have the professionals behind it."
Helping clients' achieve their goal and providing care along the way is a big part of why Evesham Mortgage has had many accomplishments in its 10 years of business.
"The biggest thing that I attribute to our success, outside of family members who work here, is that our borrowers are our No. 1 clients. We care about you," Brown says. "In the 25 years I've done this and tens of thousands of closings, I've never seen anybody at the closing upset. A lot of mortgage companies don't have that philosophy to understand. Other borrowers, you're just a number for them. I still go to mortgage settlements myself. We're different."
Another reason why they are different is how they are passionate about giving back to the community, which is just as significant as running a business to Brown. Evesham Mortgage has donated over $50,000 to local police departments, youth sports and recreation fields in South Jersey.
"Contributing to the community is very important to us," Brown says. "That's our philosophy— being a hometown lender. We try to give back as much as we can."
Evesham Mortgage
103 Route 70 East
Suite 2 | Marlton
(856) 985-9944
EveshamMortgage.com
Published (and copyrighted) in Suburban Family Magazine, Volume 10, Issue 9 (November 2019).
For more info on Suburban Family Magazine, click here.
For information about advertising in Suburban Family Magazine, click here.
To find out where to pick up your copy of Suburban Family Magazine, click here.