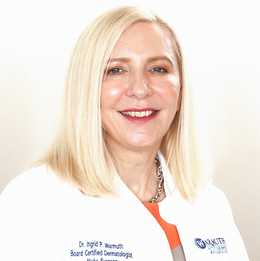 The 411 on PRP Therapy
How the Warmuth Institute of Dermatology is harnessing platelet-rich plasma therapy for optimal results in patients.
In the South Jersey area, the Warmuth Institute of Dermatology stays on the cutting edge of the industry, providing the highest quality care and advanced treatment modalities to its patients. Led by Dr. Ingrid Warmuth, founder, medical director and board-certified dermatologist, the practice also includes board-certified physician assistants Lauren Hartman, Brittany Davis and Parth Patel. Together they create a safe and compassionate environment where patients can relax and revitalize their mind and body.
Along with offering traditional dermatologic treatment, the Warmuth Institute of Dermatology has become a go-to center for body contouring such as CoolSculpting, Ultrashape and VelaShape III. It's no surprise then that Dr. Warmuth continues to embrace new treatments that will be beneficial to patients—one of the most recent being platelet-rich plasma treatment, also known as PRP therapy.
Not only is PRP utilized by orthopedics for the accelerated healing of muscles and joints, and regeneration of soft tissue such as ligaments and tendons, but in dermatology this treatment is a cutting-edge modality for full-face rejuvenation and hair-loss restoration, explains Dr. Warmuth.
The platelet rich plasma therapy is a threestep medical treatment in which an individual's blood is drawn, processed and then one part is applied to the face or injected into the scalp, she continues. "This promotes rejuvenation, accelerates tissue healing and regeneration, and forms new cell growth. The benefits of facial treatments with PRP are vast, but the most beneficial aspects include reducing the appearance of scarring, fine lines and sun damage. This process ultimately stimulates new collagen, which leaves you with a glowing and more youthful complexion," she says.
For facial rejuvenation, three treatments can be done four weeks apart, and maintenance for optimal results includes a treatment every six months.
Patients with hair loss can also benefit, Dr. Warmuth says. "The primary drive of using PRP in hair loss is to stimulate inactive hair follicles into an active growth period. The hair treatment includes three treatments that can be done four weeks apart," she says. Improvement can be seen in as little as three to six months. Patients may start to see the improvement of hair texture and thickness within the first few weeks after treatment. Maintenance treatments every six months are advised as well.
Results will vary for all patients, but PRP can be used in conjunction with other treatments such as Botox or even microneedling for potentially greater results. Microneedling is a treatment that stimulates collagen. It is a wonderful treatment to improve skin tone and texture. It improves acne scaring and fine lines. Adding PRP enhances the treatment dramatically by accentuating the healing process with the growth factors from platelets. Similarly resurfacing using a laser achieves better results when PRP treatment is incorporated into the procedure."
"Patient feedback has been very positive. It is one of the fastest growing treatments in our practice because it is able to provide improvement in combination of other modalities. This innovative treatment will offer new alternatives for facial rejuvenation as well as hair growth," Dr. Warmuth says.
This treatment is innovative and more importantly, effective. Patients are encouraged to take advantage of complimentary consultations to make them more comfortable; this can be done at their Swedesboro and Elmer locations to see if you are an ideal candidate for these procedures.
The Warmuth Institute of Dermatology
Locations in Elmer and Swedesboro | (856) 358-1500 | WarmuthInstitute.com
Published (and copyrighted) in Suburban Family Magazine, Volume 10, Issue 9 (November 2019).
For more info on Suburban Family Magazine, click here.
For information about advertising in Suburban Family Magazine, click here.
To find out where to pick up your copy of Suburban Family Magazine, click here.