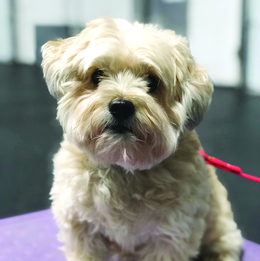 Dog Training at its Best
Alpha & Omega Working Dogs trains pets and owners for a healthy relationship that lasts a lifetime.
A dog that doesn't listen can put a strain on the entire family. Bad habits like chewing, jumping, barking or pulling on a leash can frustrate its owners and make both human and animal upset. With the help of a high-quality, reputable dog training company like Alpha & Omega Working Dogs, a personalized training package can address your unique concerns, building good habits and creating a happier family.
As a 2019 Best of Family Readers' Choice recipient, Alpha & Omega Working Dogs' owner Ray Harris spoke with Suburban Family about his passion for dogs and what makes his methods so successful.
What is your professional history and experience with dog training?
I was a sergeant with the Delaware State Department of Corrections for almost eight years and during that time I had exposure and involvement with the working dogs in law enforcement. I am now a member of Shutzhund USA, the leading club for German Shepherd trainers, and The National Working Dog Association. I have been competing with K9 sports since 2005 and in 2017 I began working with local police departments to develop their K-9 units.
How and when did the idea for Alpha & Omega Working Dogs come to be?
I originally started training as a hobby 18 years ago, focusing on the sport and competition side of dog training. I've always had a passion for dogs, so, along with my wife Karli, we started the business with home training, providing basic obedience, behavior modification and boarding, all while I was still in my law enforcement job. It reached a point where the expansion and growth was happening so rapidly that I retired early and we took the leap in opening our own dedicated facility earlier this year.
How would you describe your approach to dog training?
Being a family-owned business, we're especially welcoming, and have a real excitement about training—we want it to be fun, not overwhelming. Like people, no two dogs are the same, so we feel it's important to customize the training. Everything we do is personalized, and it's important to not rush things. We ask dog owners to plan to be with us for three to five months at minimum because we don't want to put pressure on the dogs or the people—both will be going through the training and the slower approach yields more positive results.
Do you only work with puppies and how do you identify what a dog needs?
We work with dogs of all ages, puppies to adults. In order to find out what training is best, we'll begin with an evaluation, asking the owners' overall training goals and desires. We like for the whole family to be involved, even the children because the dog needs to understand its role in the family pack. We do offer in-home training but our group classes have really taken off. The group structure is great because socialization is important and it challenges the dog's behavior around people and other dogs.
In your experience, what are some common mistakes owners can make that may affect their dog's progress?
Consistency is so important for dogs. Simple mistakes like allowing your dog to jump on visitors occasionally or allowing your dog to pull you on certain parts of your walks cause confusion for your dog. Dogs don't understand "sometimes" and "maybe"—they only understand "always" and "never." Setting proper boundaries and sticking to them will teach your dog exactly what you expect under every circumstance. At our facility, we challenge your dog to react correctly even through distractions.
Does professional training improve the relationship between owner and dog?
It certainly builds a strong bond. The most rewarding way to gain your dog's love and respect is through play and positive interaction. Your furry family member looks forward to sharing time with you every day. Through activities like training and playing, you can cement that bond that every dog craves. Take a few minutes every day to play fetch using a ball or Frisbee. Training your dog in short intervals during the day creates more than an obedient dog. It establishes confidence and trust, which further forms that relationship we all strive to have with our four-legged family members.
Your training has obviously made an impact on your clients and led to Alpha & Omega Working Dogs being recognized as a Readers' Choice Best of Family for Dog Training. What do this mean to you?
This is huge, especially since it comes from the community. It shows there are people who believe in what we do, and nothing is more meaningful. We wanted to build a community with this business and we want everyone to be part of our fur family, even after they've completed a training program we hope there is always something we can provide after graduation as they take that next step with their pet.
Alpha & Omega Working Dogs
876 N. Lenola Road
Building 3, Suite C
Moorestown | (856) 441-2425
AOWorkingDogs.com
Published (and copyrighted) in Suburban Family Magazine, Volume 10, Issue 9 (November 2019).
For more info on Suburban Family Magazine, click here.
For information about advertising in Suburban Family Magazine, click here.
To find out where to pick up your copy of Suburban Family Magazine, click here.