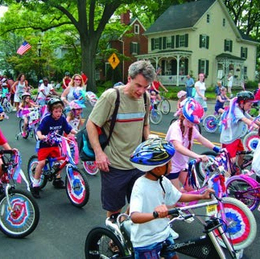 Best Places to Live in South Jersey
Why these towns are ideal for settling down with the family.
Those of us who live in South Jersey know how lucky we are. There are few places that offer this much variety in terms of scenery—from the Pine Barrens and the Shore to the farmlands—housing, health care, education and jobs. All of these qualities add up to a perfect place to raise a family, and this month, we're spotlighting some of the best places to call home.
AROUND GLOUCESTER COUNTY
With nearly 50,000 residents, Washington Township is the largest municipality in Gloucester County and boasts easy access to Philadelphia and the Shore. There are plenty of options for shopping and dining as well as two revered parks—Washington Lake and James G. Atkinson— for relaxation, exercise, ballgames and special events. Duffield's Farm is another crown jewel and offers a bustling market, strawberry picking, hayrides and more.
Mullica Hill has a rich history dating back to the 17th century, and its nostalgic Main Street is especially renowned as a destination for antique shoppers. At the same time, the town's luxury housing market, an outstanding school system and the addition this year of a cutting-edge hospital—Inspira Medical Center—combine to be a draw for young families.
As one of the fastest-growing municipalities not only in New Jersey but on the East Coast over the last two decades, Woolwich Township has embraced development while also remaining true to the farmland and open space that define its history. It is home to Kingsway Regional High School, an expanding culinary scene and the first craft distillery in Gloucester County, Independent Spirits Distillery.
EVENT: The Fourth of July is a big deal across Gloucester County, with many different events and fireworks displays from which to choose. Fitting for a town named after one of our founding fathers, Washington Township goes all out with its annual parade, featuring marching bands, local scout troops and popular movie characters, and kids love the candy and treats tossed their way along the route.
CHERRY HILL
One of South Jersey's largest towns, Cherry Hill is the perfect place to settle down and start a family. Attractions in the town include the historic Barclay Farmstead and Croft Farm, as well as two continuous miles of cherry blossom trees, which bloom every April. The stellar school district is one of Cherry Hill's points of pride, serving nearly 11,000 students with an education that includes a variety of AP classes, clubs and competitive athletics. Families can enjoy the town's plethora of safe parks and playgrounds, and adults appreciate the convenience of major highways offering easy access to Philadelphia and other parts of South Jersey. Anchored by the iconic Cherry Hill Mall, retail and dining options abound, attracting people from all over the region, and major health care institutions have placed roots here as well.
EVENT: Hosted by the township, police and fire departments, The Harvest Festival is held annually in October and is one of Cherry Hill's largest events, featuring pony rides, a petting zoo, moon bounce, craft fairs, live music and food trucks.
HADDONFIELD
Haddonfield has long been one of South Jersey's most desirable zip codes, known for its high quality of life and overall idyllic charm. Not only does the town boast high property values, but its picturesque downtown offers an appealing variety of retail and dining options that attract residents and out-of-towners alike. Add in the stellar school system, with the high school boasting a 99 percent graduation rate and consistently high SAT scores and it's easy to see why so many families love to call Haddonfield home.
EVENT: Haddonfield's Candlelight Shopping event in December features carriage rides, carolers, a procession with Santa, Menorah lightings and much more.
MARLTON
Marlton has it all—a great school and park system, close proximity to major highways and easy access to Philadelphia and New York City, a recreational activities program featuring over 15 sports for every child and family-friendly activities held year-round, which makes this the ideal town to raise a family. The Promenade at Sagemore is where much of the action takes place with over 50 shops and restaurants, and is home to the popular Summer Concert Series held eight weeks over the summer. Main Street also brings families together with the Taste of Evesham that offers new flavors year after year, as well as the Marlton Farmers Market and the annual Harvest Fest.
EVENT: The Harvest Fest, now in its 33rd year, offers a variety of food, music and vendors, drawing around 11,000 people last month.
MEDFORD
Perhaps more so than any other town in South Jersey, Medford perfectly blends suburban living with beautiful natural surroundings and a commitment to open space. The area includes several parks, scenic walking trails among the woodlands and opportunities for canoeing on nearby lakes. Families also appreciate the charming Main Street—lined with restaurants and unique shops— along with a top-notch school system. Residents are known to enthusiastically support Shawnee High School's renowned athletic teams in sports like football, basketball, soccer and lacrosse.
EVENT: The Dickens Festival, held every year on the first Saturday of December, takes thousands of visitors back in time to Victorian England, as holiday carolers and characters from Charles Dickens' most famous work, A Christmas Carol, stroll down Main Street. A parade with Santa Claus and tree-lighting ceremony cap off the night.
MOORESTOWN
Often recognized as one of the best places to live in America, Moorestown's character is that of small-town living within a sprawling suburban town featuring modest Victorian homes to modern-day mansions. Main Street offers a callback to an era when business owners knew every shopper by name, and walking the length of it offers families everything in one spot—from dining to doctors' offices. Many settle down here for the education, as both the public school system and private school Moorestown Friends School earn high ranks. With a revamped mall that has become a haven for high-end retailers and diverse restaurants, Moorestown continues to be a prime example of all South Jersey offers.
EVENT: For 43 years, the tradition of Moorestown Day, hosted every June by the Moorestown Business Association, has celebrated the merchants, organizations and community that make the town what it is, featuring a merchant expo, sidewalk sales, live entertainment, kid-friendly activities, food trucks and more.
MOUNT LAUREL
One of the main throughways of South Jersey, Mount Laurel is convenient to some of the most commonly traveled roads in New Jersey. This has helped make it a popular landing spot for companies including Lockheed Martin and NFL Films, and contributes to its appeal for families. Students attend grades K through eight in the township and their education continues at the Lenape Regional High School District, which is now partnering with Rowan University and Rowan College at Burlington County for college credit courses. It's also home to Laurel Acres, an award-winning park that draws people from all over the area year-round, with a brand-new playground, two dog parks, walking path, lake and sports fields—not to mention a hill that can't be beat for sledding.
EVENT: Mount Laurel's Fall Festival draws upwards of 15,000 people every September for family fun at Laurel Acres Park. The event showcases community pride with K-9 demonstrations, amusements, music, vendors and food trucks.
VOORHEES
The fifth-largest township in Camden County, Voorhees is a diverse town that continues to grow and offer ample family-friendly activities. Besides restaurants and shopping, the Voorhees Town Center is home to many events throughout the year, including its popular Halloween & Fall Festival and Santa Parade welcoming Santa to town. Eastern Regional High School is consistently ranked as a top performing school and top outstanding athletics program, including its field hockey team which is ranked No. 1 in the nation. Voorhees is also home to the award-winning Virtua Hospital and Medical Mile—comprising of the hospital, Samaritan Healthcare & Hospice and Brandywine Senior Living—all along Route 73.
EVENT: The Voorhees Animal's Orphanage's (VAO) largest annual fundraiser, Woofstock Festival, is one of the biggest events held at the Voorhees Town Center. Now in its 23rd year, it hosts dog demonstrations courtesy of the Camden County Sheriff's Deputy K9 Unit and up to 100 vendors ranging from arts and crafts to pet-related vendors. The festival draws between three to four thousand people each year with all the proceeds going to the VAO.
Select photography by Chris Bautista, Jeff Anderson, & Christine Mann.
Published (and copyrighted) in Suburban Family Magazine, Volume 10, Issue 8 (October 2019).
For more info on Suburban Family Magazine, click here.
For information about advertising in Suburban Family Magazine, click here.
To find out where to pick up your copy of Suburban Family Magazine, click here.