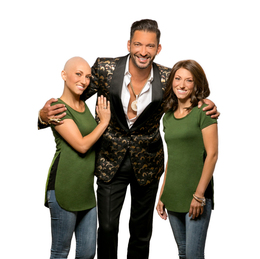 A Common Cause
Coming together to fight breast cancer.
For Breast Cancer Awareness Month, thousands of businesses from all over the country come together for one cause, to end the fight. Every business has a different way of showing their support, either by putting up a sign, starting a fundraiser or participating in a walk. CHECK OUT WHAT THESE TWO SOUTH JERSEY BUSINESSES ARE DOING TO MAKE THIS CAUSE PERSONAL.
Martino Cartier of Wigs & Wishes

Wigs & Wishes started around nine years ago, when Martino Cartier's best friend's mother was diagnosed with breast cancer. Cartier, a celebrity stylist with an award-winning salon in Washington Township, says the wig his friend's mother purchased cost $5,000, but the craftsmanship was terribly done. Using his stylist's sense, Cartier thought of the idea to make better wigs for women who were undergoing cancer treatment.
"The hardest thing a woman says [about treatment] is losing her hair," Cartier says. "Women think that [hair] defines them as human beings, which it's doesn't, but that's how they feel. It is the worst thing for them. So when you can make them look like they're not going through cancer—forget about it, there's nothing better."
Cartier makes on average 250,000 wigs a year and each one is tied by hand and free. He doesn't want the cost of a beautiful wig to be another burden on those who are fighting the disease. When these women walk into his salon, Cartier says a mutual connection is made immediately.
"I do anywhere between six to nine wigs a day. Some women drive hours to get here and they walk in and they're scared and lonely," Cartier says. "So I turn the chair away from the mirror and shave their head as quickly as I can and then I put the wig on and turn them into the mirror so the sad tears turn into happy ones."
Cartier founded Wigs & Wishes, a nonprofit organization that gifts these wigs. Now in its seventh year, the Night of Wigs & Wishes is a gala event where breast cancer fighters are treated like queens, donning beautiful ball gowns, having their makeup done and then crowned with a beautiful new wig and tiara. The event helps women embrace their diagnosis and restores their confidence.
"I'm really blessed that I had a vision and people embraced it and it's changing the lives of people all over the world," Cartier says.
South Jersey Radiology

South Jersey Radiology (SJRA) has been committed to helping women fight cancer for 20 years by being a flagship sponsor for the American Cancer Society Making Strides Against Breast Cancer Walk held at Cooper River Park in Pennsauken. Every employee supports the cause, holding numerous fundraisers and activities throughout the year leading up to the event.
"Many employees, friends and family are breast cancer survivors, and I am one myself," says Joan Carroll, chief human resources officer at SJRA. "I personally know how this diagnosis affects women and their families. Supporting women and hoping that one day breast cancer is a thing of the past is our goal." Over 200 employees and families attend the walk every year. For the past 20 years, SJRA has raised approximately $215,000 to fund cancer research.
"Our plans are to continue to participate in the breast cancer walk and raise funds for research. We want to educate women and support them," Carroll says. Patients are often afraid of receiving a cancer diagnosis that it prevents them from getting screened early, which prolongs the illness. "Survival rates have increased tremendously and we hope that with more research, breast cancer one day will be eradicated."
Published (and copyrighted) in Suburban Family Magazine, Volume 10, Issue 8 (October 2019).
For more info on Suburban Family Magazine, click
here
.
For information about advertising in Suburban Family Magazine, click
here
.
To find out where to pick up your copy of Suburban Family Magazine, click
here
.