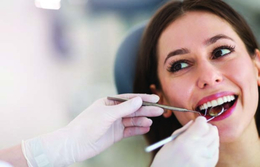 A Lifetime of Dental Care: Part 3
Part three of our Q&A with five-star dentists
SUBURBAN FAMILY'S THIRD INSTALLMENT of our dental series FAQ continues with these oral health experts weighing in on tooth alignment, crowns, pediatric treatment and more.
How long are most orthodontic patients in a treatment plan and why?
Orthodontic treatment is constantly improving in attempts to make the overall time spent in braces (or aligners) faster. Accelerating tooth movement has had some success, but is limited by the body's ability to remodel bone around the root of the tooth as it is moving. For this reason, the average amount of time to achieve ideal results and stability is two years.
Dr. Frank Batastini
Frank Batastini Orthodontics

Why might a person need to see a prosthodontist?
A prosthodontist is a dentist with three years of additional training after dental school. The training is focused on the diagnosis, treatment planning, rehabilitation and maintenance of the oral function, comfort, appearance and health of patients with clinical conditions associated with missing or deficient teeth. Being highly trained in cosmetics, dental implants, crowns, bridges and dentures makes seeing a prosthodontist a great option when considering the replacement or restoration of missing, unaesthetic or broken-down teeth.
Dr. Greg Lehnes and
Dr. Robin Windl
Dental Arts of South Jersey
What should a parent expect at their child's first pediatric dental checkup?
Just as each child is different, each "first dental visit" is different. It may be necessary for the parent to assist in the examination. We attempt to initiate your child into a lifelong positive attitude about "going to the dentist." Most first visits consist of a routine exam, cleaning and fluoride treatment to help strengthen the teeth. X-rays may be taken to reveal decay and check on developing teeth. Each visit allows us to discuss prevention, diet and habits, recommend any necessary treatment and teach the proper care for your child's teeth.
Dr. Marc Albano
Pediatric Dentistry of Mullica Hill
What are the latest trends in cosmetic dentistry?
Cosmetic dentistry has evolved tremendously. There are many options to enhance your smile. Enhancing your smile can be done with as little as bleaching to just brighten up your smile, others may need replacements of existing fillings or even veneers or crowns. Any little bit can do a great deal to your smile.
Dr. Nermeen Rifai
All Smiles Family Dental
Braces improve smiles, but do they improve dental health?
Yes, in several ways. Properly positioned teeth are easier to keep clean, which helps with prevention of cavities and gum disease. Tooth position and jaw position are related. Healthy alignment improves function, which can have effects on TMJ, teeth grinding, sleep apnea, and, in children, even the growth of the jaw bones. Oral health and overall systemic health are significantly linked, therefore the benefits of what braces can do extend far beyond a pretty smile.
Dr. Shanni Reine-Mutch
Growing Smiles Pediatric and Family Dentistry
What is the goal of early orthodontic treatment?
The American Association of Orthodontics recommends that children be seen by an orthodontist by the age of seven. Early orthodontic problems can be detected and treated early before the full eruption of permanent teeth. Early interceptive treatment results in elimination or reduction of severity of an underlying problem. If you notice a problem with your child's teeth or the dentist recommends seeing an orthodontist, be sure to take your child for a consultation visit.
Dr. Ron Saffar
My Orthodontist
Please explain when someone might need a crown.
A dental crown is a tooth-shaped "cap" that is placed over a tooth. It covers the tooth to restore its shape, size and appearance. The crown is cemented into place to protect a weak tooth from breaking or to hold together parts of a cracked tooth. Crowns can also be used to cover a tooth with a large filling, to restore a dental implant or make a cosmetic modification.
Dr. Gerard Corsi
Corsi Dental Associates
What is dentofacial orthopedics?
Dentofacial orthopedics is correcting jaw position and profile by directing growth and development of one or both jaws. Using a small, compact appliance and timing the treatment correctly can eliminate the need for extractions and/or orthognathic surgery later in life. Together a beautiful smile and improved profile/bite gives our patients more self confidence.
Dr. Erin Kazmierski
Kazmierski Orthodontics
What is a dental sealant and what does it do?
A sealant is a thin coating painted on the chewing surface of teeth and acts as a barrier protecting enamel from plaque and acids. Sealants are a simple, painless and inexpensive way to protect teeth from cavities. Although sealants are most widely known as a treatment for youth, it is equally effective for adults.
Dr. John Thurber
Thurber Dental Spa
Published (and copyrighted) in Suburban Family Magazine, Volume 10, Issue 8 (October 2019).
For more info on Suburban Family Magazine, click
here
.
For information about advertising in Suburban Family Magazine, click
here
.
To find out where to pick up your copy of Suburban Family Magazine, click
here
.