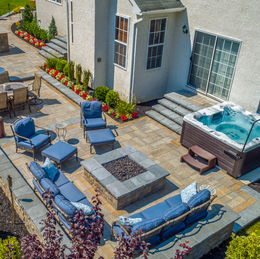 Bringing Your Landscape to Life
Summer is winding down, but Elite Landscaping is here to revive your outdoor landscape after a sweltering season.
Vacations are over, school is back in session and everyone is adjusting to the regular schedule. Summer has officially come to a close and it won't be long until cooler weather makes its way to our region. For landscaping companies, fall brings an increased demand for services, especially for those who aren't ready to end their outdoor enjoyment. Elite Landscaping turns it into the best time of year to introduce new projects and spruce up your outdoor space for a visually pleasing landscape design and incorporation of a fire pit to make more memories with friends and family. We spoke with Michael Pasquarello, degreed landscape architect with Elite Landscaping, about what to include in your design and why Elite is the go-to landscaping company.
What types of outdoor/ landscaping projects do you suggest homeowners focus on during the fall season?
Late summer, early fall is the ideal time to perform lawn renovations. Most lawns have seen better days since enduring the brutal heat, humidity and lack of water throughout July and August. Lawn areas should be aerated, thatched and overseeded to ensure healthy, lush growth for the year to come. Selective pruning can also be completed in the fall. Once certain varieties of shrubs/trees have lost their leaves, it makes an easier determination of what should be pruned and shaped. It is very important not to prune any set buds on flowering plants for the upcoming spring. Be sure to not allow fallen leaves to sit on lawns for an extended amount of time. It is best, at minimal, to do two leaf cleanups in the fall. The first [cleanup is] when about 50 percent of the leaves have fallen and a final [cleanup] when they are all down.
Why do you prefer to start the planting process in the fall? Are there certain plant/flower/shrub "types" that should be planted in this season over others?
Plants are beginning to prepare for winter and going into a stage of dormancy to conserve energy for the long, harsh winter. This reduced growth activity is exactly what allows their installation/transplant with little or no stress to the plant itself. Also take advantage of the array of vibrant colors the fall has to offer in making your selections. Besides mums, many other varieties of fall annuals are available such as celosia, aster, kale/cabbage and purple fountain grass. Even ornamental peppers offer an array of autumn hues to add a splash of color to container gardens. Planning ahead for the spring should also be considered with the addition of bulbs.
Fire pits and fireplaces: What are the different options homeowners have and some of the upcoming trends?
The trend of incorporating an outdoor fireplace, fire pit or element of fire has become increasingly popular over the past five to 10 years. Wood, natural gas or propane can all be used to fuel your inferno based upon preference. These structures are available in kits for ease of installation or can be custom designed to fit specific needs. Natural stone, clay brick or manufactured block and veneer are all used in construction. The transformation of existing interior gas fireplaces into double-sided units in conjunction with exterior patio spaces allows this incorporation easily with the majority of the infrastructure already in place.
What are benefits to adding an audio system in the backyard?
Nothing completes the outdoor experience better than some good tunes from a well-balanced speaker system. The most recent trend in outdoor audio is to incorporate satellite speakers and subwoofers hidden within the landscape to create a feeling of total music immersion. Wi-Fi-based units, such as Sonos, are utilized with these outdoor systems in a similar way to their indoor counterparts. The smart device communicates with the Wi-Fi driver and then transmits a signal to an amplifier and speakers. Pandora, Spotify, iHeartRadio and many others can easily be streamed right from the comfort of your patio seat as you're being surrounded by a symphony of digital music.
What do you take into consideration when designing a nightscape and how are you able to carry out a seamless design without too much or too little lighting?
Wi-Fi-driven transformers are capable of grouping light fixtures throughout separate outdoor spaces and adjusting light intensities as chosen through a phone or tablet. Presets can also be programmed into the smart device so lighting will automatically turn on or dim when it detects the device within that space. The ability to change colors on individual fixtures right from the palm of your hand I find the most versatile in creating the mood. The overall appearance of an outdoor space can be changed multiple times throughout the evening, captivating your audience [and] intriguing them to wonder what's next.
What sets you apart from other full-service landscaping companies?
Elite Landscaping has been a recognized landscape design/build maintenance firm for over 30 years in the region. Our involvement in state landscape organizations and accreditation programs has allowed our employees to keep up to date with all the green industry has to offer and be at the front line with growing trends and demands. We pride ourselves with being able to provide and maintain outdoor entertainment spaces that bring families back outside and enjoy what Mother Nature has to offer.
Elite Landscaping
8 Pineview Ave., Berlin
(856) 753-1944
EliteLandscaping.com
Published (and copyrighted) in Suburban Family Magazine, Volume 10, Issue 7 (September 2019).
For more info on Suburban Family Magazine, click here.
For information about advertising in Suburban Family Magazine, click here.
To find out where to pick up your copy of Suburban Family Magazine, click here.