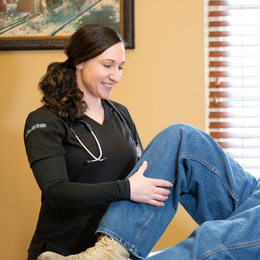 A Return to Self-Healing
Prolotherapy treatment at Advanced Cardiology of South Jersey relieves pain and helps the body heal itself without surgery.
Living with chronic pain in any part of the body can take a toll on a person—preventing them from being active or even going to work—but more often than not, people push through the pain, further compounding the problem. While it may have been more common in the past to get a prescription for a pill to dull the pain, patients are seeking alternative therapies and avoiding the risks of opioid medications.
One local health care provider, Stacy Warren, PA, with Advanced Cardiology of South Jersey, is utilizing alternative medicine known as prolotherapy and platelet-rich plasma therapy (PRP) to enhance the quality of patients' lives and help them to remain physically active at all stages of life.
"Many people think this is a new treatment because they haven't heard of it, but medical professionals have been using it for more than 80 years," Warren says. "It's becoming more known to the public especially now because of the awareness around opioids, so this is coming to the forefront with changes in health care."
These techniques, known in the medical community as 'regenerative medicine,' have gained more popularity in recent years in part due their increasing use amongst professional athletes such as Tiger Woods, because when done properly they provide safe, non-surgical, long-lasting pain relief and improved function for various degenerative and destructive conditions of the body. Prolotherapy and PRP are carried out through injection techniques aimed to induce the body's own natural healing and repair process without the use of medications commonly given to patients in order to simply dull the pain, which often slows or halts the healing process. These medications also have many side effects and interactions with other medications, which can be particularly problematic in certain populations of patients. With use of regenerative medicine, patients of all ages and populations are able to experience good to excellent pain relief for a wide range of chronic medical conditions.
It can be used to treat tendinosis and osteoarthritis, as well as ligaments that were never given an opportunity to fully repair, and even for those with joint replacements who are having pain or ongoing problems.
"Our body's tissue normally re- pairs itself in four to six weeks, but sometimes that doesn't happen due to our lifestyle—people don't rest or get enough sleep, leading to inflammation—and other environmental factors," says Warren. "When we go about our daily lives without letting the ligaments repair, it leads to further breakdown of the ligaments, and eventually a further loss of function."
The injections are made into a specific area and stimulate the body's natural healing mechanisms. "Instead of using steroids, which suppress the immune system, we're boosting the immune system's response, which causes the repair cascade to start helping the body to repair and rebuild itself," she continues.
The result leads to the regeneration of healthy joints, ligaments and tissue, which means a reduction in stiffness and pain while improving mobility. Warren says statistics show that 85 to 90 percent of people who received prolotherapy reported at least 50 percent improvement after an average of three prolotherapies and/or one PRP. "There is rarely anyone who says they don't get a benefit from it," she says, adding that it's a noninvasive procedure that requires virtually no downtime or disruption to normal activities.
To ensure patients receive the most benefits from treatment, Advanced Cardiology approaches each one individually. "Everybody's process is different, and this is where the art and science of medicine come together," Warren says. "We get to know each patient, conduct clinical exams and take a series of images with ultrasound and MRI, and depending on the severity of the problem, the state of their immune system and current medications, we develop a plan for how the number and specific type of injection would be recommended."
She says many people report improvement after the first or second injection as the gradual rebuilding happens. Full function will take more time, and in some cases if issues are more problematic, PRP injections may be recommended in conjunction with prolotherapy.
Warren, who has been with Advanced Cardiology for one year, says this therapy is an important offering for a cardiology practice, which may seem surprising to some. "So much is linked to heart health, whether that's someone who has an injury that has prevented them from working out, which leads to weight gain and higher blood pressure, cholesterol, and even increased depression; all of which have been linked to higher levels of inflammation in the body essentially increasing the risk for cardiovascular disease. This therapy gives them a non-surgical option with minimal risk of complication and encourages them to get back to a healthy lifestyle."
It's also part of the holistic approach of Advanced Cardiology's founder, Dr. Vic Bahal. Dr. Bahal is quadruple board-certified in internal medicine, cardiology, anti-aging/functional/regenerative medicine and integrative cardiology, and his approach was a good fit for Warren. "He is one of the few remaining true private practices. He provides personalized medicine and is open to incorporating holistic, natural and alternative approaches in addition to traditional medicine, which was a good fit for me," she says.
With an emphasis on preventative medicine, Warren and Dr. Bahal hope to guide their patients on their journeys to healthier, happier lives.
Advanced Cardiology of South Jersey
4 Burton Lane, Suite 100
Mullica Hill | (856) 241-3838
AdvancedCardiologySJ.com
Photography by ALISON DUNLAP
Published (and copyrighted) in Suburban Family Magazine, Volume 10, Issue 7 (September 2019).
For more info on Suburban Family Magazine, click here.
For information about advertising in Suburban Family Magazine, click here.
To find out where to pick up your copy of Suburban Family Magazine, click here.