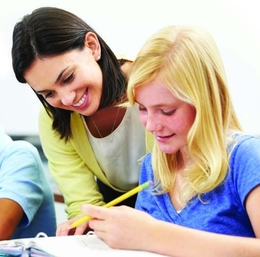 The Huntington Difference
Accredited, certified and extensively trained—the instructors at Huntington Learning Center make an impact on your child's progress.
As parents, we are often presented with different options for our kids to build their skills in reading, writing and math. Those options can come in different forms, sometimes with people offering to come to your home, and others are with well-known, professional tutoring companies. On the surface, both options may look the same, but look closer and the differences become clear.
Richard Bernstein, director of the Huntington Learning Centers in Cherry Hill and Turnersville, says the difference is in the tutors themselves. "Our instructors are certified and extensively trained, which in part earns our accreditation by the Middle States Association, the same group that accredits many local schools, including University of Pennsylvania and Temple—a distinction few tutors earn," he says. The centers are the only tutoring companies in either Camden or Gloucester counties to be accredited.
Founded in 1977, Huntington Learning Center is the longest-standing tutoring service of its kind. The staff works with students to achieve remarkable improvements in their grades, test scores and self-esteem. Tutoring is available in the core skills of reading, writing, math, phonics and test preparation, in addition to college entrance exam prep. From ages 5 to 17, students can get the extra help they need. Before beginning any program, students are evaluated, which provides a starting point on their strengths and weaknesses.
Certified, highly trained tutors teach students to think, learn and succeed on their own.
One of the most unique aspects of Huntington Learning Center is the individualized attention given to its students. "The evaluation is a baseline, and once instruction begins, the student is working one-on-one with teachers who are certified and highly trained," says Bernstein. "We don't do group tutoring because we all know when teenagers are in a room with their peers they are less likely to ask questions. With our method, their questions get answered."
There is no set number of hours required, either. "We never assign numbers to how much time a student needs to spend here," says Bernstein. "We have to look at individual factors, find out what the student is trying to catch up on, what they can do, what they can't do." This provides the best possible course of action and a quantifiable outcome. What's more is that Huntington Learning Center has the data to back up its results. "On an average basis, students who come to us for two to three months have a 26 percentile point gain in reading comprehension and a 19 percentile point gain in math," says Bernstein.
There are two other facets that separate Huntington from traditional tutors. One is that it is much easier to schedule a session thanks to Huntington's extensive list of instructors. If a student must reschedule an appointment due to a soccer game and his or her regular tutor is not available, someone else can step in and know exactly where the student is in his or her development.
"We have a very sophisticated software package that allows us to track exactly what their strengths and weaknesses are, what kind of feedback we're getting and where they are in their progress," Bernstein says. "So in the circumstance where they have to change their schedule and a different teacher is working with them, we don't miss a beat. We work very hard at that because it's important that a kid is not left hanging."
Secondly, all instruction at Huntington is supervised in their private or semi-private rooms that are conducive to learning. In contrast to unsupervised tutoring at a coffee shop or tutoring at home with all of the usual distractions, parents can rest assured their children are working diligently.
"My full-time staff is observing instruction and making sure kids are being taught the Huntington way," Bernstein says. "That's an important part of the process. We want to put kids in an environment where they're getting the best instruction they can."
The results speak for themselves. A recent study by Huntington showed that students who were instructed during the survey period received, on average, $52,000 in scholarship money, a considerable amount with the rising costs of a college education.
"If you invest a little money, not only can you get into the school of your choice, but you get $52,000 on average in scholarship money," Bernstein says. "It's well worth the time and money you put in. If you really want to go to a certain school and the only way you can go there is by getting a certain amount in scholarship money, the decision to come to Huntington becomes a
no-brainer."
Huntington Learning Center
Cherry Hill (856) 795-1933
Turnersville (856) 227-0033
HuntingtonHelps.com
Published (and copyrighted) in Suburban Family Magazine, Volume 10, Issue 5 (July 2019).
For more info on Suburban Family Magazine, click here.
For information about advertising in Suburban Family Magazine, click here.
To find out where to pick up your copy of Suburban Family Magazine, click here.