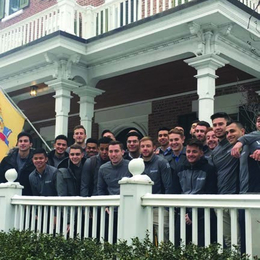 At the Top
Ramapo College of New Jersey is a place where student-athletes can triumph on and off the field.
WHEN COLLEGE STUDENTS PLAY A SPORT ON CAMPUS, THEY BECOME A PART OF A TEAM THAT RELIES ON EVERY PLAYER FOR SUCCESS. Ramapo College of New Jersey offers students the opportunity to join a Division III athletic team that supports students on and off the playing field. Academics are a large portion of the undergraduate's college career, but extracurriculars, including athletics, keep students involved outside of the classroom.
This past season, the men's soccer team made it to the NCAA Sweet 16 and earned an NCAA win for the first time in program history. The team's record was 17-4-2 overall, a huge accomplishment for not only the team but the college in its 50-year history.
Among the players on the men's soccer team was Joe Fala, who helped lead the team to the tournament. Fala, a rising senior, was named the 2018 NJAC Men's Soccer Offensive Player of the Year, D3Soccer.com All-American, United Soccer Coaches NCAA Third Team All-American and United Soccer Coaches NCAA All-South Atlantic Region First Team. Fala says the team has a lot of skilled athletes and they all worked hard to get to the championship level.
"Everyone put the work in over the summer and preseason, waking up at 5:30 a.m., putting the work in and just knowing that we had a lot of talent and we could go far," he says. "[The NCAA win was] a great experience. All the other athletic teams around campus were praising us … just congratulating us throughout the year."
It's not just the soccer team that's celebrating, but other sports such as basketball, women's volleyball, softball and baseball also have the campus excited. "Our athletic department successes over the past few years continue to generate excitement on our campus in regards to all our sports teams," says Harold Crocker, director of athletics. "Our students, faculty, staff and administrators have all rallied around our success."
Fala owes some of his achievements to his coach and Ramapo alumnus DJ Pinton ('99) who not only cares about the players and gets the team ready for the season, but holds the student-athletes to high standards when it comes to academics.
Ramapo College promotes a culture of academic excellence and high expectations among the athletes with support from the athletic department and coaches. "Academics are the primary focus for Division III and remain the No. 1 priority here at Ramapo. I am most pleased that our Roadrunners have consistently maintained academic success in the classroom, often complementing their teams' above-average performances on the field. Over the past four years, our teams have consistently maintained above a 3.0 average," says Crocker.
Pinton, along with other athletic coaches at the college, uses Ramapo's Athletic-Academic Enhancement Program, which helps student-athletes grow to their highest academic potential with academic support through individual attention in advisement and tutoring.
"We, as coaches, get feedback directly from professors in terms of how [the student-athletes] are doing and performing academically," Pinton says. "We not only get [notified] if they're missing class, not doing well on an assignment or they need tutoring, but we also get [told] if they're doing good work, which is great to see.
"It's nice for a professor to take that time, and then if they are struggling, there are staff members who can meet with them to decide what's a better path, what they need to do, and maybe get them some tutoring."
"As an NCAA Division III program, our student-athletes are encouraged to pursue their interests and passions beyond the classroom and field of play. It's amazing," says Crocker. "Our student-athletes juggle rigorous academics as well as a competitive schedule, with many also engaging in extracurricular activities, community service projects and some also have part-time jobs."
Since Pinton is a former Ramapo College soccer player, he can relate to the players and strives to keep alumni involved with events and games. "We have some who drop in for games; we have our alumni game every year which is greatly attended; we have a postgame buffet where our current athletes get to speak with the alums and network," Pinton says. "[Networking] is one of the biggest things for us. That's what life is—networking. We want them to be networking with our alums and we want our alums connected and coming back proud of what the current athletes are doing."
Pinton takes pride in not only helping the athletes with academic achievements, but also life skills. The soccer team has a handbook, which Pinton encourages and expects the athletes to follow. The guidelines and expectations are set for the team, from giving everyone a chance to have a voice to carrying equipment and volunteering in the community. The guidelines also help with how the student-athletes interact on campus and in classrooms with their professors, peers and staff.
After coming off a winning season and getting ready for the one ahead, Pinton says they will continue to recruit for future prospects, especially in the South Jersey region.
"[If] we continue to get really good, well-rounded student-athletes who are good citizens of the college and also very good players, we can continue what we're doing," Pinton says. "I think having good team chemistry—team morale—is very important. I think this past season we had one of the best groups of student-athletes that we've had in some time and it showed on the field with the results."
Ramapo College of New Jersey
505 Ramapo Valley Road, Mahwah
(201) 684-7500 | Ramapo.edu
Published (and copyrighted) in Suburban Family Magazine, Volume 10, Issue 5 (July 2019).
For more info on Suburban Family Magazine, click here.
For information about advertising in Suburban Family Magazine, click here.
To find out where to pick up your copy of Suburban Family Magazine, click here.