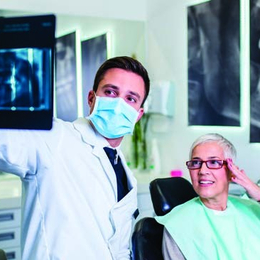 A Lifetime of Dental Care
A Q&A with five-star dentists
FROM TODDLERS TO SENIOR CITIZENS, dentists see patients throughout their lives. The average person will see five to seven types of dentist—orthodontists, periodontists, endodontists and general dentists, among others—all of whom combine to give you the best and healthiest smile. This month, Suburban Family's five-star dentists provide insight into their particular areas of expertise to guide you on your next treatment.
Why does my child need their baby (primary) teeth treated if they're just going to fall out?
Baby teeth cavities can cause pain, infections and even facial swelling when left untreated. Seeking care by age 1 helps to maintain a positive dental experience for children. Treatment of small decay early is often easier and can prevent the need for complex treatment, such as extractions, when delayed. Baby teeth also serve as space holders for adult teeth, therefore maintaining their health can help to prevent the need for braces in the future.
Dr. Dinah Jammal
Growing Smiles Pediatric and Family Dentistry
What should be covered in an initial consultation with an orthodontist?
It should inform the patient of the bite relationship; the amount of crowding, the protrusion, any impacted teeth, etc., but it allows them to interview the doctor and the team who will potentially be treating them. Patients should leave the initial consultation with a strong understanding of their needs and what their treatment plan is. They should have discussed the financial obligation and feel as though the communication with the office is open and comfortable.
Dr. Amy E. James
Dr. Amy James & Associates, Orthodontists
What are the warning signs of gum disease?
Gum disease is often silent, meaning symptoms may not appear until an advanced stage of the disease. Millions of people don't know they have this serious infection that can lead to tooth loss if not treated. However, warning signs of gum disease include red, swollen or tender gums or other pain in your mouth; bleeding while brushing, flossing or eating hard food; gums that are receding; mouth sores; and persistent bad breath, among others.
Dr. John Nikas
Dental Arts of South Jersey
How much does insurance usually cover for orthodontic coverage?
Most policies can cover anywhere from $500-$2,000, sometimes even more. Besides a monetary benefit, some companies offer a reduced fee schedule that we participate with. If you don't have coverage, we do offer in-house, zero percent monthly financing free of credit checks and can work with patients on a comfortable payment plan.
Dr. Erin Kazmierski
Kazmierski Orthodontics
What is a dental implant and who is a candidate?
A dental implant is a titanium screw that integrates with the jaw bone to resemble the action of the root of a tooth. Anyone missing one or more teeth with adequate bone levels is a candidate for dental implants. Pros of dental implants include long-lasting dental prosthesis, preservation of bone levels, a fixed prosthesis, no effect on adjacent teeth and no pain. The cons are cost and the length of time for integration of the implant.
Dr. Nermeen Rifai
All Smiles Family Dental
What are some of the alternatives to traditional braces?
Orthodontics has become much more than metal bands and tinsel teeth. Most minor tooth movement today can be done with clear aligners such as Invisalign or with the product we offer in our office called CNB: "Clearly Not Braces." Attachments are a critical part of aligner therapy and must be applied and chosen correctly to move more complex teeth. Ceramic or clear braces are also an alternative to metal braces.
Dr. Frank Batastini
Frank Batastini Orthodontics
Why is professional dental whitening more effective than over the counter?
At Corsi Dental we use the professional whitening system from Glo Sciences, very different from over-the-counter products because you will experience no sensitivity, no zigers (spontaneous pain), no need for impressions and you will get up to five shades lighter in only one hour. So professional whitening is very different, very fast, very effective and very attractively priced. Whitening is something we do every day of the week.
Dr. Gerard Corsi
Corsi Dental Associates
Are mail order braces a good alternative to traditional orthodontic treatment?
Some online orthodontic companies make their treatment sound so easy. After taking a selfie and/or an impression of your teeth, you receive aligners in the mail and after so many months—straight teeth. Right? Wrong! Orthodontic treatment involves the movement of biological material, which if not done correctly could lead to potentially irreversible and expensive damage. Remember that orthodontic treatment is not a product or device—orthodontic treatment is a professional, medical service.
Dr. Ron Saffar
My Orthodontist
Published (and copyrighted) in Suburban Family Magazine, Volume 10, Issue 6 (August 2019).
For more info on Suburban Family Magazine, click here.
For information about advertising in Suburban Family Magazine, click here.
To find out where to pick up your copy of Suburban Family Magazine, click here.